So far, I've cut out four panels each for the outer layer, and for two of the under layers. And I dyed one of the underlayers red. I'm doing a sort of combination of the parks version and the original movie version. The parks version doesn't have any red layers, or any lace, and I really ike those details. However, I'm planning to keep it 3/4 length sleeve, like the park version, and I'm doing appliques similar to the park version. Out of necessity, I'm also planning to do spats over shoes, instead of boots like in the movie.
I've also repaired the dye job on the parasol. I used a dye blocker that I found at Joanns which is intended for tyedyeing. It did a pretty good job - there were two small spots on one panel when the dye tried to bleed through (but luckily, the water didn't bleed back when I dabbed the dye away). It also bled through quite a bit along the edge of the parasol, but almost all of that will be covered up by the trim, so that doesn't worry me. I also spray painted a straw hat white, which will be the base of the Jolly Holiday hat, and will be covered with leftover organza.
And then in the afternoon, I decorated the front yard for Halloween. This is just the beginning, and I plan to add a lot more over the next month, but I already had kids oohing and ahhing outside as they walked home from school!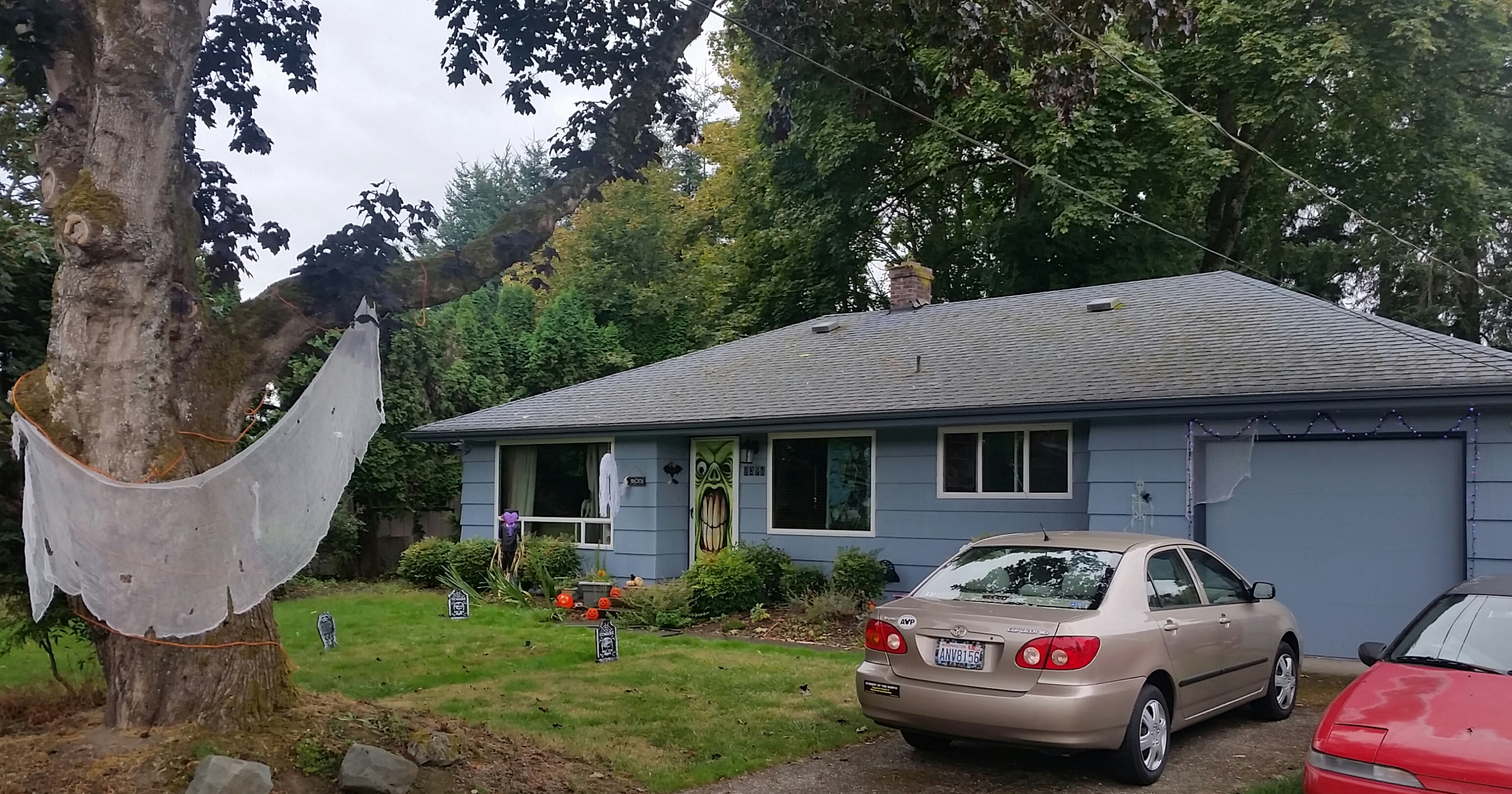 Next up, I plan to either assemble the three skirt layers I've cut out, or assemble the corset mockup. I need to make sure the corset mockup works, especially lengthwise in the CF, because I plan to add the corset busk to my order for the organdy, and I need to place that order asap!
I spent much of this morning cutting organza skirt panels for Mary Poppins. I haven't completely decided on how many layers I'm doing, but I think it's going to be (from the outside to in) white organza with rolled hem, white organdy (or possibly just a poly lining fabric - I haven't decided), red organza with lace hem, white organza with lace hem, and another organdy or lining layer, possibly in red. I might also add a second organza layer in between the outermost layer and the organdy.
I set in the zipper, which was a pain, as I expected. In fact, I wound up setting the last 1.5" by hand because I didn't feel like messing with figuring it out on the machine. I also finished out the pocket that had the zipper running into it. And I did wind up taking up the CF a bit - it was just too low in the waist, so I took out a whole inch in the CF (you could actually see where the seam started to go down towards a v in the center front, so it was really obvious where it needed to come up!). Now it's much better, and I think the petticoat takes care of the rest of the length, even though my poor petticoat is soooo deflated from what it once was like 9 or so years ago when I made it. Maybe if I have time, I'll make a new one.
Here's some pictures: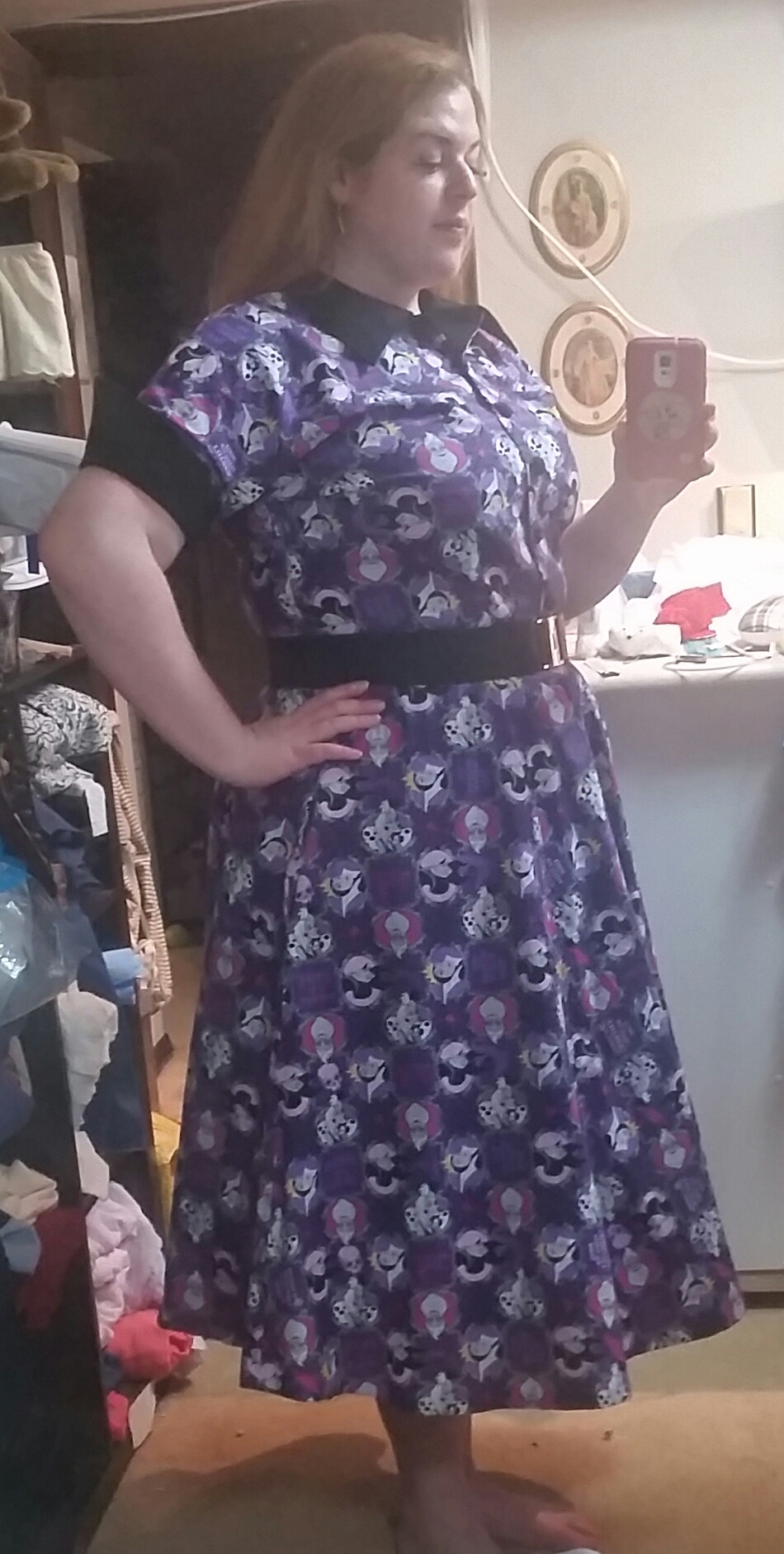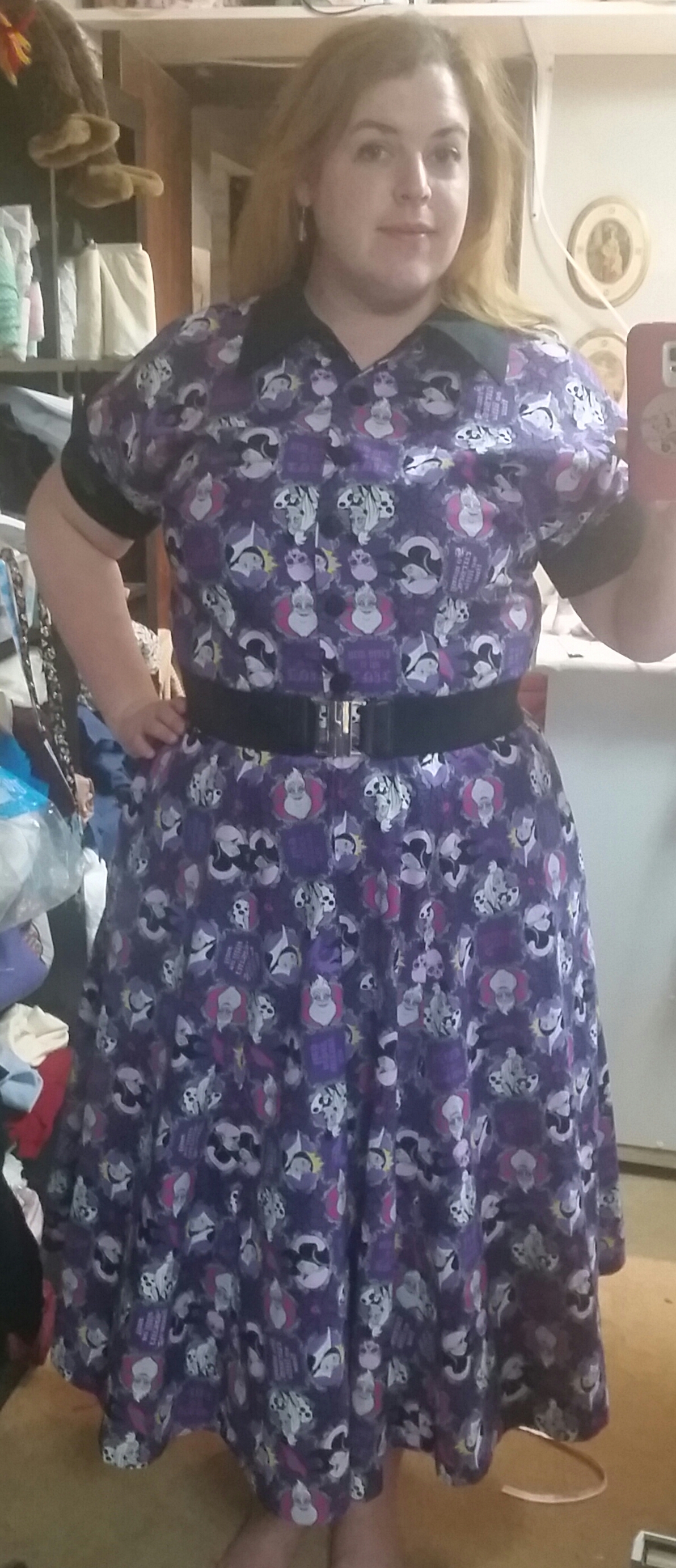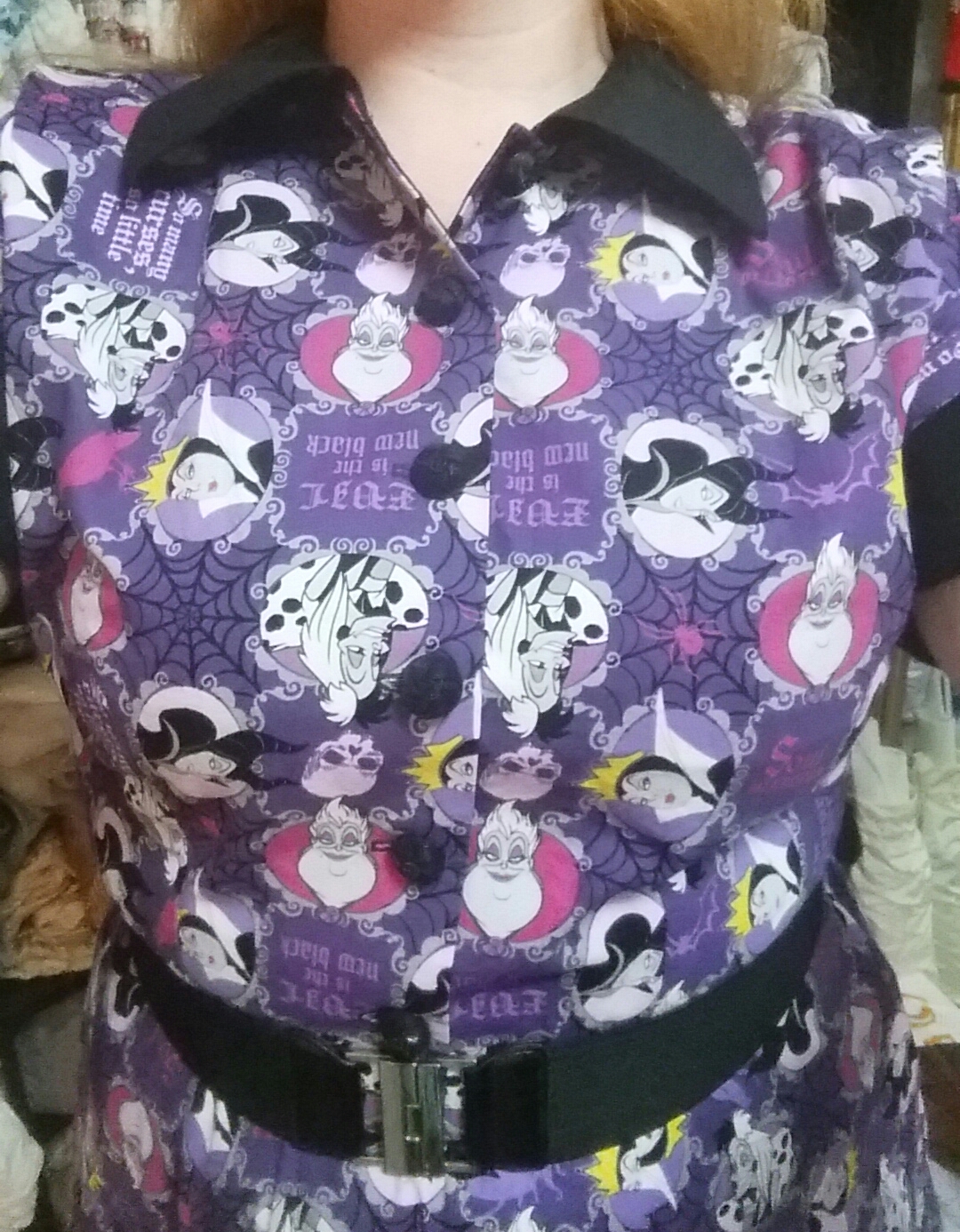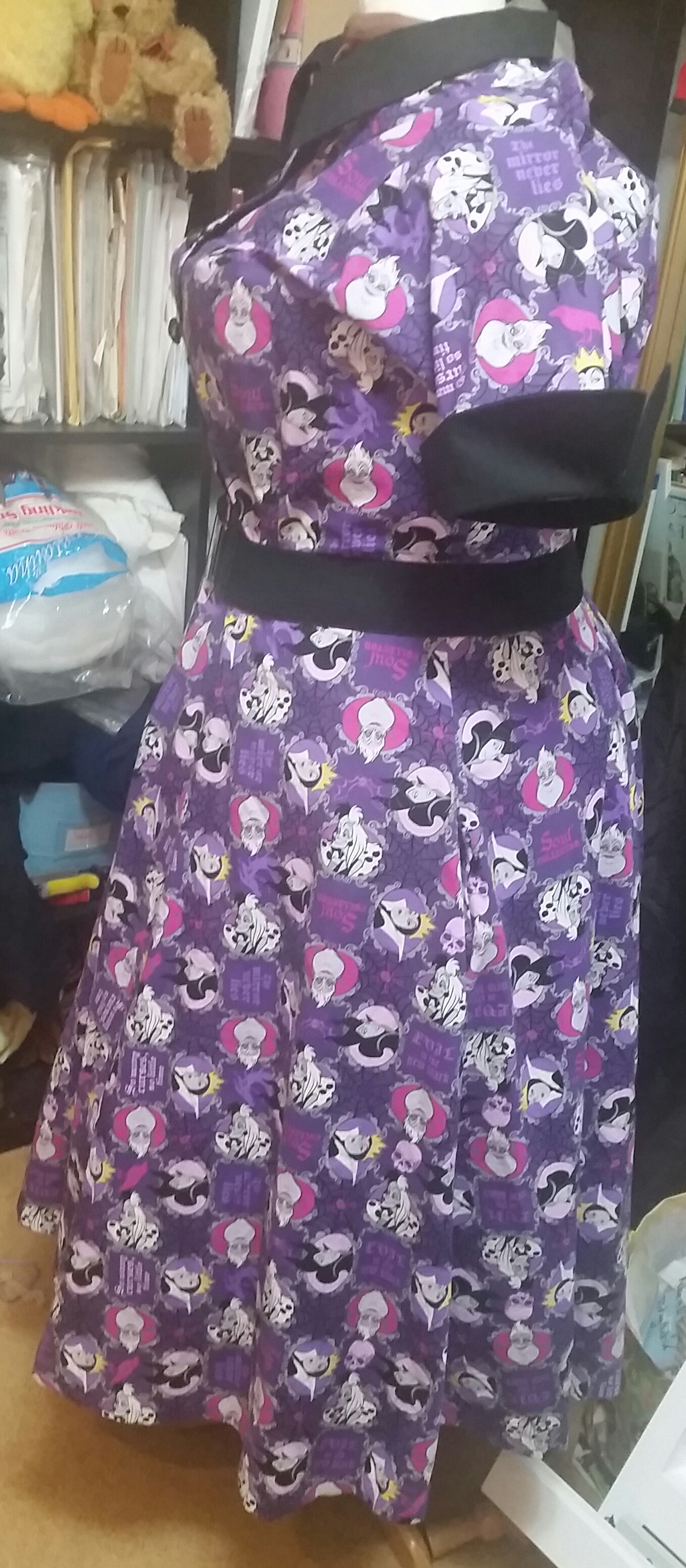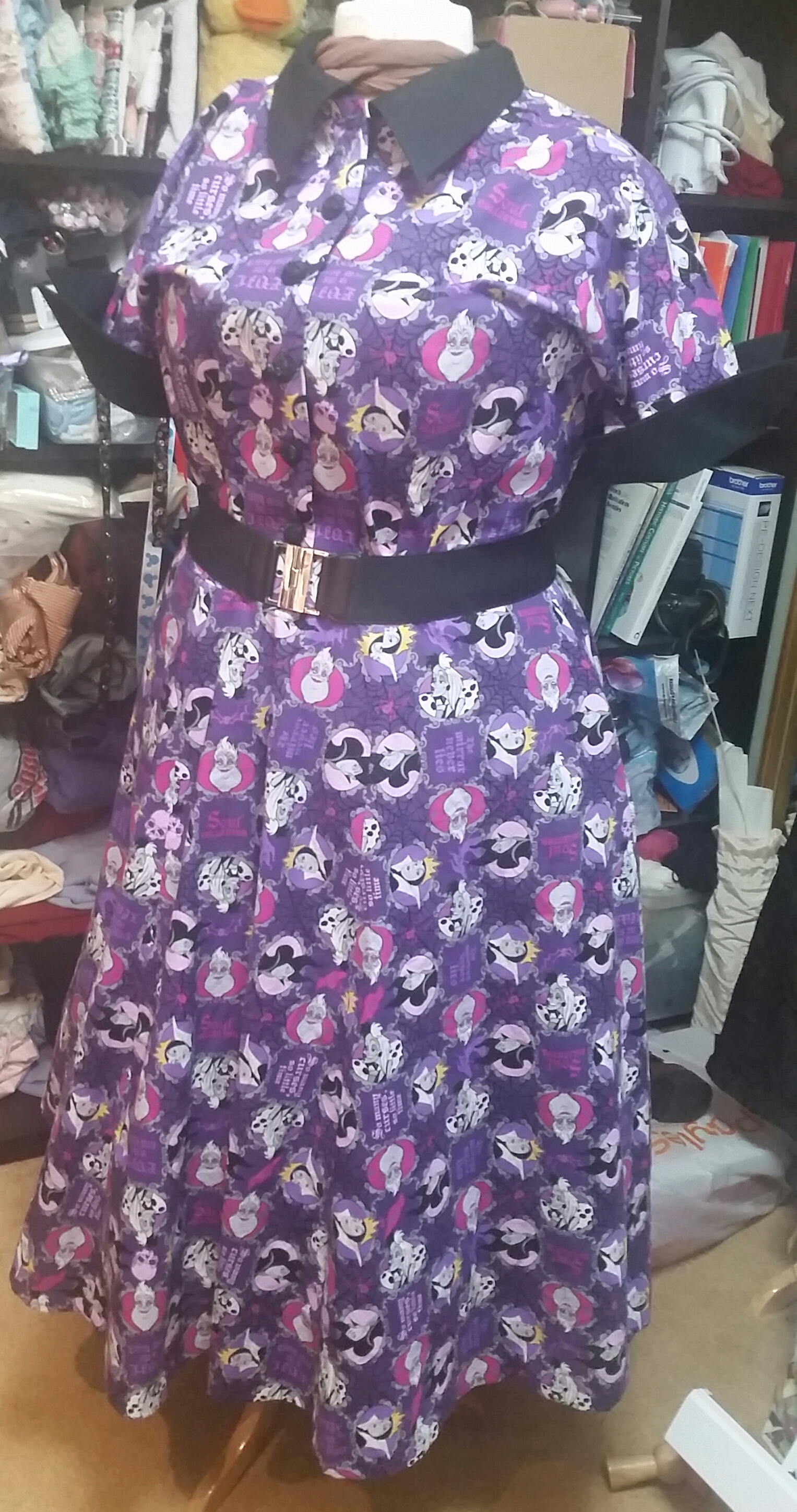 I also spray-painted a straw hat white for Jolly Holiday. I'll see how it comes out tomorrow when it dries, but it looks good so far! I've also now ordered all the trimming I need for her, except for the beading lace for the collar and cuffs. I'm looking for somewhere between 1.5-2" wide, with enough room to run a 3/8" ribbon through the center. I'm finding a couple that are 1 3/8" wide online, but am having some difficulties finding anything wider. Anyone have any leads?
It's done!
I finished the cuffs on the villains dress, and sewed on all my buttons, so it's nearly finished. Hopefully I'll have plenty of time to set the zipper in tomorrow. I'm also a little worried that it's too long - I tried it on today for the first time, albeit without a petticoat, and the skirt seemed a good 1-2" longer than ideal. I'm thinking the petticoat will balance at least some of that out, but I guess we'll see once it's finished. It's also still kind of baggy looking in the back, but I guess I just have to get used to that with a dolman sleeve bodice. I do think the black cuffs, collar, and belt do a pretty decent job of balancing out all that bold print, though, so at least that's a plus!
I also posed for another portrait session on Friday morning. Usually, everyone sketches or uses oils on actual paper, but there was a girl there drawing with a tablet. Her work was really good, and she let me take a picture of some of what she had been working on. I'm amazed at people who draw digitally - it seems so much more difficult to me! I think the black and white sketches were from the two or five-minute poses, and the colored ones were from the 20-min poses.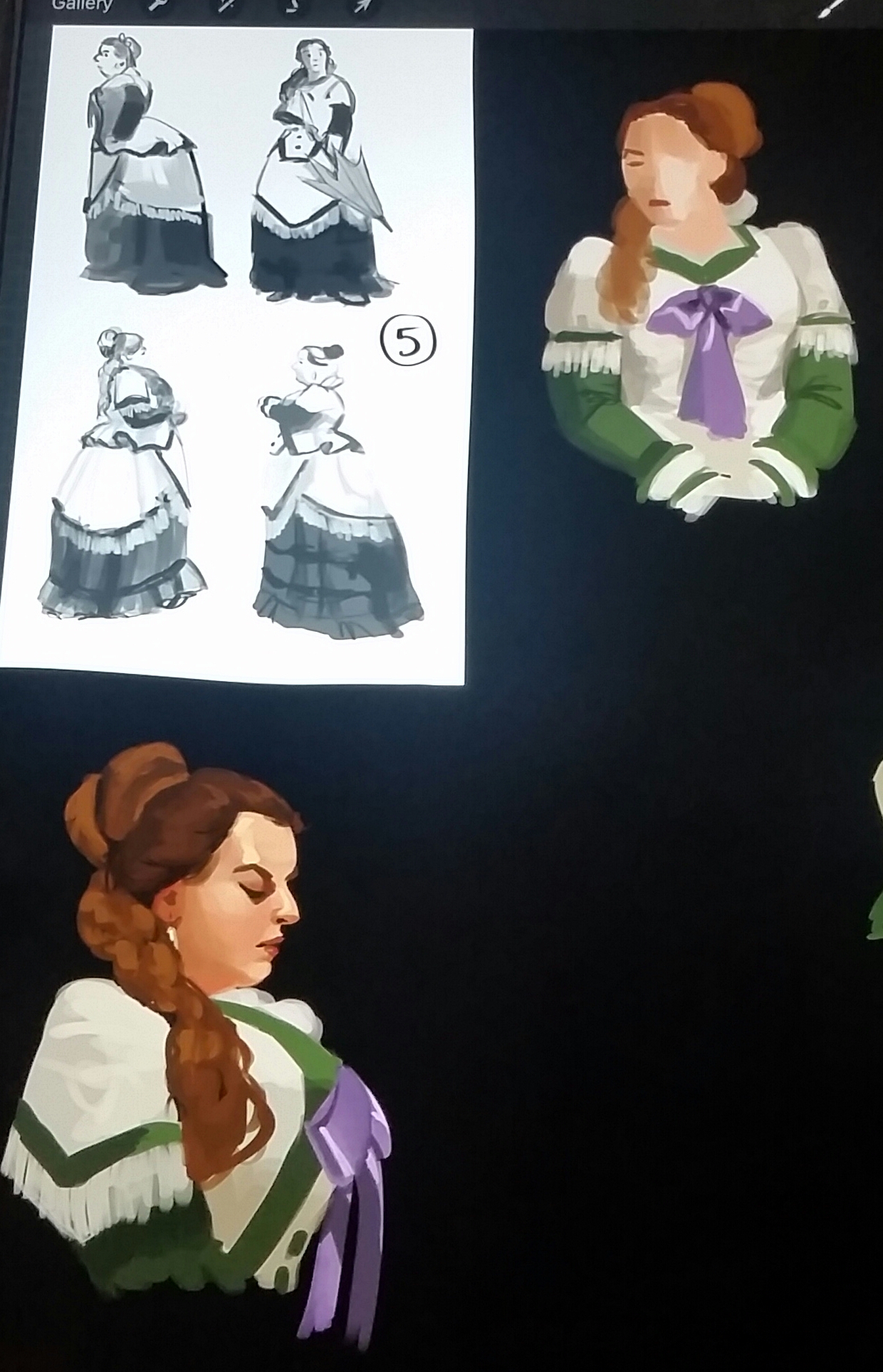 I have done a little more work on the villains dress, too - I did all my buttonholes, attached the skirt to the bodice, and started on my cuffs. Now that I won't have rehearsals in the evening, I'm really hoping to finish it in the next couple days. All I have left is finishing the cuffs, putting in the side zip, and sewing on six buttons, so hopefully it won't be too bad!
I've also finished purchasing (hopefully) everything for Mary Poppins, except possibly the hat. I'm tempted to try to spray paint one of my straw hats white, and drape it with organza, since I haven't fallen in love with anything I've seen online.
I think once I finish the villains dress, I'll really try to get back to the corset, too. I need to check the second mockup, and order the boning and busk, too. I figure I can place the order while I start on Mary Poppins.
Yikes! It's been a whole week since I last posted! I guess that's what happens during tech week, since I'm back to work now. Anyway, I've done a lot of mending of costume stuff for the show (I had to fix the hem and side seam of one skirt, resew 1/4th of the pleats of my ballgown skirt, whip the edge of my corset because my boning was sticking out, and quick rig two blouses and a bodice. I think that's everything?) The show is going really well, though - I've gotten lots of complements on my character development, and have been told that my death is "hard to watch." ;) Two weekends left!
I also started trying to dye the top of the parasol. I want every other wedge to be a pale red. But after working on it for over an hour tonight, I'm still struggling. The red keeps bleeding onto the white panels, and then when I go to dab off the bleed with a damp towel, the water bleeds back into the red section, and washes away the dye on the egde. So I need to figure out how (or even if there is actually a way) to prevent the bleed from happening. I really like the soft color that the dye makes, and I feel like painting wouldn't give the same effect... Any ideas?
You can see that two panels look relatively okay, and the other two red panels really have a lot of the reverse bleeding.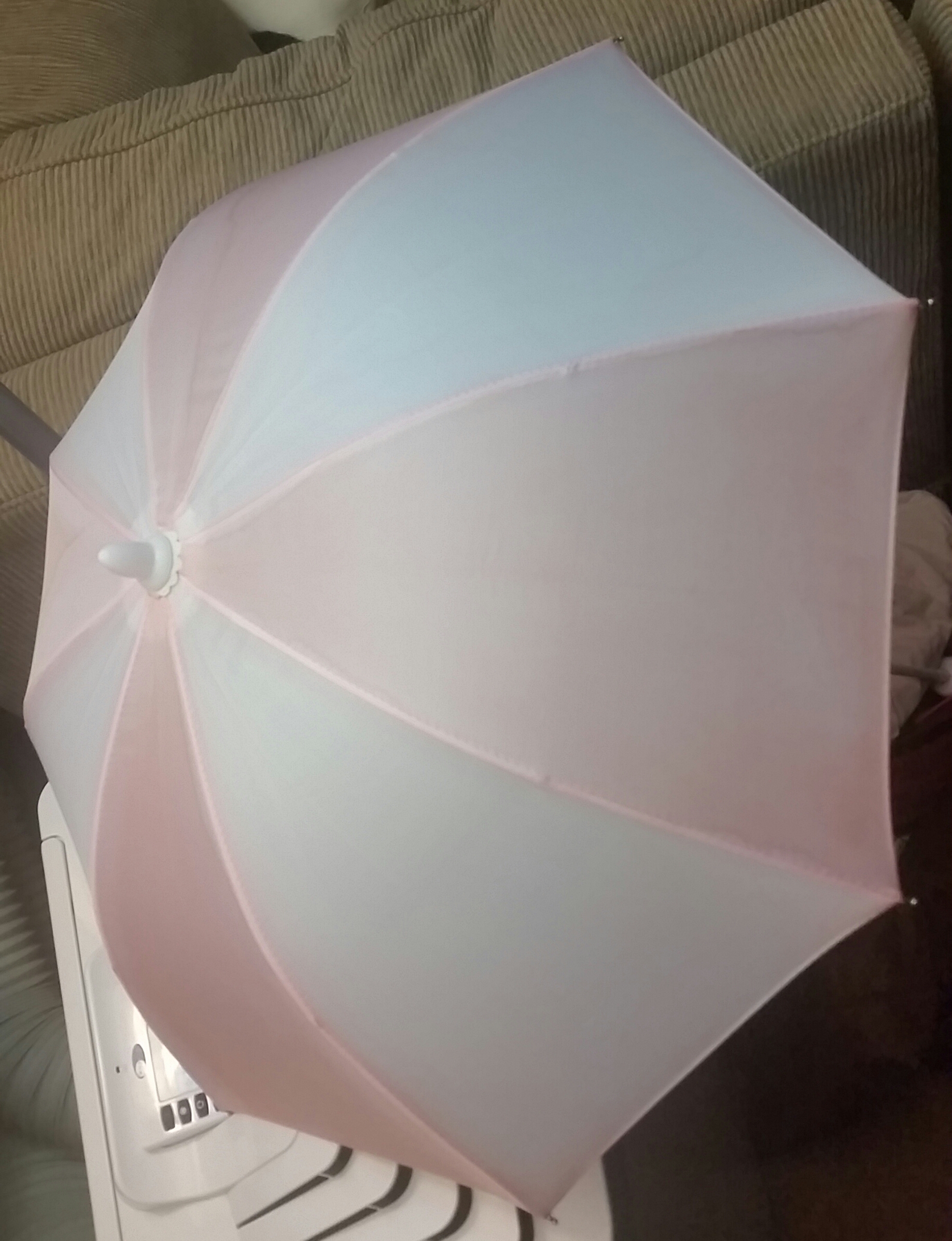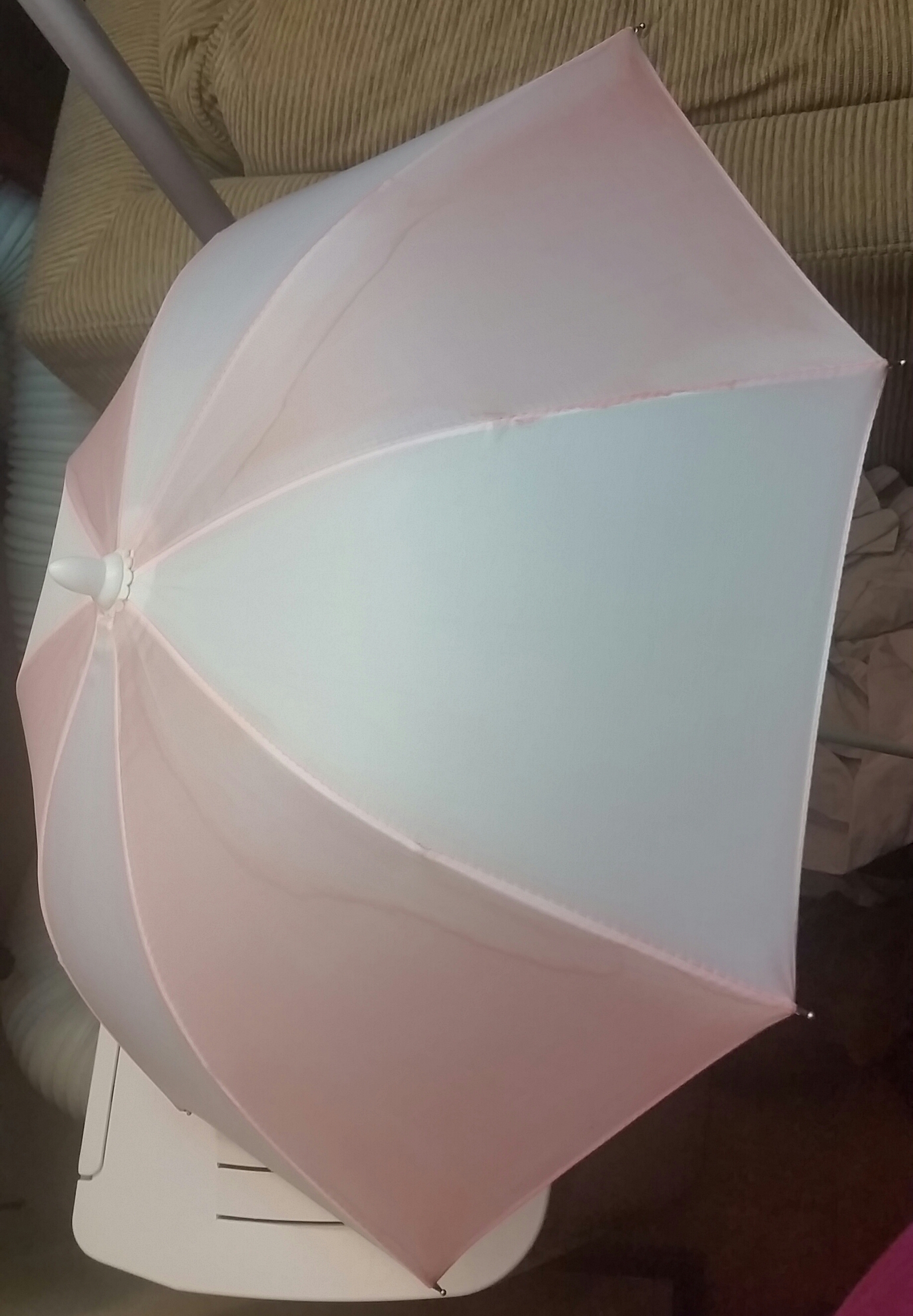 I spent most of today at the Puyallup State Fair, which was fun! I've never been to a state fair before, other than speed-walking through the Oklahoma one to get to the Disney on Ice arena. This seemed like maybe 1/5 the size of the OK one, but it was the perfect size to tackle in about 5 hrs today. I didn't ride any rides, but I checked out most of the arts and crafts exhibits, and saw some of the animals. And tried out a couple different massage chairs. ;) We also had fun food like scones, rootbeer floats, and corn dogs. I took some pictures of my favorite things!
Amazing LotR model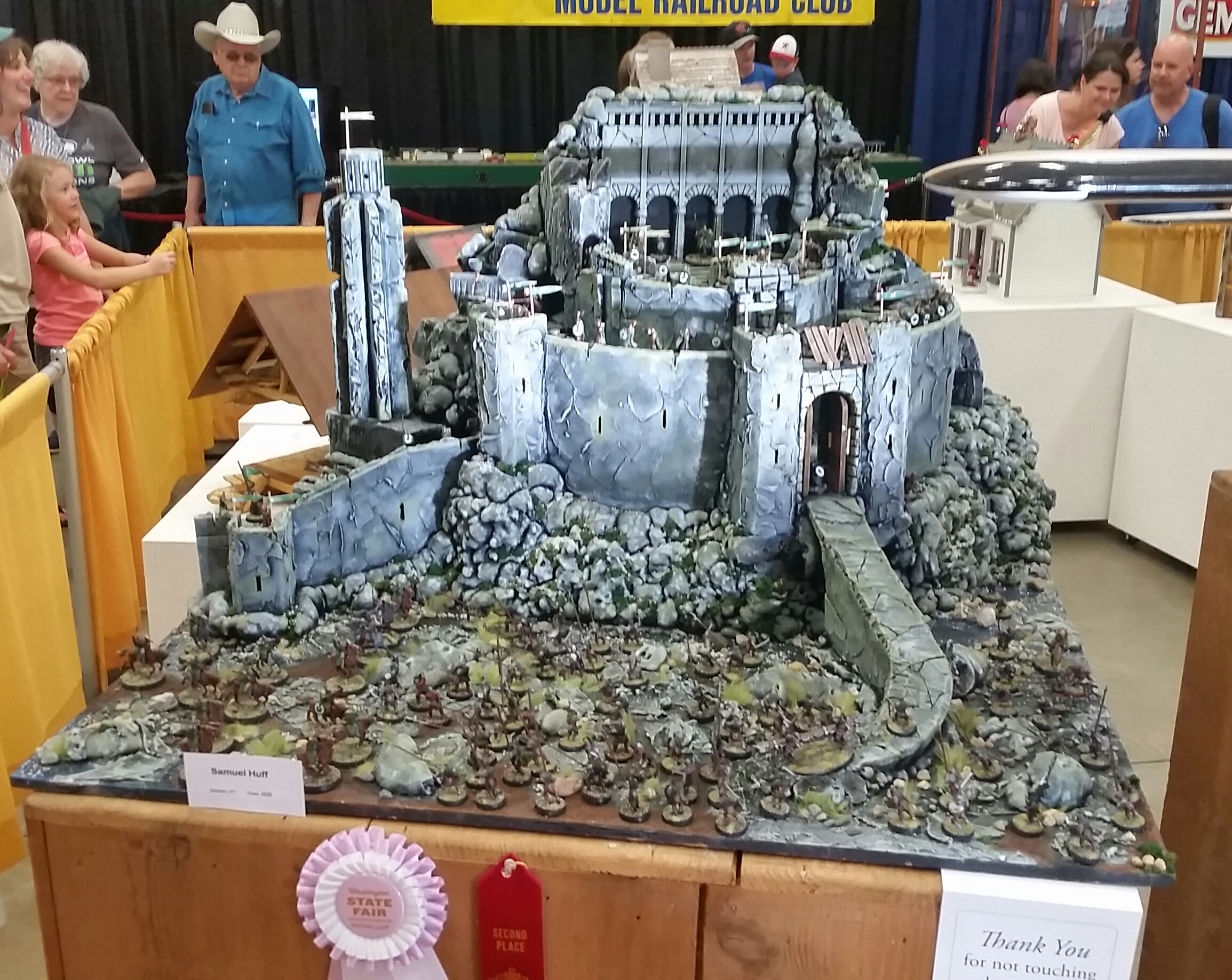 Absolutely incredible dollhouse!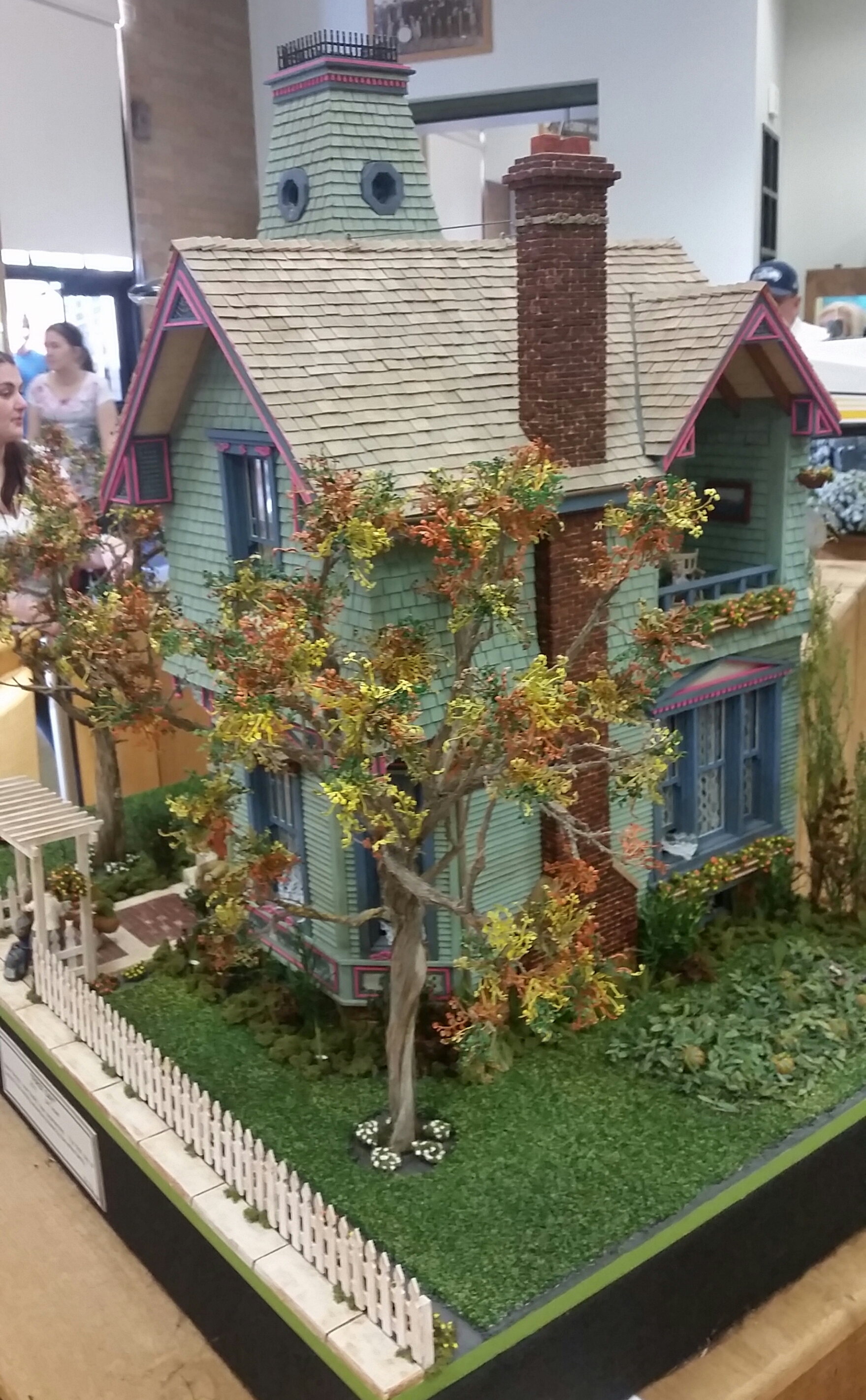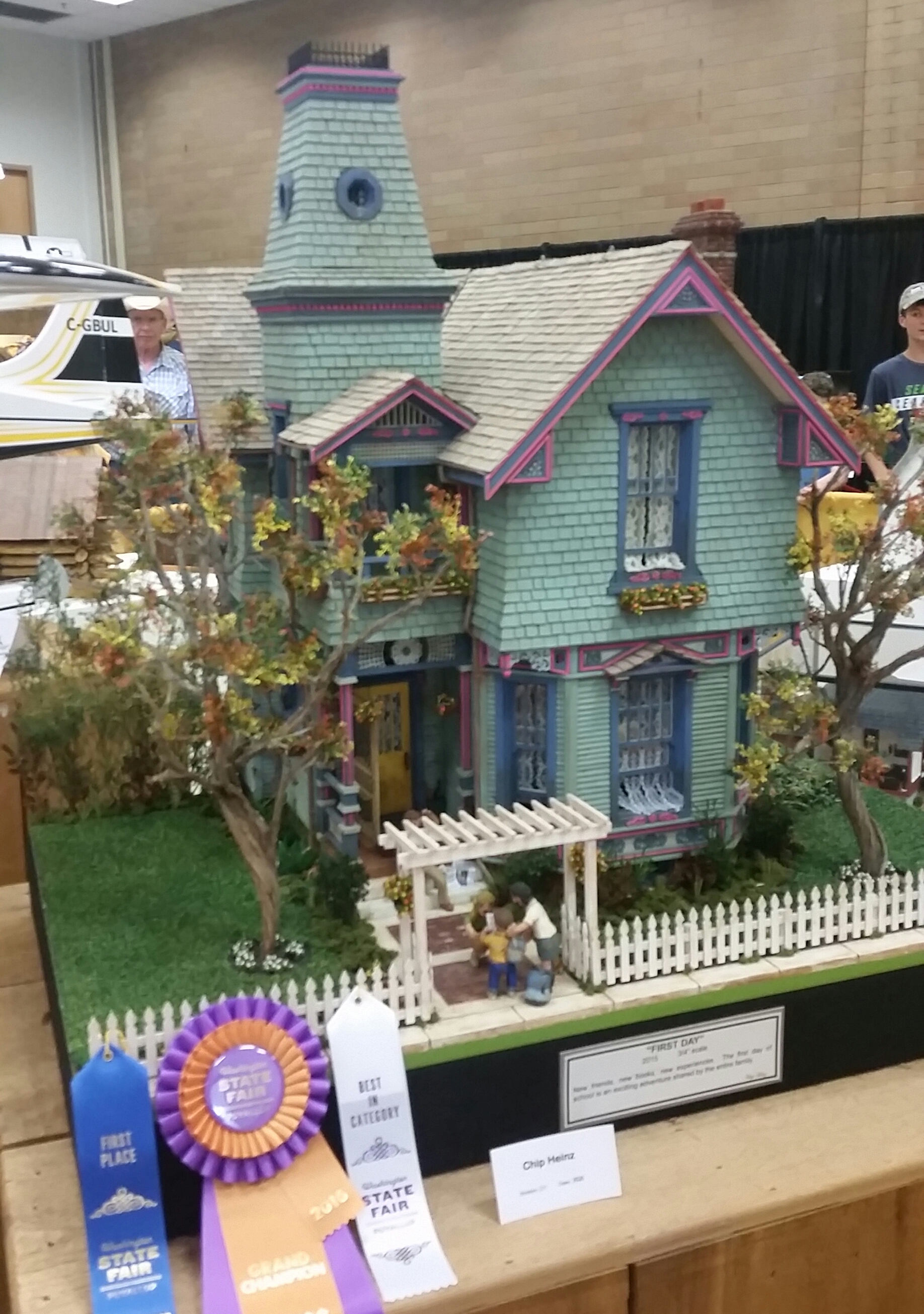 Lovely Tiffany lamp and mosaiced bird bath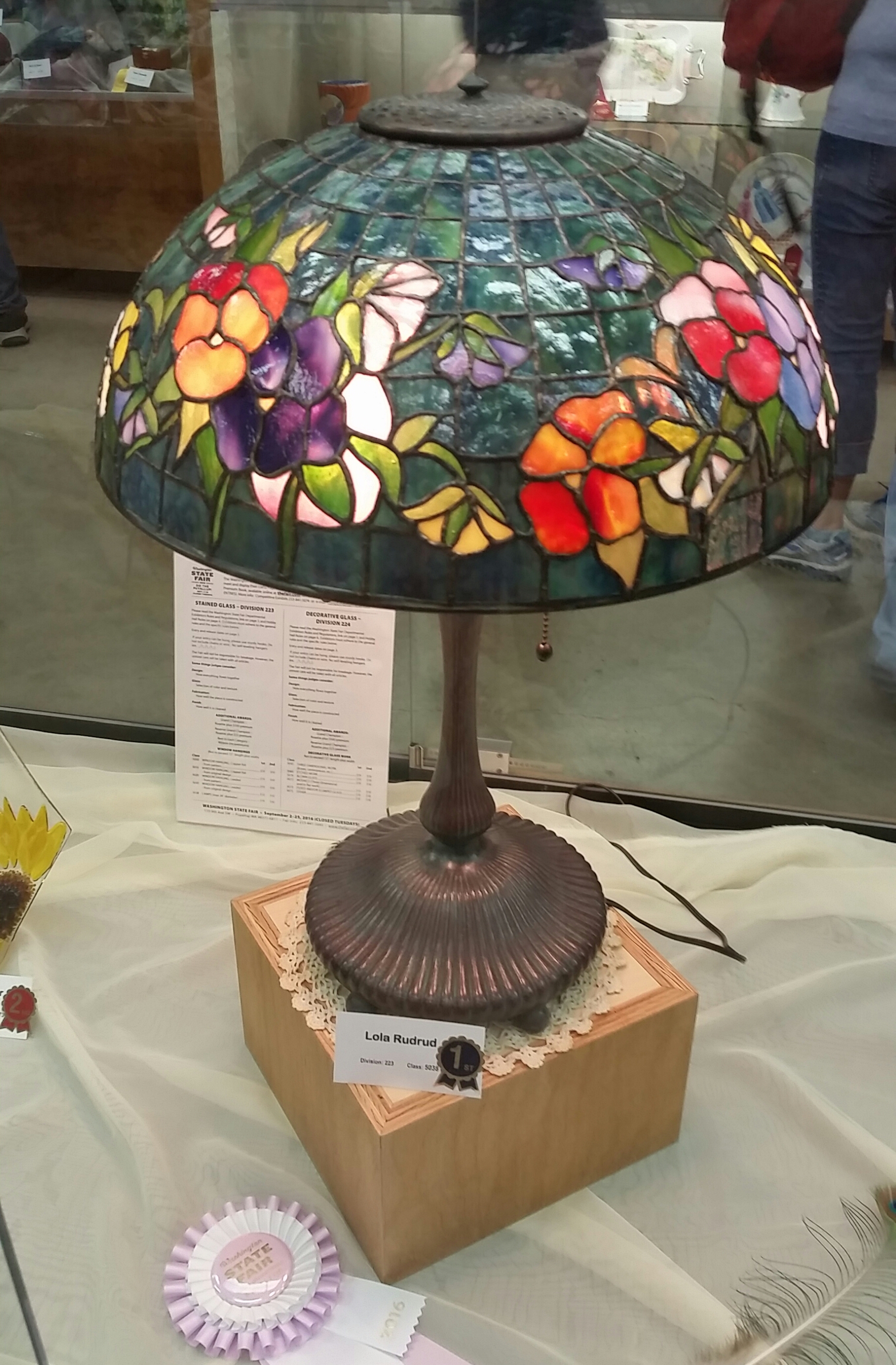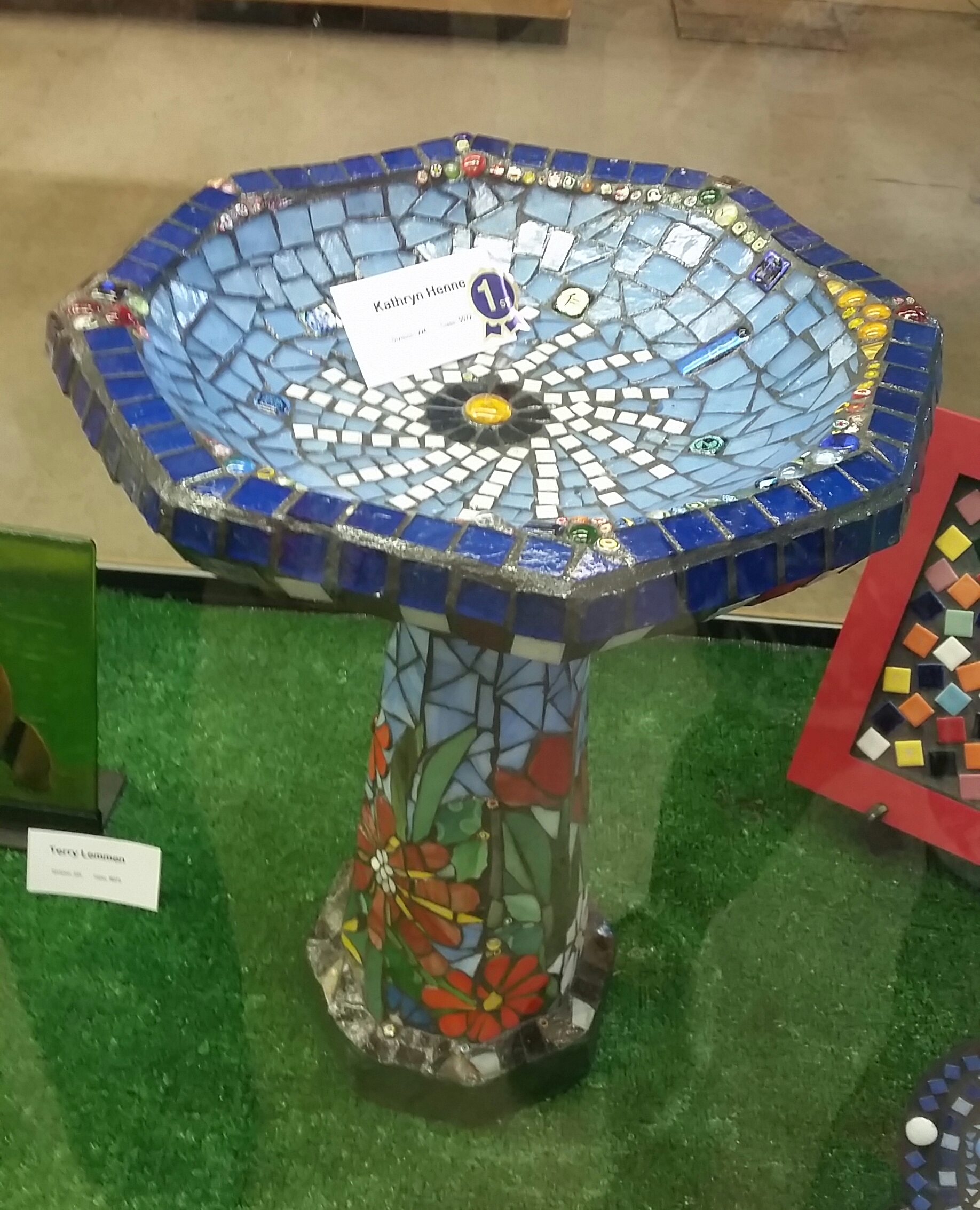 This brown alpaca was my favorite. :)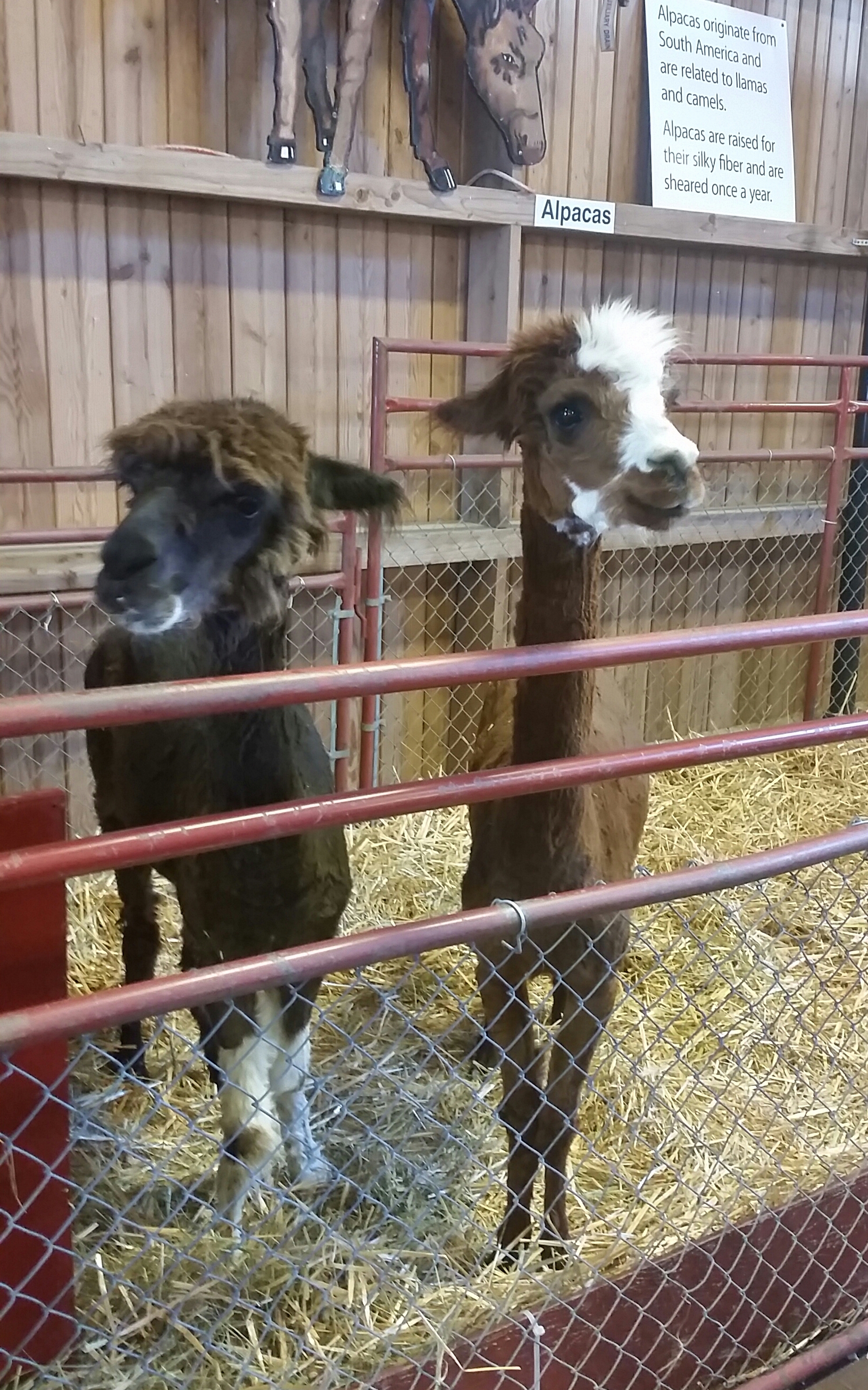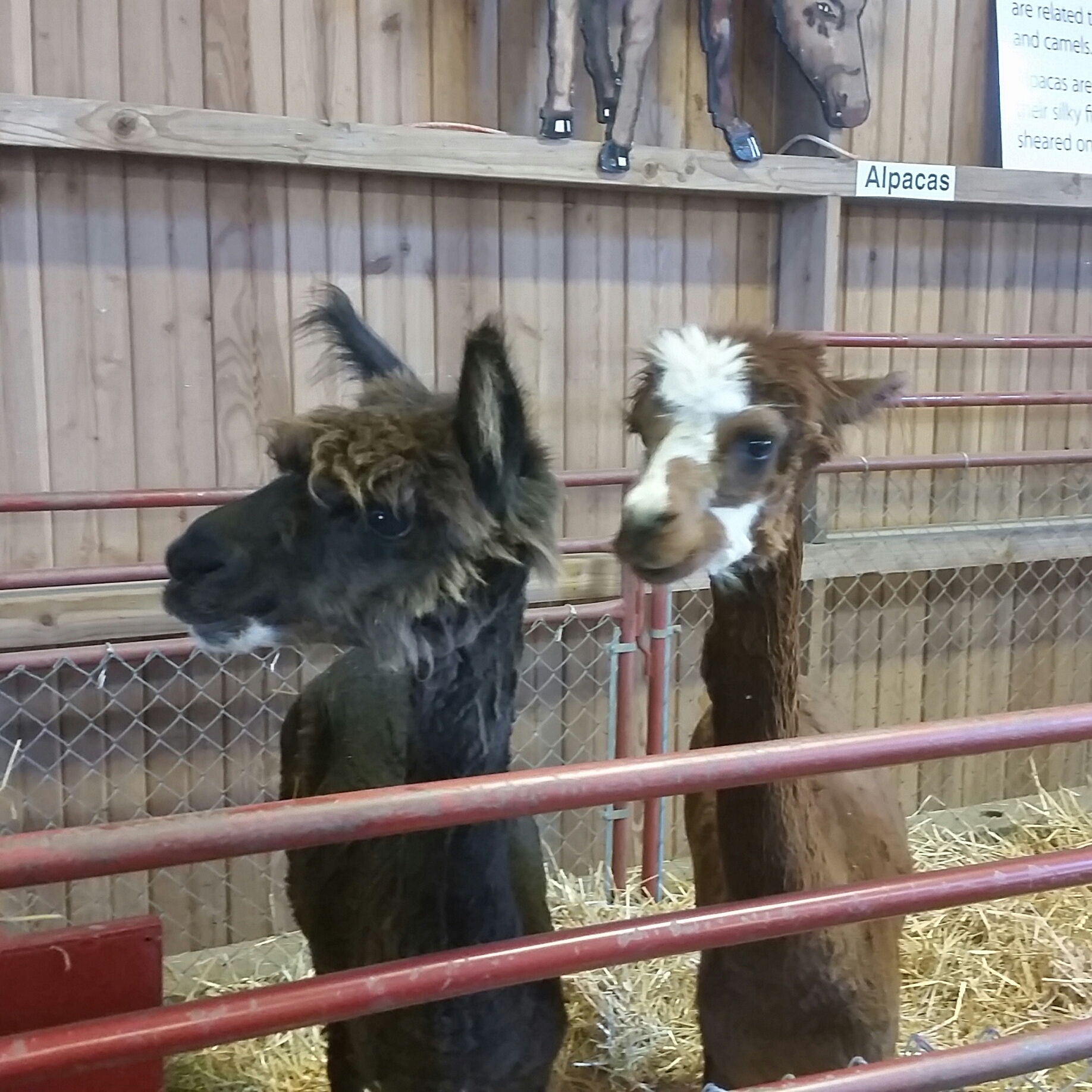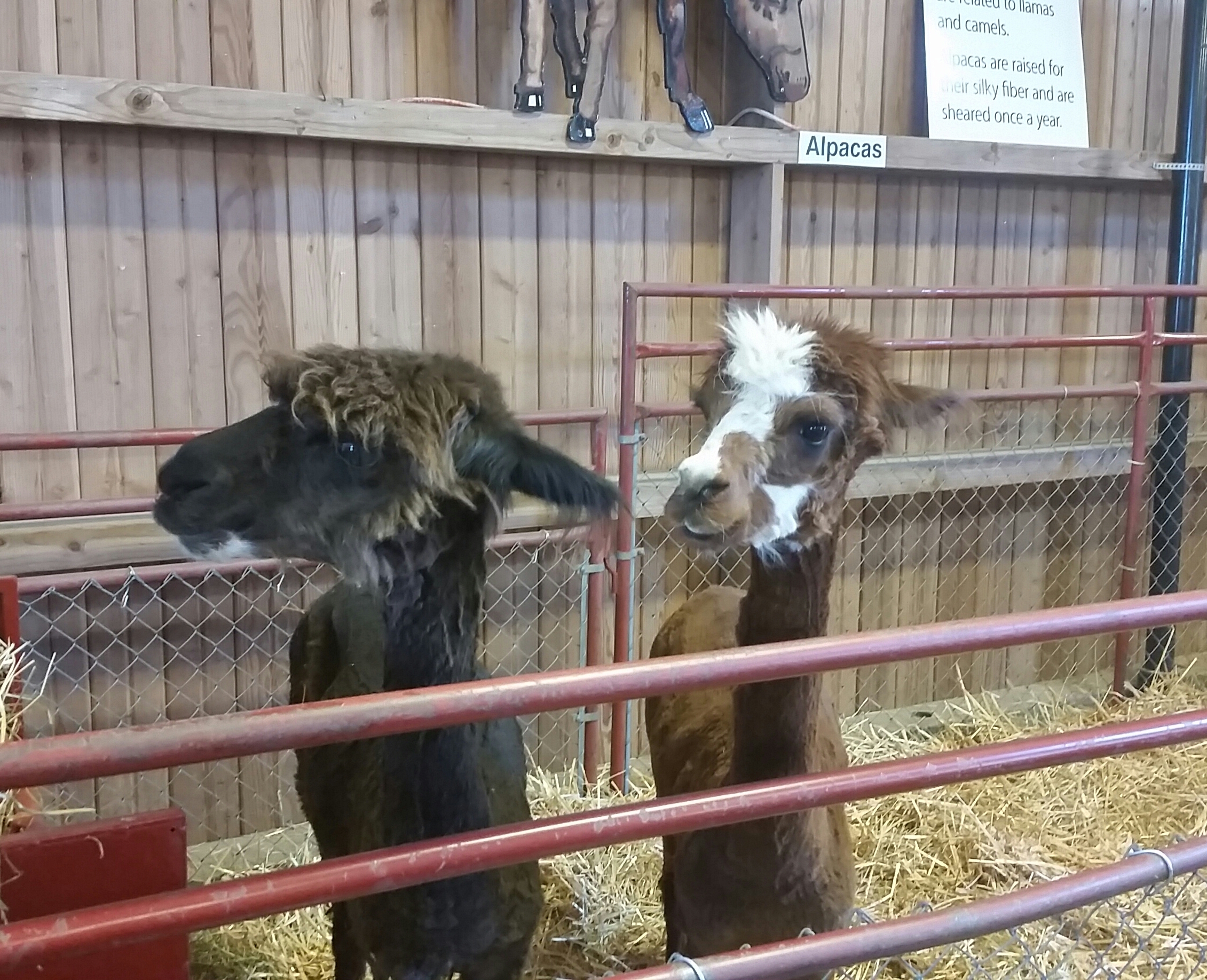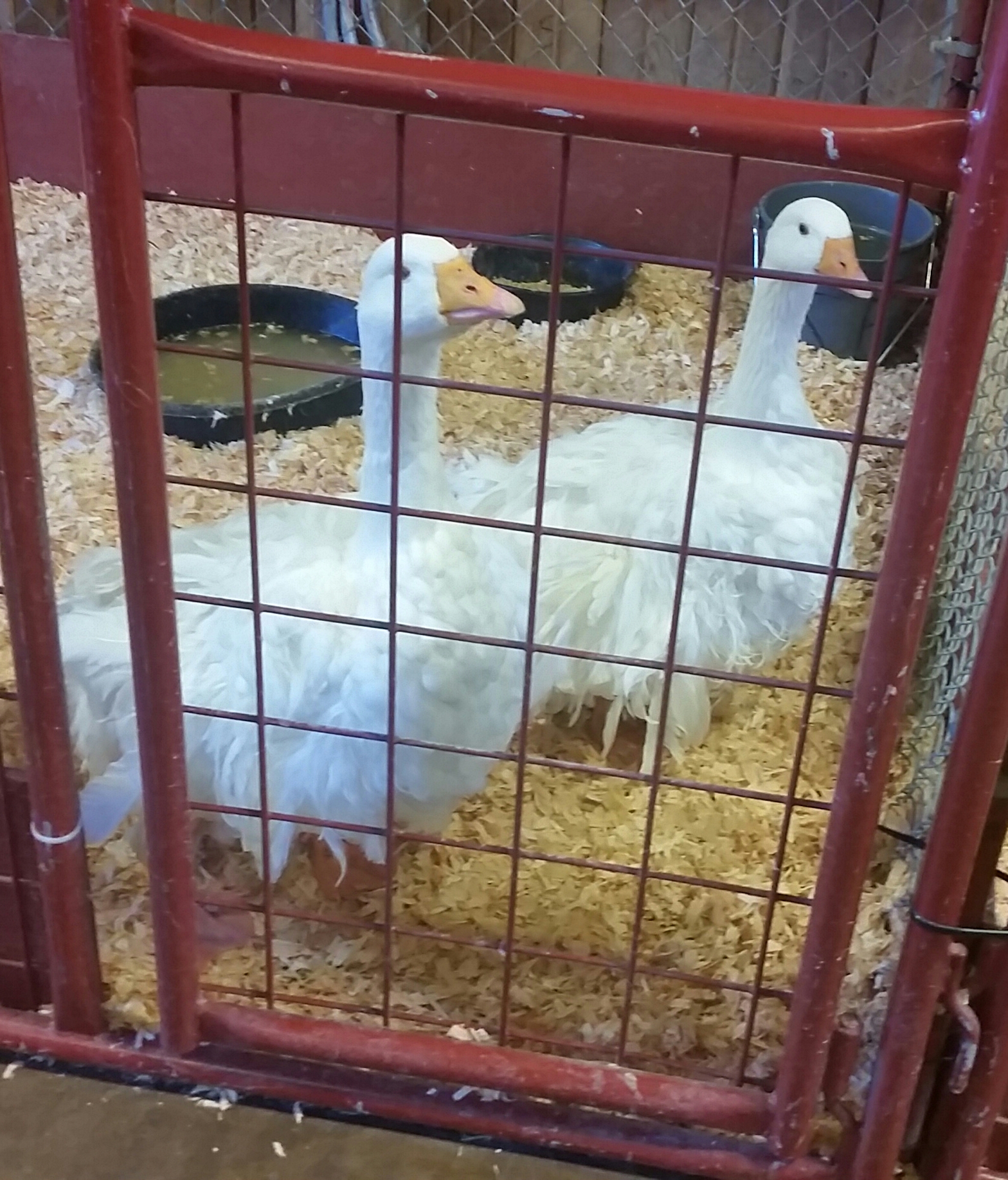 I finished stitching the facing of the villains bodice down yesterday. I also made another villains skirt for an etsy order. And today, I hemmed 2/3 of the skirt for my dress, and started playing with the Jolly Holiday parasol. The weird foam handle is coming in handy, because I was able to scuplt it into something at leat vaguely recognizeable as her bird handle. I think once I paint it, it will look pretty close.
And my parasol for Jolly Holiday arrived, so I'd like to start knocking that out. I'm planning to try to paint/dye every other wedge of the parasol - will nylon take dye if it's painted on without being watered down, or do I need to find another method? I also need to apply a lace ruffle around the edge.
The parasol I ordered
did wind up having nearly perfect dimensions, but it also has this big weird foam handle on it - I thought it would be wood, because I swear I've seen these parasols in the past with a wooden handle! Oh well. It might work out okay, actually, because it's large enough that I might be able to paint a bird head onto it, and get it looking a bit more like the actual parasol. Hopefully, the silk organza will also arrive this weekend, so maybe I can get a start on the Jolly Holiday costume as well.
Not much sewing happening the last couple days. I did manage to get half of my facing tacked down on the inside of the villains bodice today during rehearsal, but that's it. I'm hoping to be able to do a lot more sewing over tomorrow and Saturday. I have a feeling I'll take a small nap when I get home from work tomorrow (the 7am start time is killing me!) and then get to work. I have an etsy order for another villain skirt, so that's my first priority, since it needs to be sent out no later than Monday (and I'd like to get it out Saturday if possible). I'd also like to finish the villain dress.
My struggle right now is figuring out how to do the zipper. I'm ignoring the pattern (which I probably should have done on the collar, too, since it was the weirdest and most confusing method to add a collar that I've ever experienced), which says to use a regular zipper, and I think creates a little flap to hide it. Instead, I'm doing an invisible zipper. But the problem is that I'm also adding pockets, and I'm having trouble figuring out how to install the zipper and the pockets in the same place. Any ideas?
The fit of this was also really weird, which I think might be because it is a dolman sleeve. I had cut the pieces as is in width, but added 2.5" to the length of the bodice. That was waaaayyy too long in the back, though. I actually wound up taking almost all of the length out by the time it got to the center back. I think I removed 2 1/8" length in the CB, tapering to 1 1/8" by the side seam, and to 0" removed by the CF. I also had to create an additional back dart, in the CB, because it seemed so baggy, and I increased the size of the two outer darts (of the four tiny back darts the pattern had included). Luckily, this fabric has such a bold pattern that you really can't see any of the darts. I still have major wrinkling going on near the underarms, but as far as I know, there's no way to correct that for a dolman sleeve - unless anyone knows otherwise?
It's also kind of funny - it calls for shoulder pads, but the curve of the shoulder fits me pretty much perfectly. Definitely no room for shoulder pads in there!
Here's some pictures of the remaining wrinkles in the fit. First, the back wrinkles: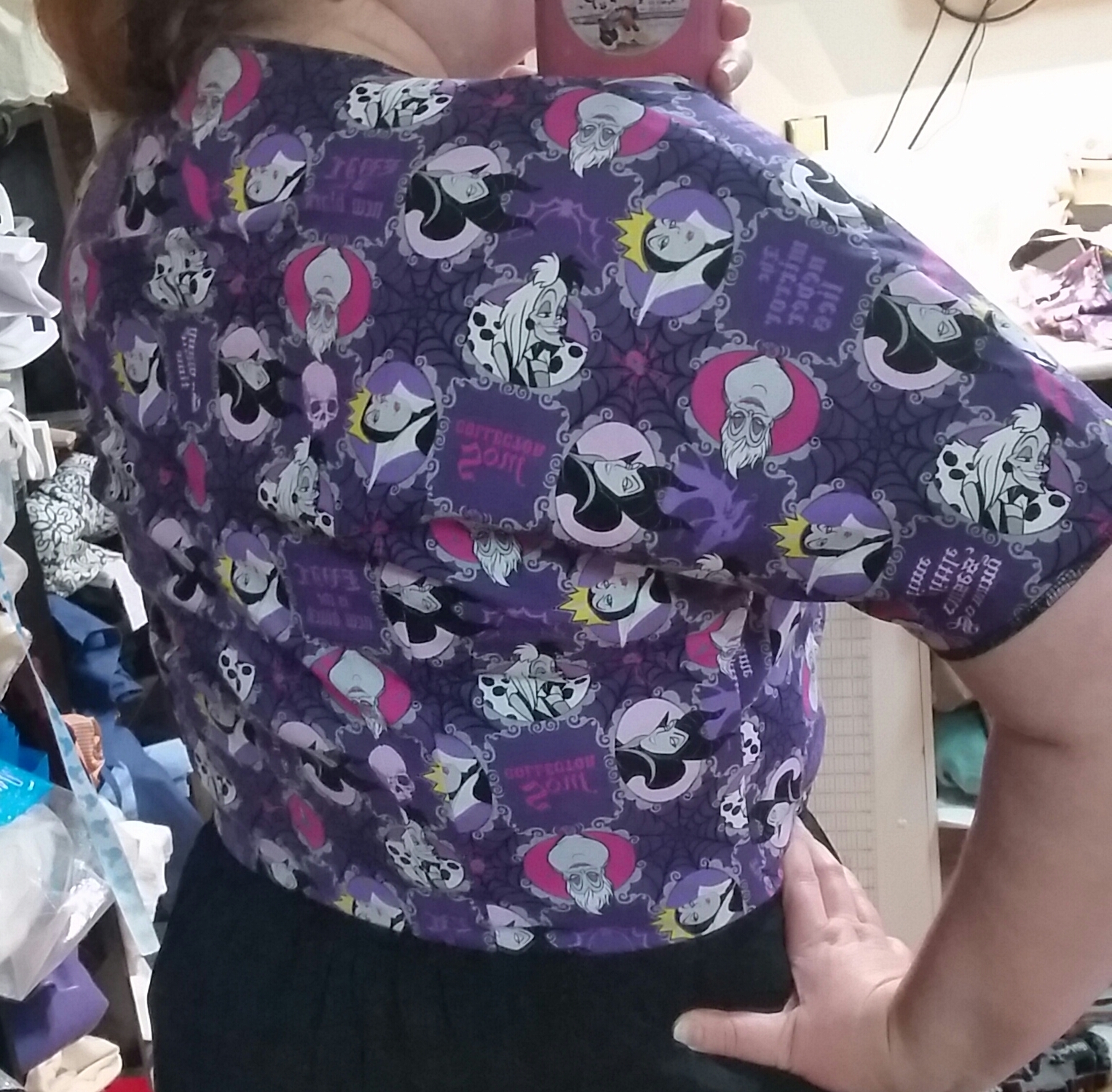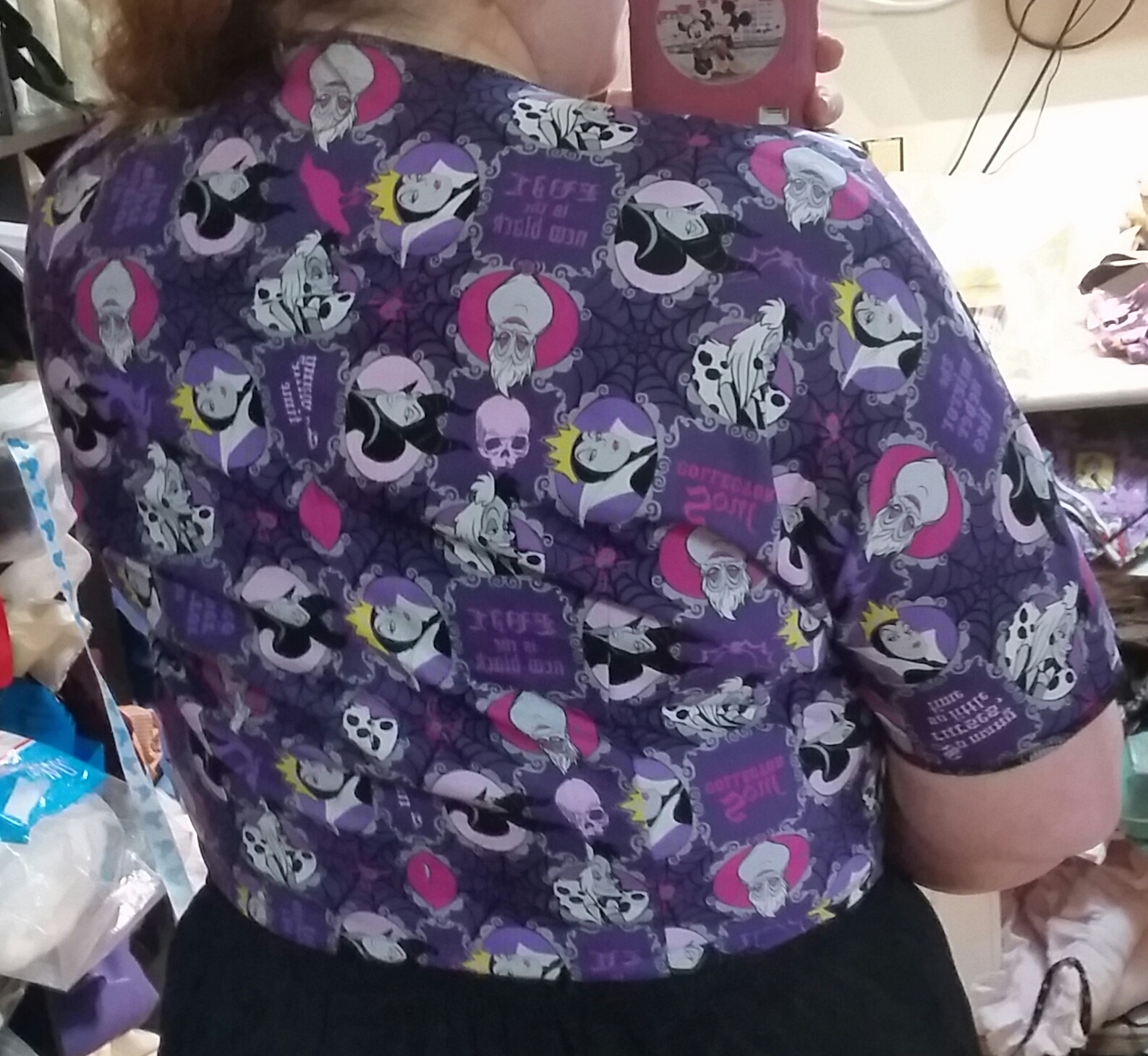 The armpit wrinkles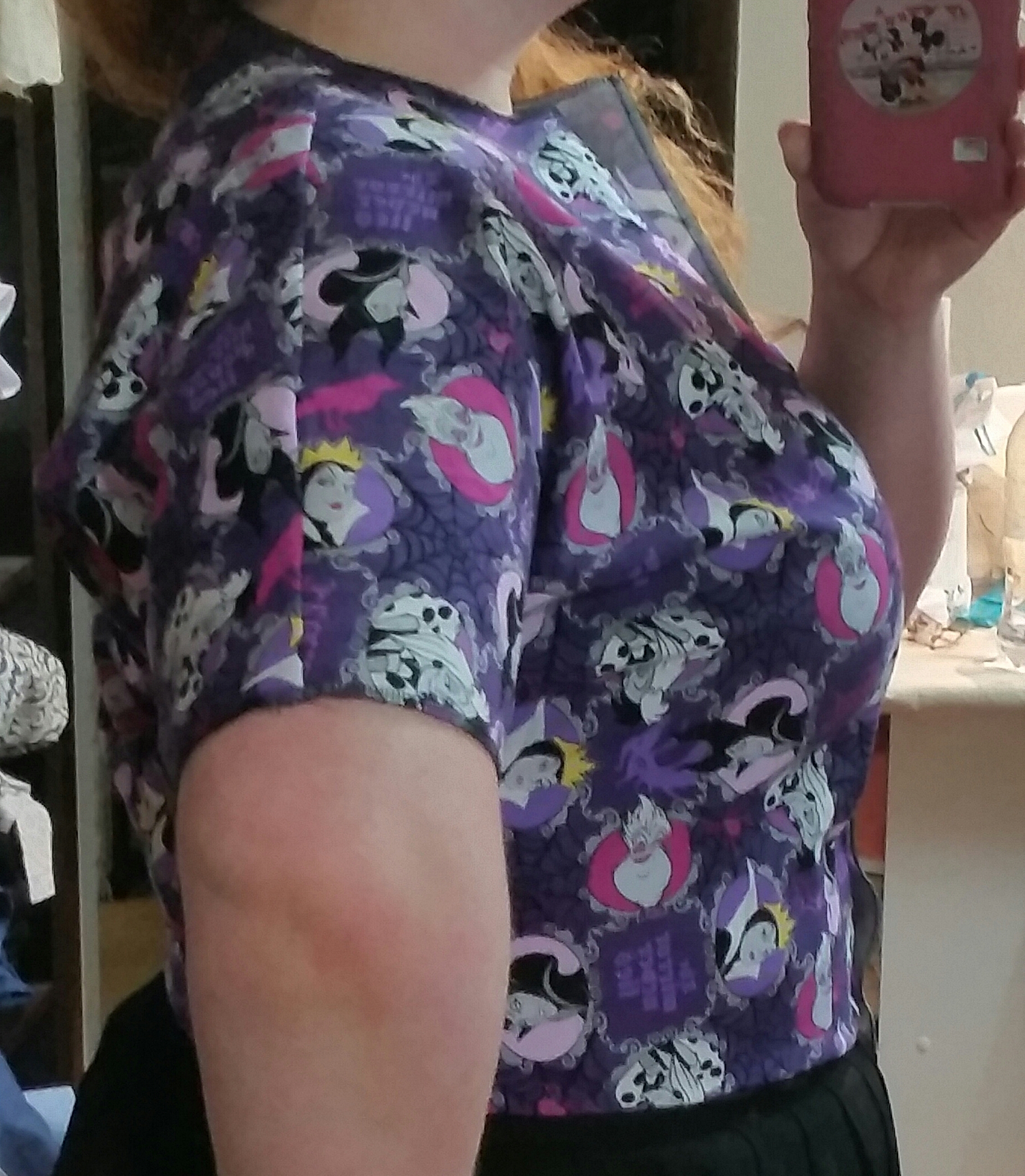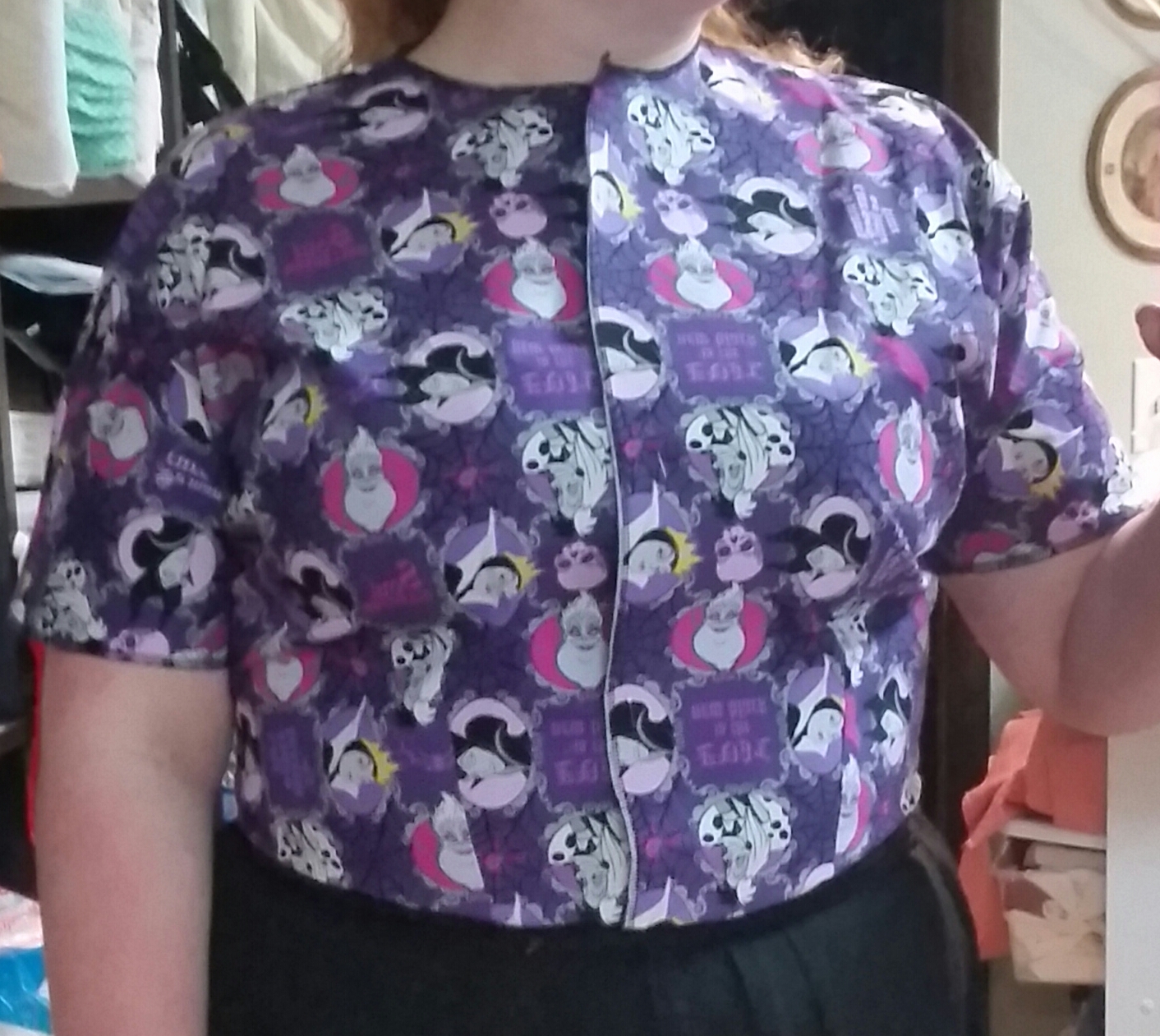 The wrinkles go away when I put my hand on my hip! And here's a pic with the collar and cuffs pinned on. I think they do a pretty decent job of breaking up the pattern, but I probably won't know for sure until I attach the skirt.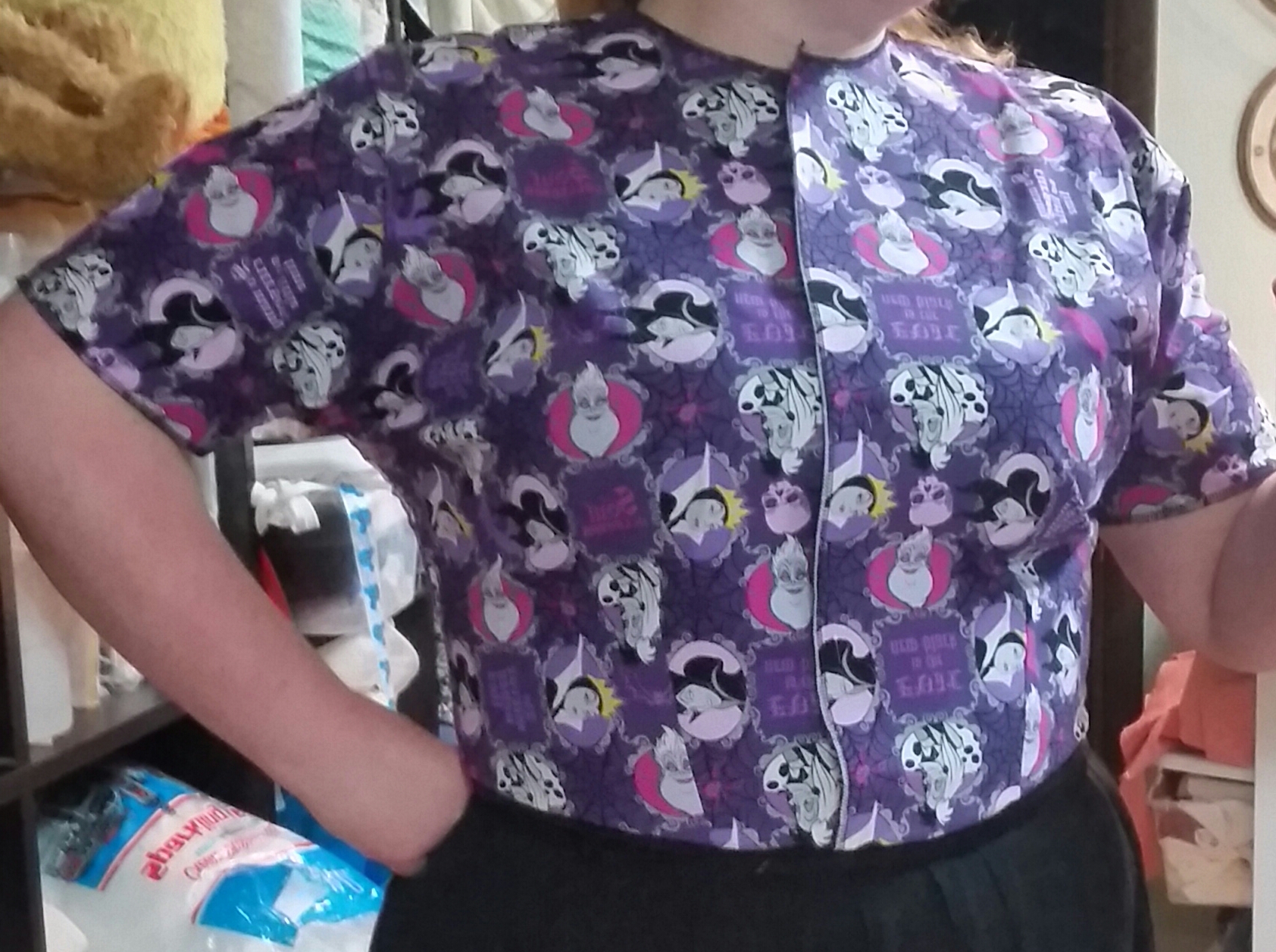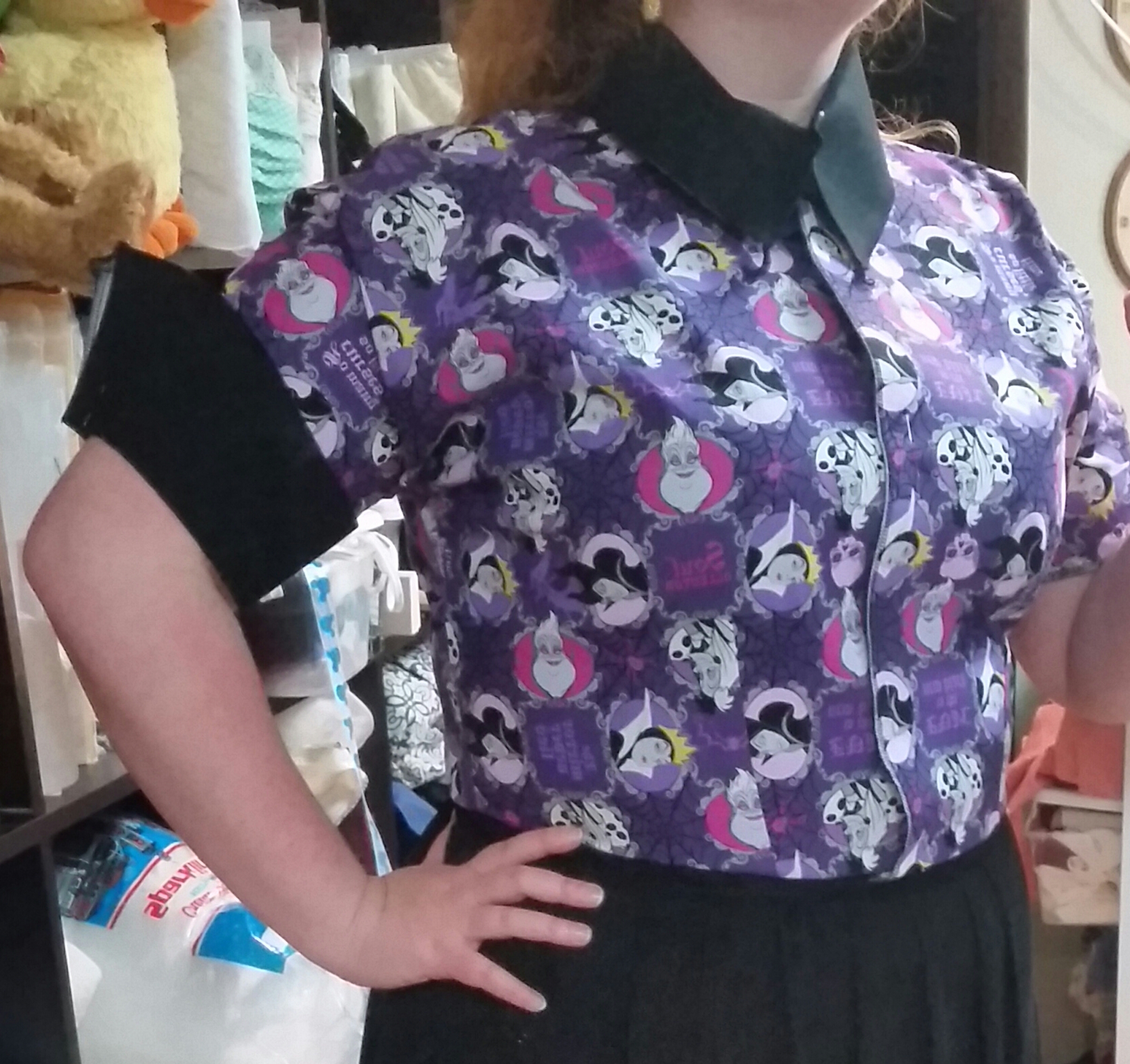 Here it is with the collar attached. I decided to make the facing black, too, so that I could also wear it open a little more at the neck.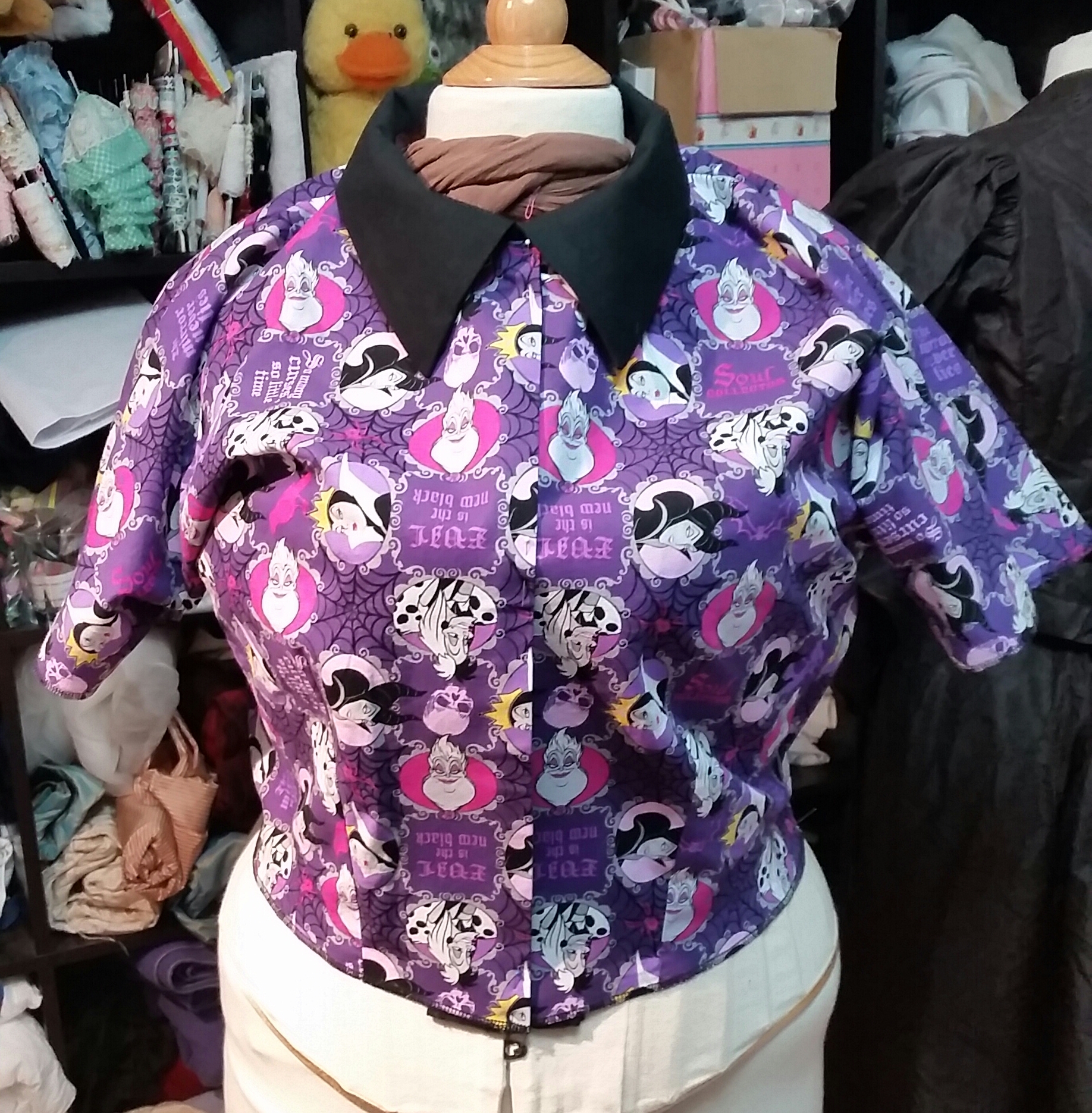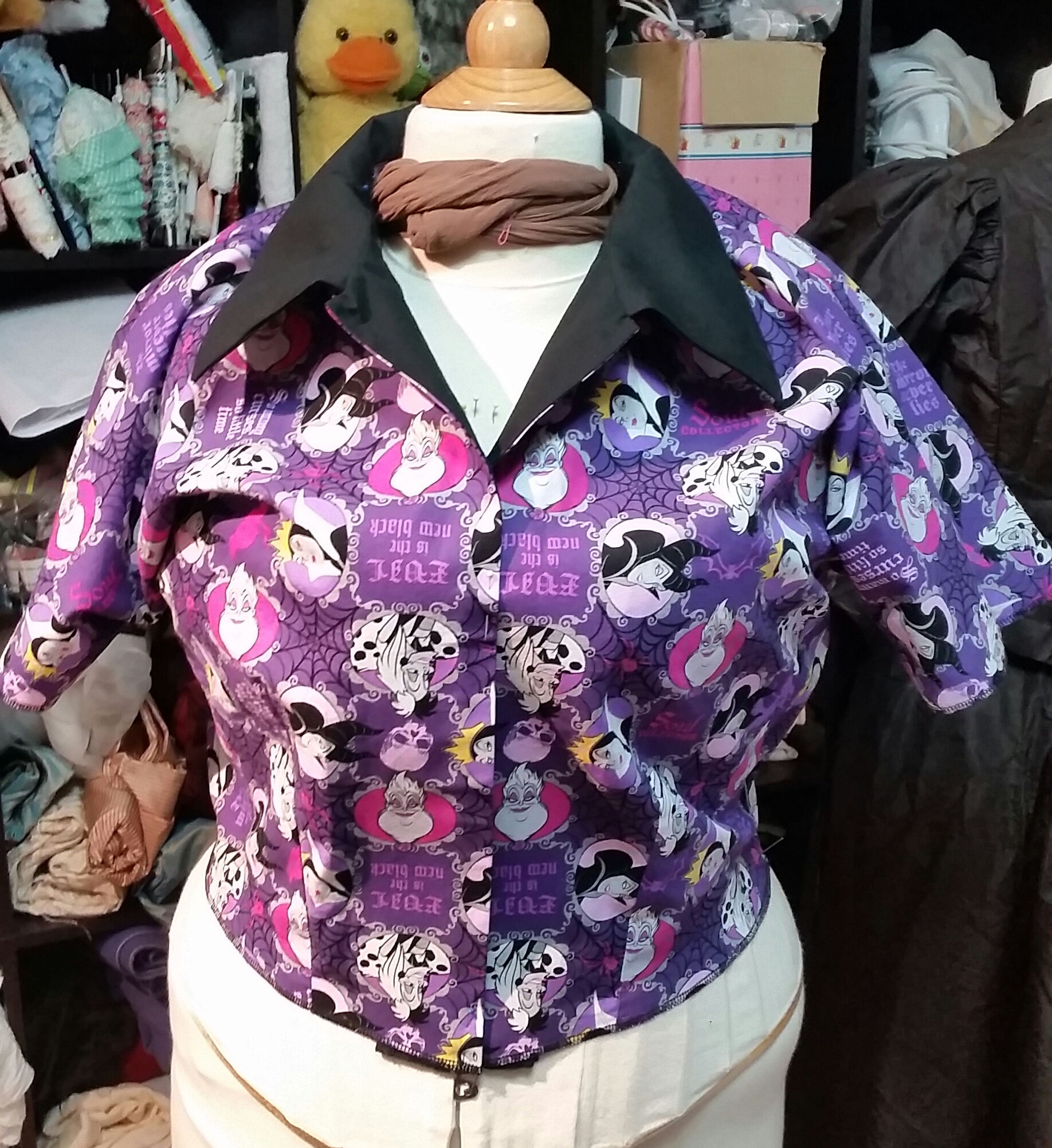 I probably won't have more time to work on this till Friday. I start my new job tomorrow, and have rehearsal tomorrow and Thurs nights, and if I do get any time for sewing, it should be spent in hemming/shortening some of my skirts, which I've agreed to wear in the production (I meant to do that today, and only just remembered. Oops!)
I feel like I really haven't been doing much sewing lately, but I did get a little chance to work on the villains dress today and yesterday. The bodice is pretty much together. It needs to have the facing and collar whipstitched down on the inside, the cuffs attached, zipper put in, and buttons/buttonholes. And the skirt needs the zipper and the hem, plus to be attached to the bodice.
I was wrong yesterday in thinking I had cut out all my villain dress pieces. I still had all the cuff, collar, and interfacing pieces left to cut, which I did today. The collar and cuff are out of black cotton. Naturally, though, I ran out of interfacing before I could cut the last two cuff pieces (it wants interfacing on each side of the cuff, which seems a bit much to me, but whatever), so I'll have to pick some up tomorrow. I also serged several of the pieces. That was all I got to, though, since I also had to dogsit, and go to rehearsal, and I took advantage of the nice weather and cleaned out the gutters. And unfortunately, I don't expect to have any time to sew tomorrow at all. So I really hope I can get it mostly finished on Tues, since I start my new job Wednesday!


Mary Poppins Jolly Holiday - due by mid-Oct
1950s Villains dress - due by end of Oct
1876 corset - due as soon as possible, so I can start bustle gowns
1876 green wool fur-trimmed dress - due by Jan for Little House Party
1870s black wool fur-trimmed skating dress - due by Jan for Little House Party
1870s paletot (or whatever they were called at this point) - due by Jan for Little House Party
1860s corset - hopefully due by late Jan, so I can start gala gown
1860s giant turquoise ballgown - hopefully due by mid-March, in case the Port Townsend Victorian Festival happens after all
Snow White couture gown for group project - due by CoCo
Elizabeth Swan burgundy 17th c gown for Keira Knopely group - due by CoCo


And maybe if I manage to get all that done, I can make new 18th c stays and the Daniel Deronda riding habit, like I wanted to before. But maybe it's because of the corsets, but this feels like a lot!
Since I feel like so many plans are swimming around in my head, I'm putting them down here so I can reference them for later.
I also ordered 10 yards of silk organza from Dharma for Mary Poppins. And a parasol.
Honestly, it somehow feels like Halloween is like two weeks away, and I have no time to sew anything! I know that's not true. But I think it's feeling piled up because of just how much I need to get done, both by Halloween (Mary Poppins and the Villain dress), and then by January (1876 corset, skating bustle dress, green winter bustle dress). And that, combined with the fact that I go back to work on Wednesday (and I work 5 hours on Monday, too). It will only be four days a week, since I didn't get the costume shop job I was really hoping for (which would have been full time), but it will mean going to bed crazy early, because I start work at 7am. Plus I'm going into tech for Jekyll and Hyde next Monday, and still have rehearsal every day this week, too, so I think I'm just feeling like I don't have any time. Luckily(?), I didn't get cast in the show that I really wanted to do next (which is why I can go to Dapper Day), so once Jekyll opens, I'll have a lot more time to sew, even though I'll be working. I'm just worried about how long Mary Poppins will take!
So by the way, is anyone else I know planning to go to Dapper Day?
Oh, and just so there's a picture in this post, here's the present I made last week for my friend for her birthday. She loves villains, so I knew this fabric would work perfectly!
I haven't done any actual sewing yet, but I did finish cutting out all my pieces for the villain dress! Thanks for your advice - I decided to cut the center front and side backs of the skirt facing in the same direction as the bodice fronts, and the center back and side fronts the same direction as the bodice backs. Hopefully it won't look too crazy. The collar, cuffs, and belt will all be black, which I'm really hoping will break up this crazy loud pattern.