I might have an ebay addiction.
Here's a couple pictures of ones that were looking particularly pretty in the tissue paper:
The one on the left might be my favorite, because of how absolutely enormous the sleeves are. I like the intricate closure of the one on the right, though.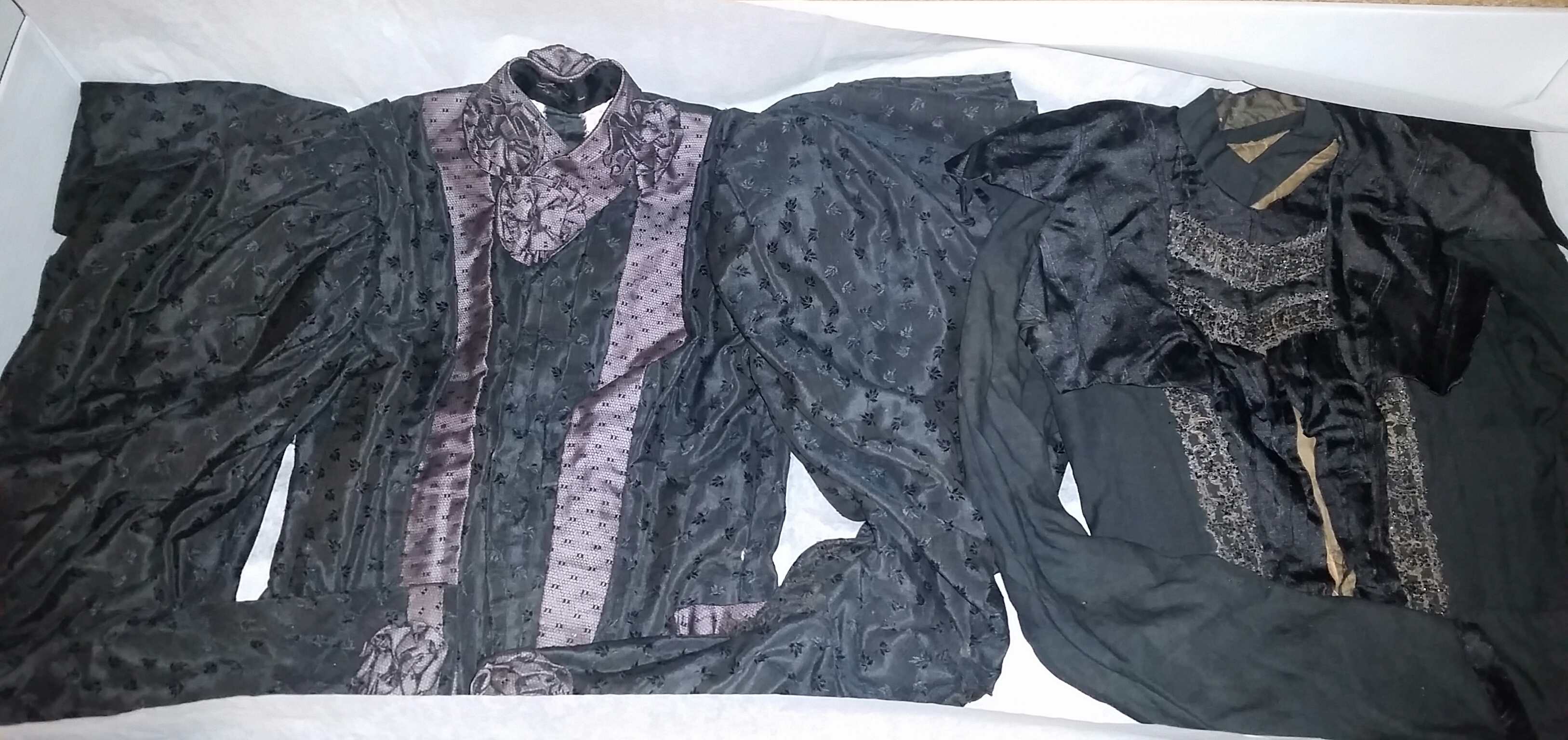 The ivory guimpe, which is practially a dickey, since the length is so short. All the little grey specks are basically tiny rhinestones, and I like the bust improver. The collar is also quite stiffly boned.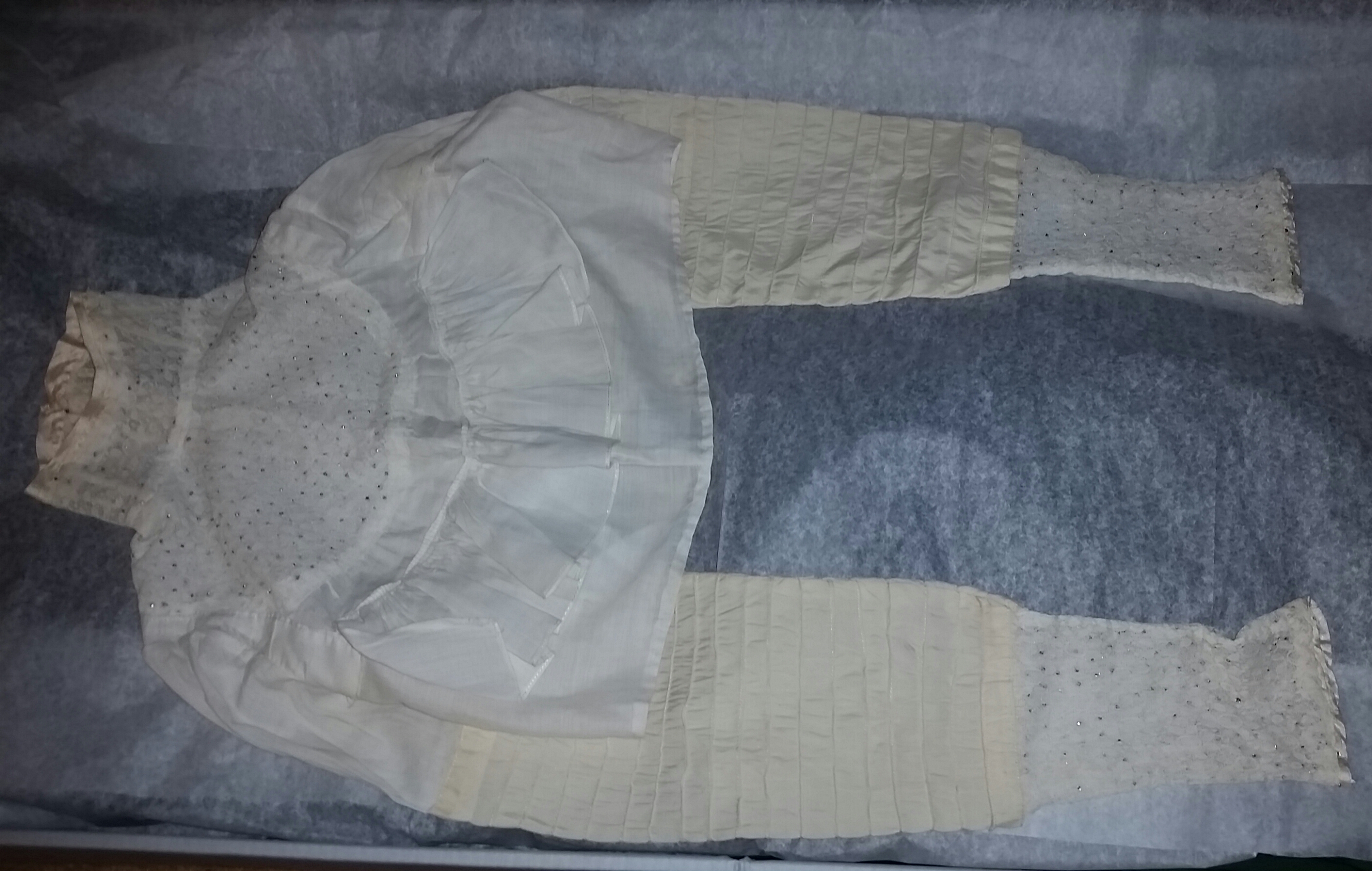 I also cut out the outer layer of my corset, which took way too long for some reason. I still have to cut out the inner layer, but then again, my busk is still not here anyway...
Thanks to Black Friday, I finally managed to buy two acid free boxes from The Container Store, and now all my lovely historical pieces get to rest in comfort! Two 41x19x6" boxes was just enough to hold everything. At this point, my collection consists of a jet-beaded capelet, at least 5 or 6 (I forgot to count) black bodices from between the 1890s through I think about 1905ish of various styles (some beaded, some lace, some silk, some cotton, etc), a mid-1890s silk walking suit, an unknown-dated velvet jacket (which I honestly can't tell is a riding habit or eton jacket, or something entirely different), two beaded lace guimpe blouses (one cream, one black), and my 1860s cotton stripey dress. And there's a a heavily-soutached capelet on it's way to me, too.
fairegoddess
's advice, and curve in the front pieces at the waist. I did it at the seams between front and side front, and between the side front and side back. And it worked! I think I actually curved in somewhere between 2-3" total, but the lacing gap stayed the same, and I still have the rounded stomach look (just now it's below the curved in waist).
Here's a few pics.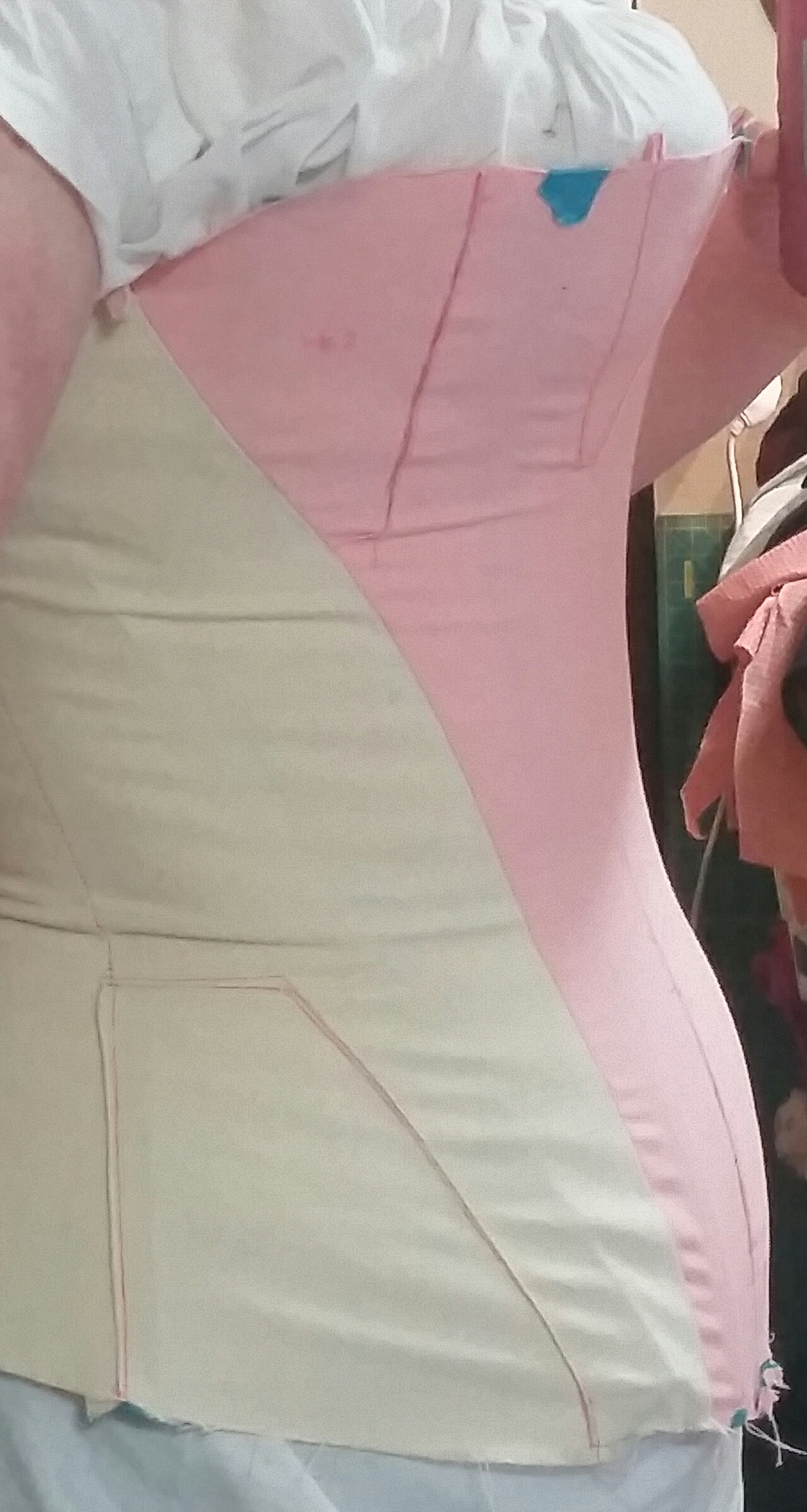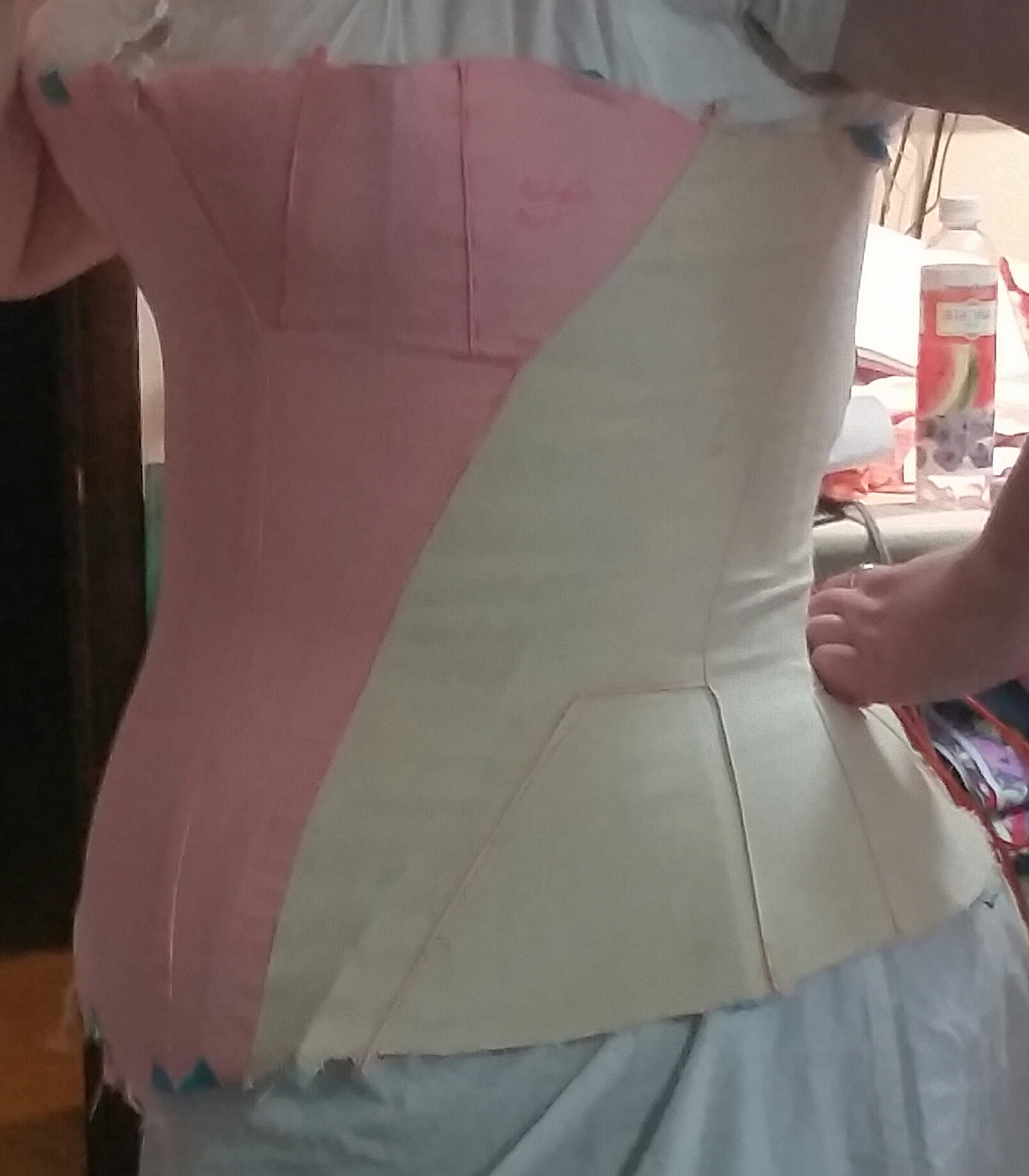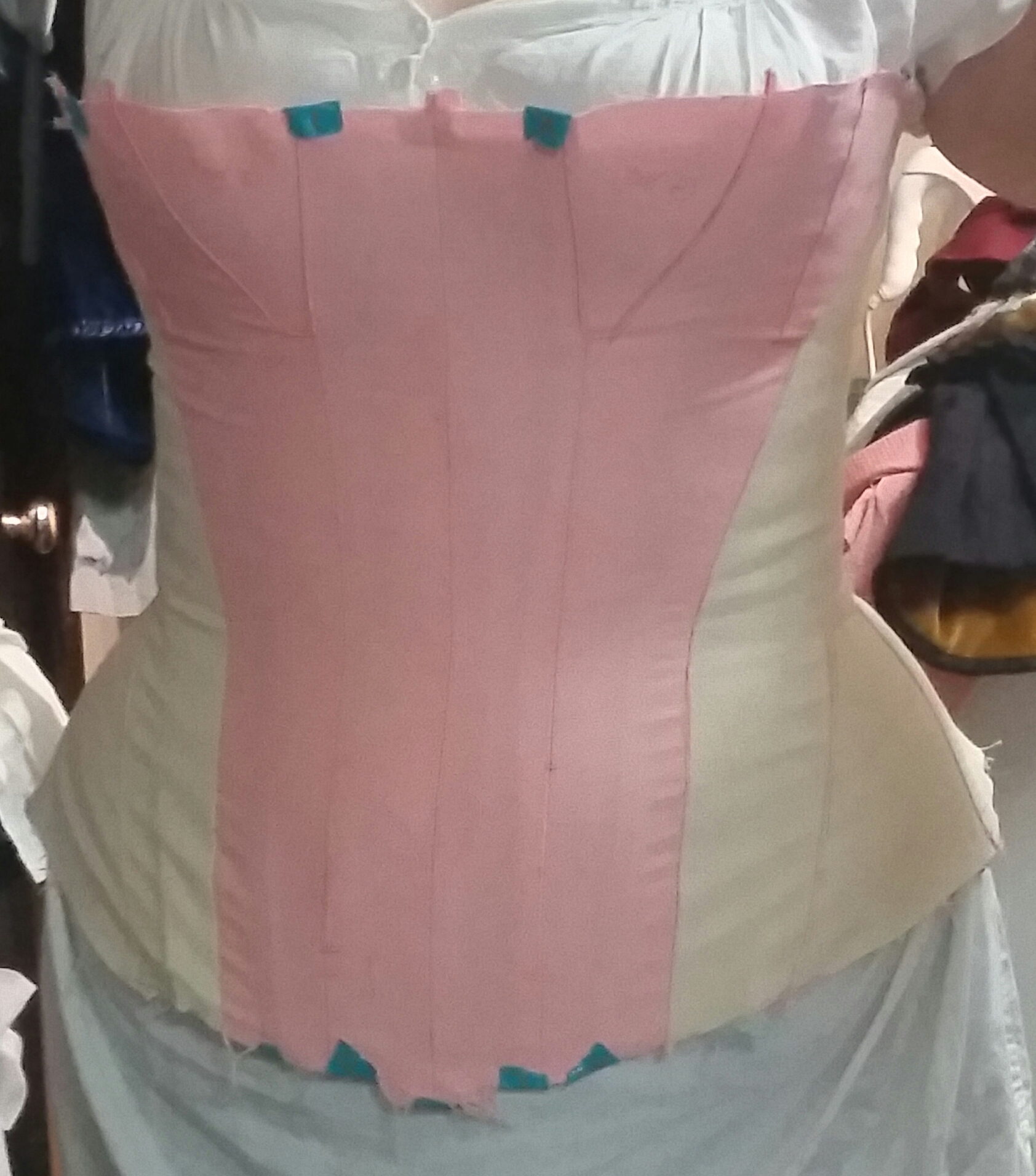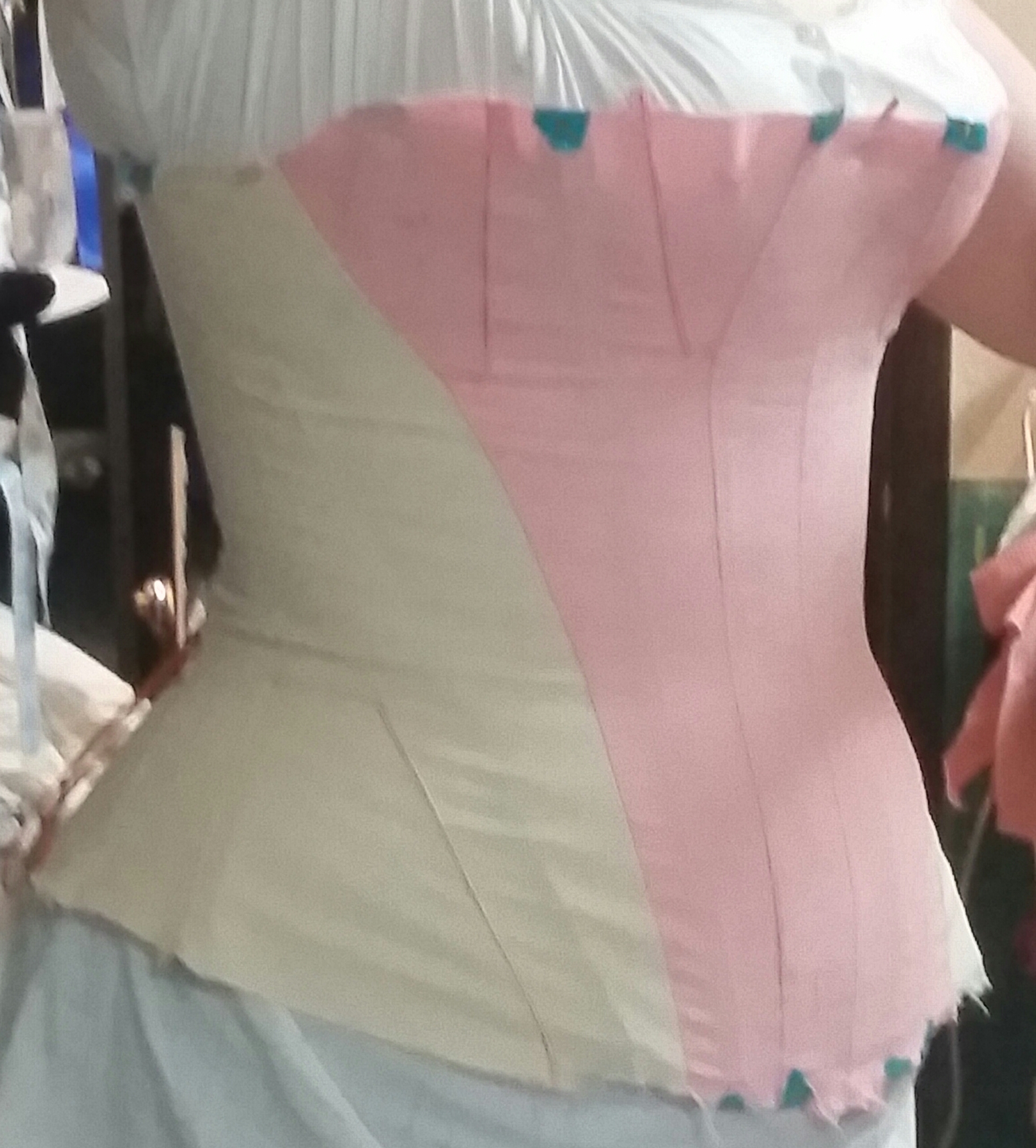 I've decided to just save all my mockup pieces as the pattern, and recut them all for the interlining, so that I can skip retracing a paper pattern. I've taken them apart, and maybe I'll have time to cut out the pieces tomorrow? I have two caroling gigs though, so it seems somewhat doubtful.
I did also cut out the pieces for my new Disney skirt, but I don't have enough elastic left for the waistband, so I'll probably swing by Joanns on Monday or Tuesday.
I have finally achieved waist reduction. I decided to forget (somewhat) the exact curved lines of the pattern, and take
Here's a couple pics: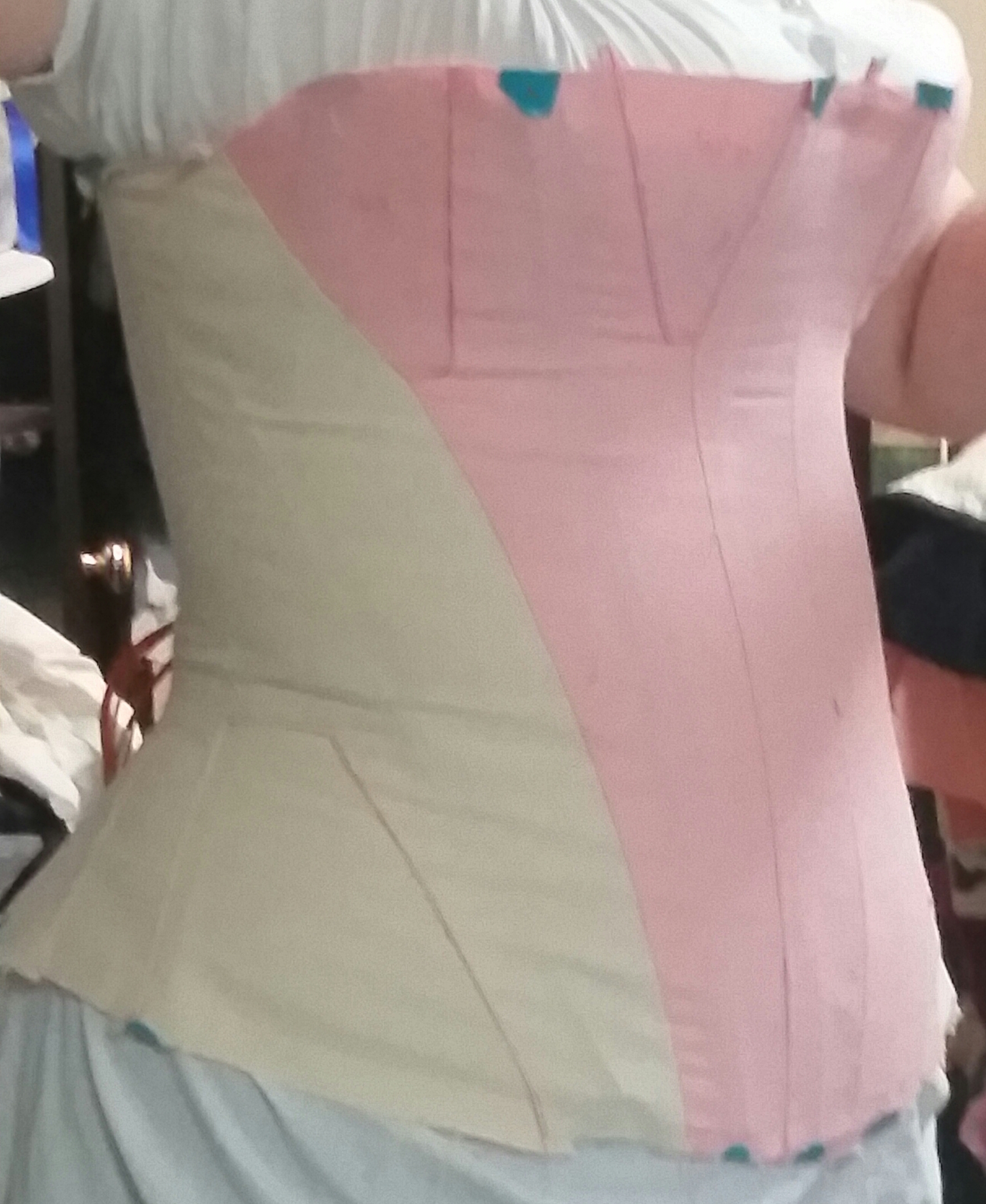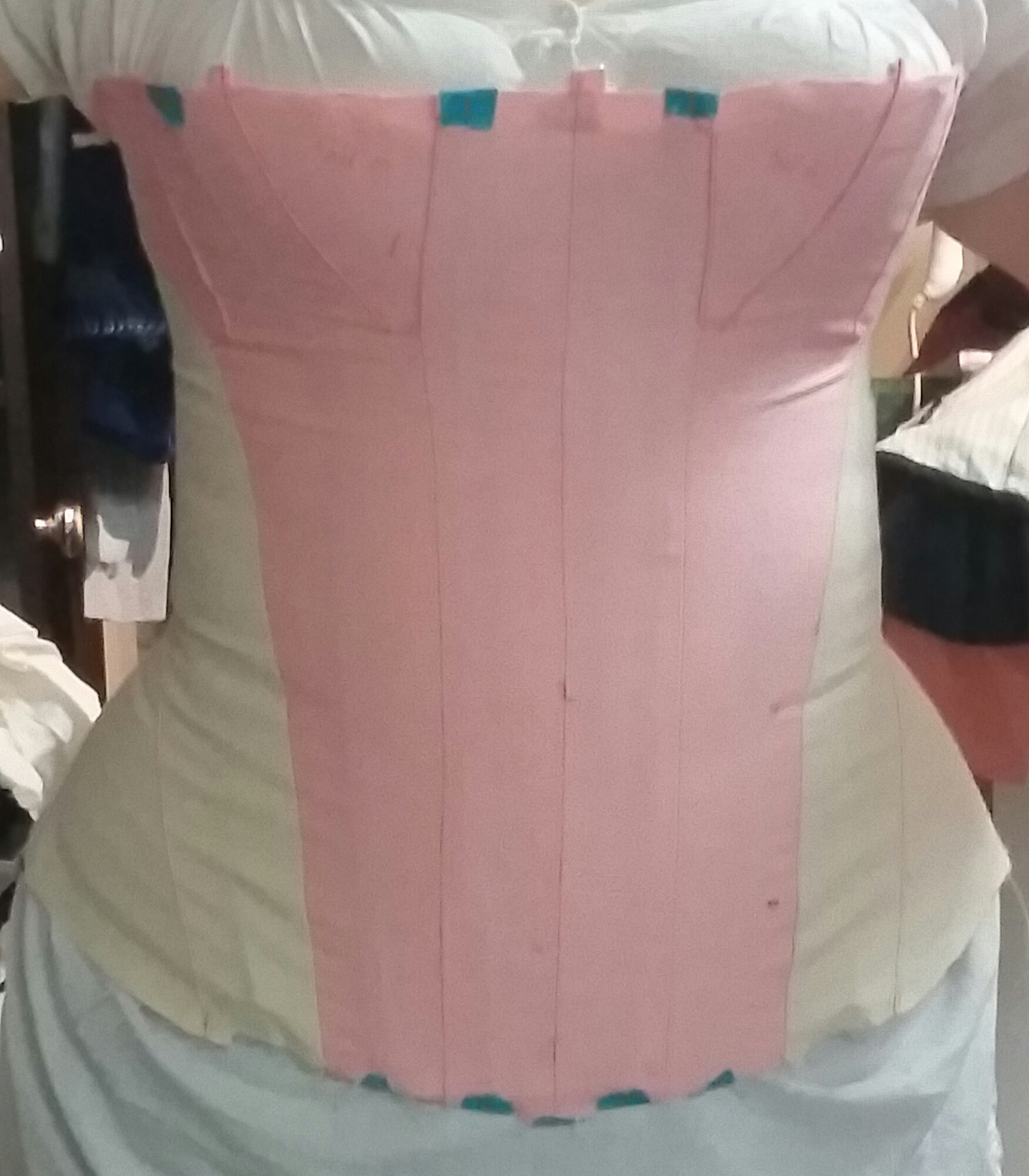 I'm now going to take it apart, redo my paper patterns, and cut out the actual fabric. Then I'll switch to the bustle skirt, or to the elastic waist skirt I'm making for my Disney trip next weekend, since my busk hasn't arrived yet.
I increased the width of the back seam of the side hip gusset, but I'm still not getting any additional waist reduction. It does make my hips look wider, so I think there might be a little bit of an optical illusion going on, but I swear, it's the curve over the stomach that is preventing me from getting the waist reduction. I just don't think this pattern is capable of it if you don't already have a pretty tiny waist. But hopefully this will at least give me the line I want under the two bodices I'm going to be making this winter. And then I'll make the 1860s corset afterwards, and see how different that turns out.
My only real worry is that with the actual amount/type of boning in (as opposed to taped in cable ties), and with a properly boned/grommetted lacing area, I'm going to be able to lace it tighter, and it's going to wind up too big. But I have no idea how to account for that... I have about a 4" lacing gap right now, and it's pretty much even all the way down the back, which was my goal.
If anyone has any pointers about how I could get more waist reduction without redoing the actual mockup, please share. Otherwise, I'll probably be cutting out the actual pieces this afternoon, and the only change I'm making from this mockup is cutting down the top of the front by .5".
Here's a bunch of pictures: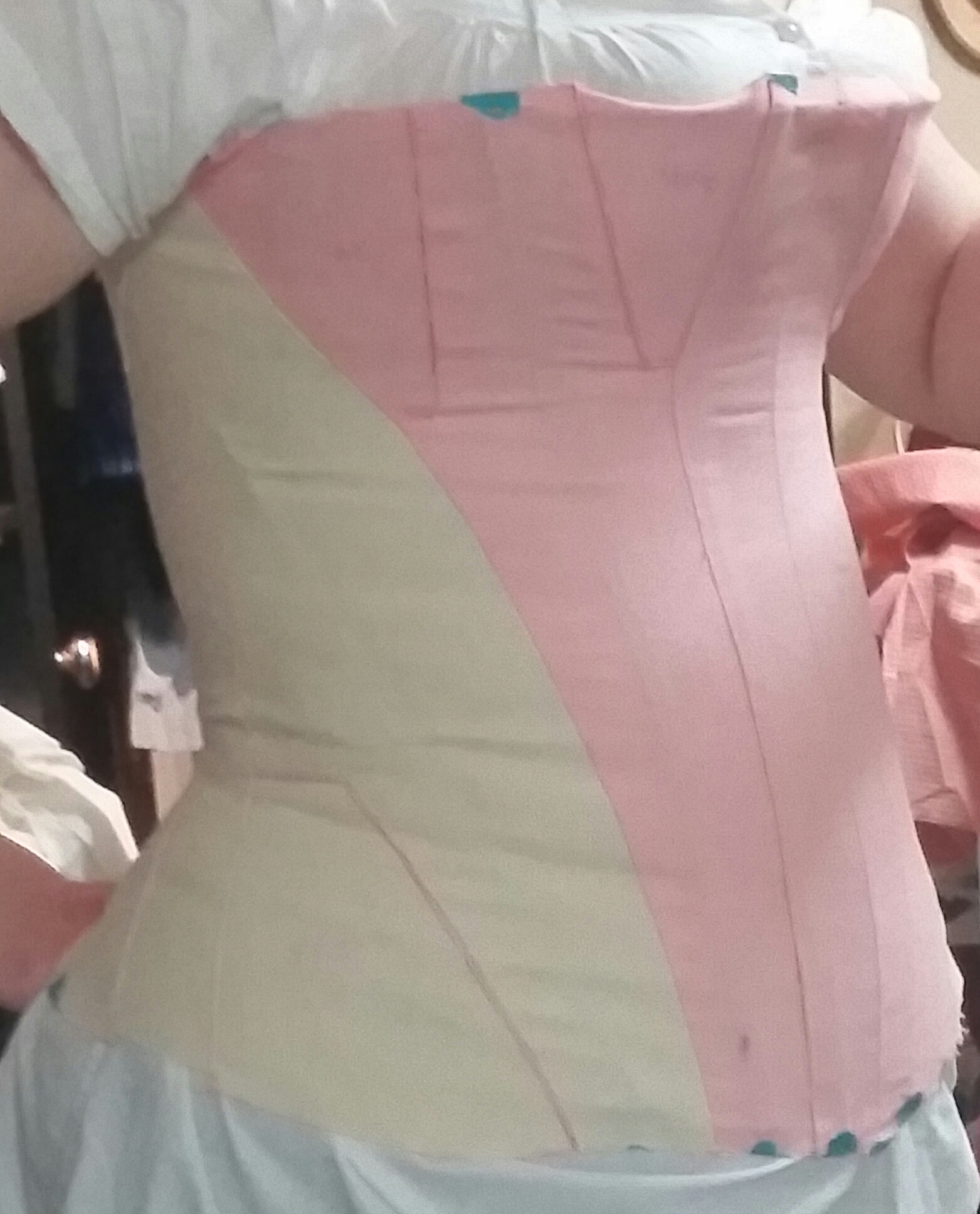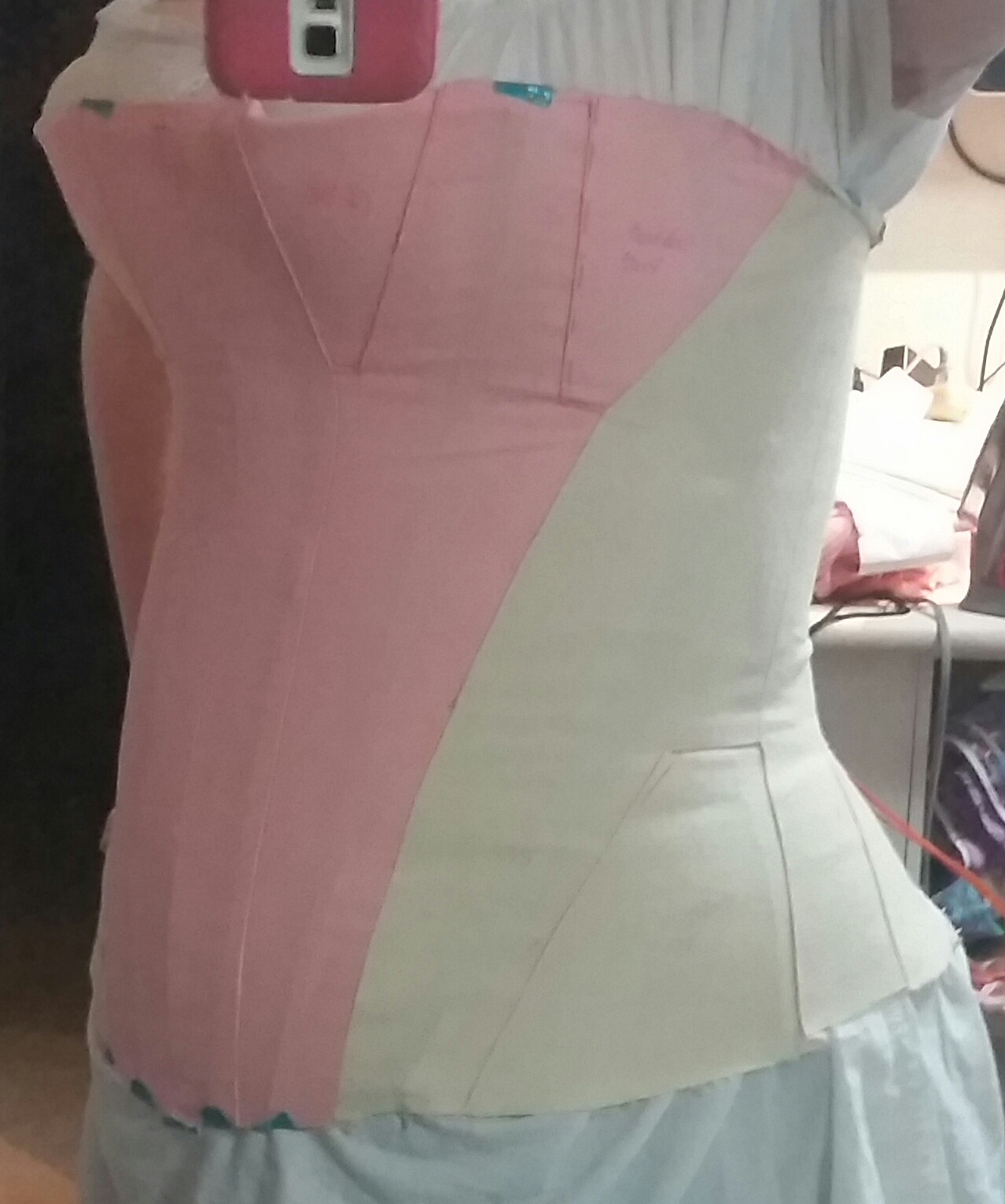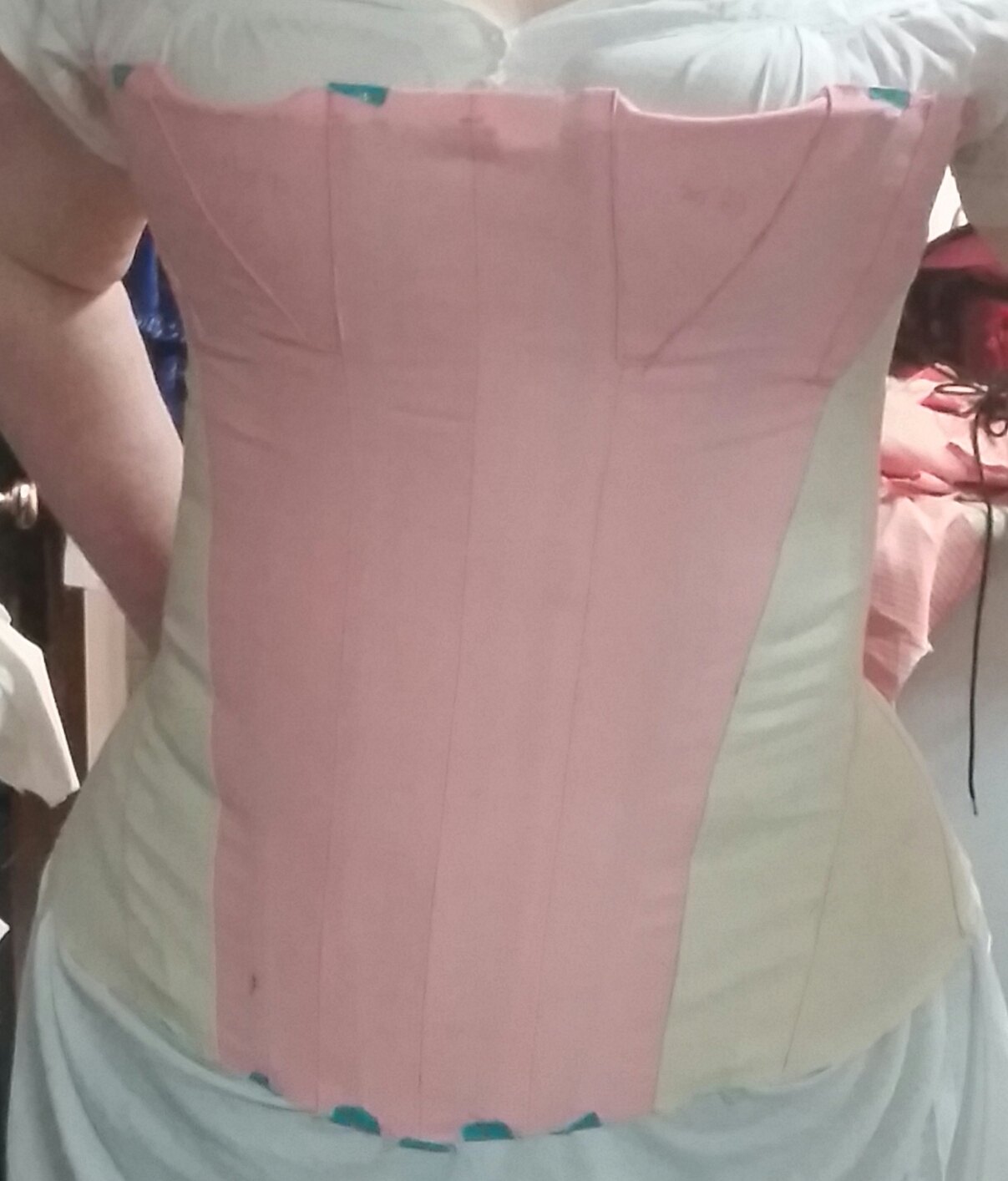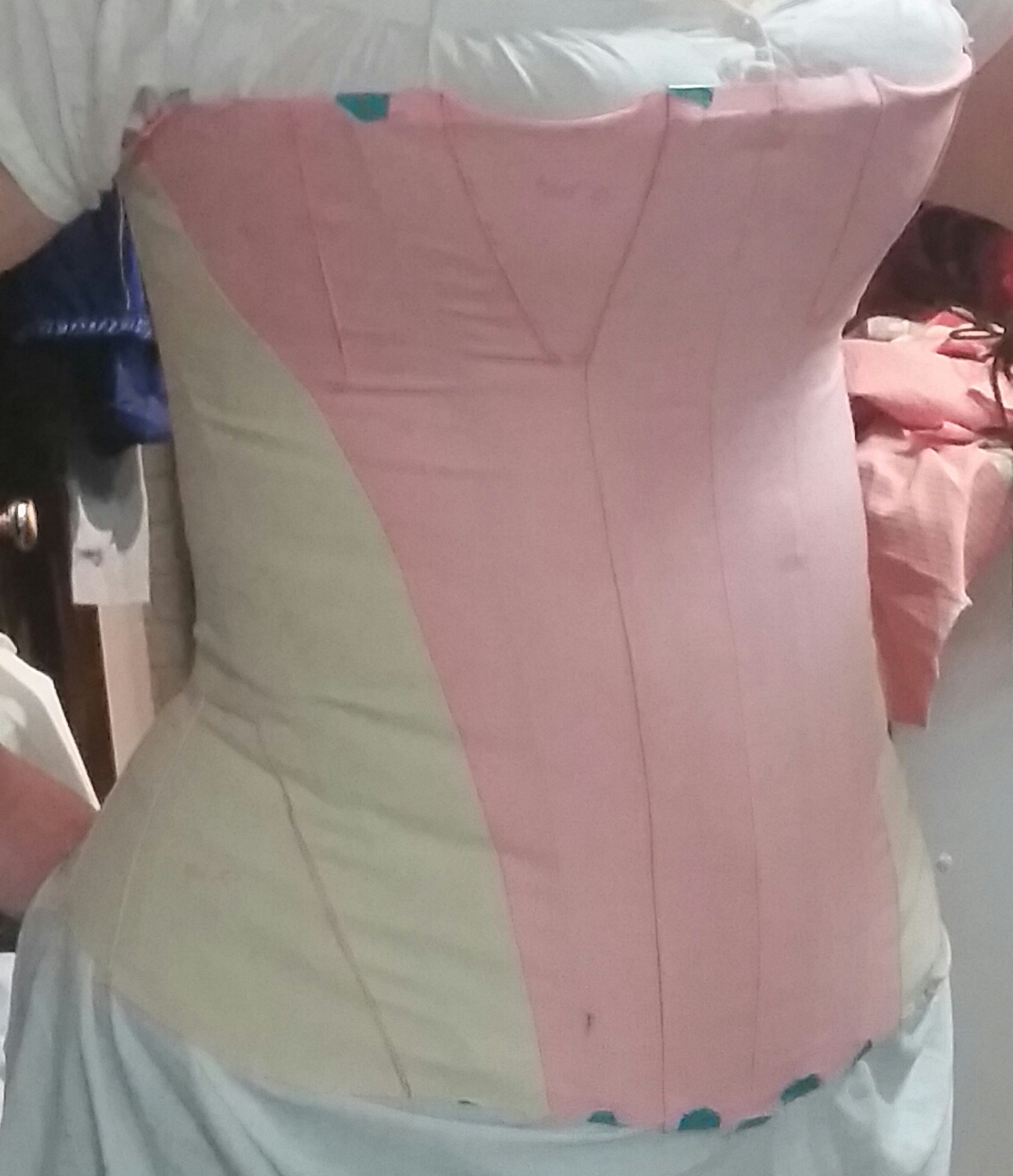 The first picture here shows how I'd like it to reduce on the waist where I'm pushing it in. The second picture shows the lousy tightening I'm able to do with the bad lacing strips combined with super slippery cording (ie: the wide section of lacing is actually fairly loose, but the cords are too slippery for me to tighten that section on my own).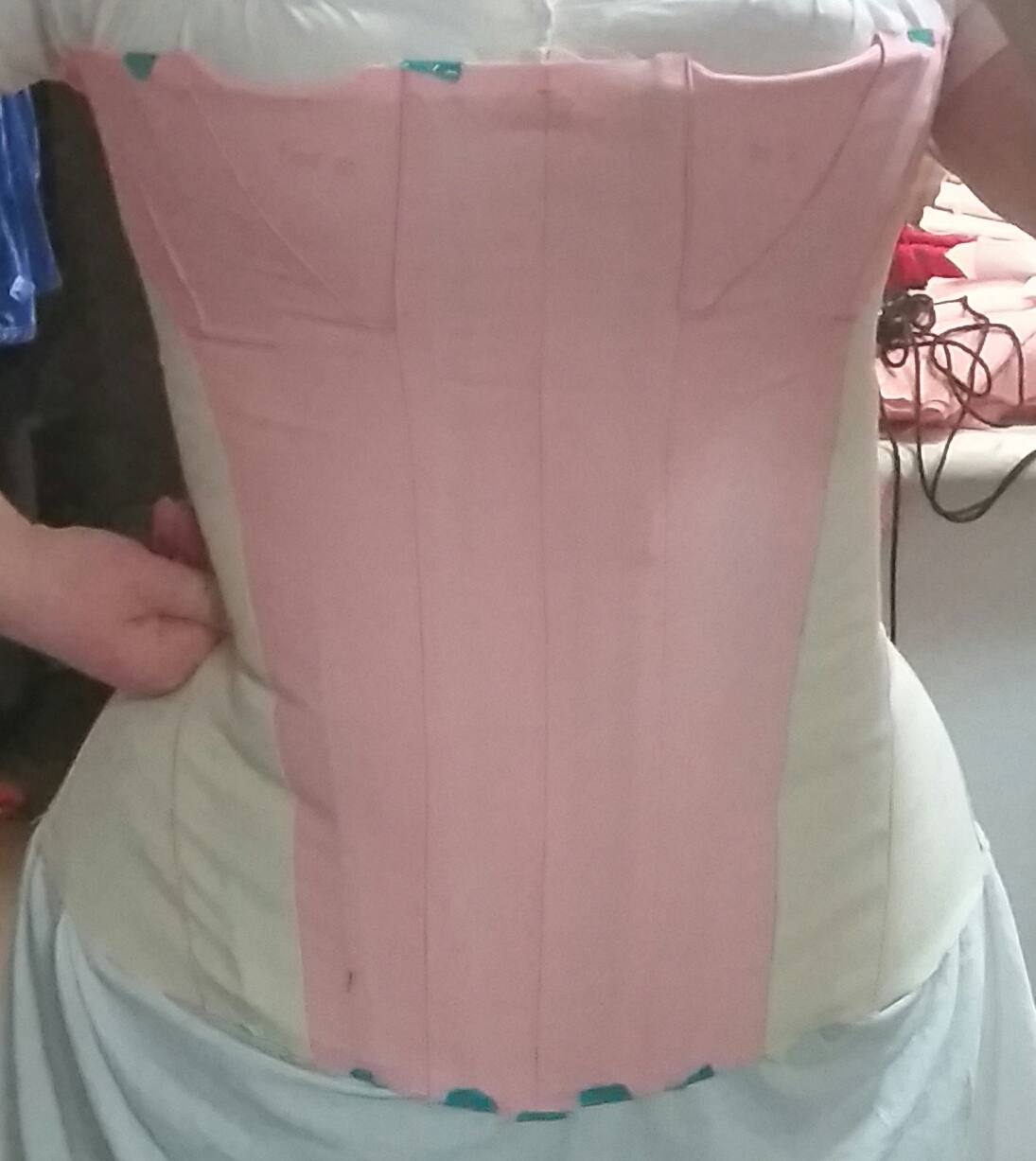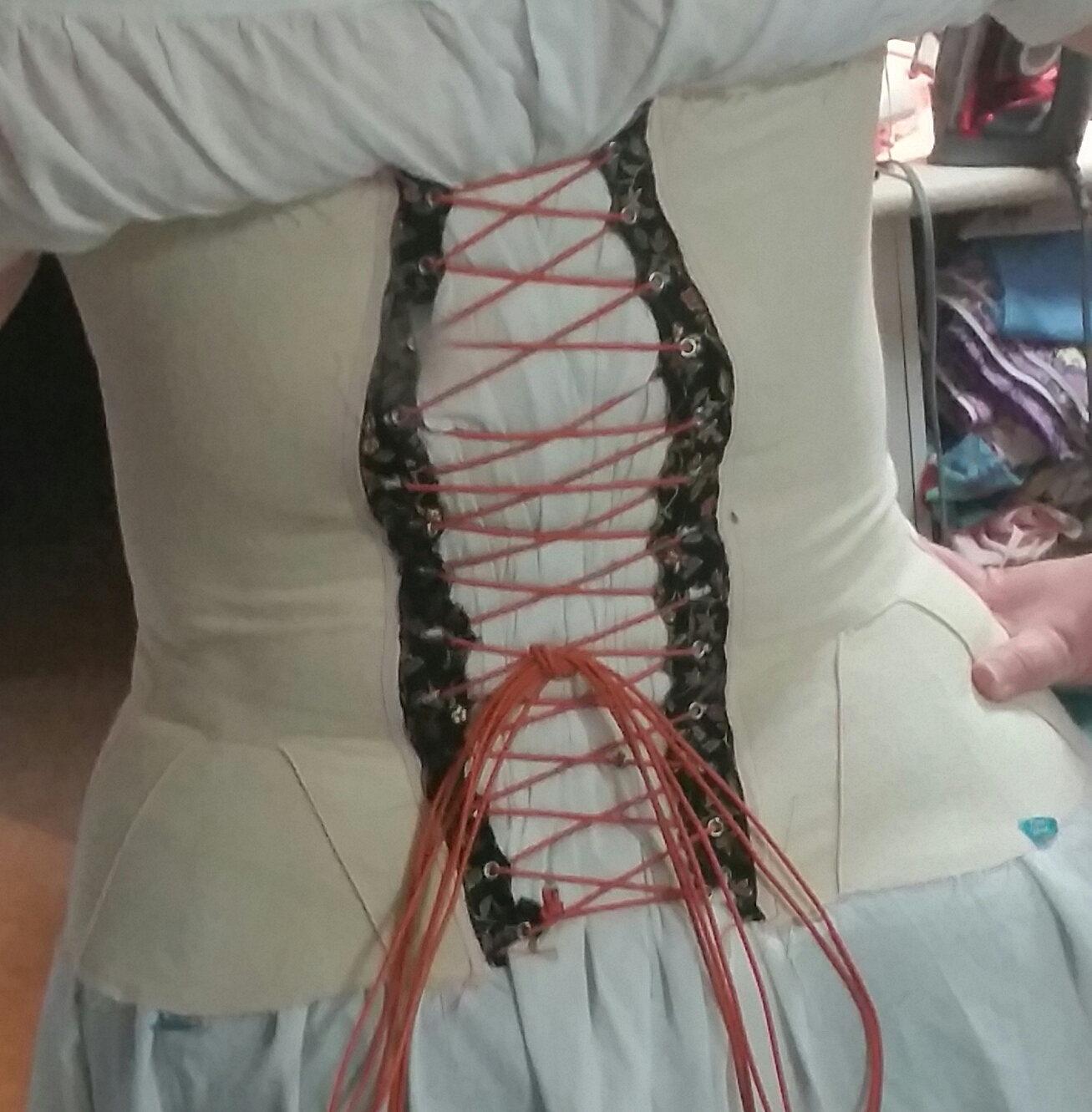 I also took the time last night to go through all the math for my green wool bustle gown, to see how careful I would have to be with my fabric cutting. And the good news is that since wool can be cut in any direction, and the fabric is 64" wide, I don't have to scrimp at all! In fact, if my math is right, I think I'm going to have about 50" of solid length leftover. So maybe I can even make a piece of matching outerwear with this fabric. If I finish cutting out all my corset pieces before my busk gets here, I'm going to start on the skirt. I'm so excited to finally be able to work on this dress!
I finished corset mockup 2.5 last night and tried it on this morning (when I wasn't full of Thanksgiving dinner). I think we have a winner? Or at least, I'm tired of mockups, and this one is close enough. I'm not getting the waist reduction I was hoping for (in fact, I'm not getting any waist reduction at all), but I tried on my Ravenclaw bodice, and it still fits over this corset, so I guess that's good enough? I'm starting to think that unless you have Merja's figure to begin with, you don't get a very nipped in waist with this pattern. ;)
The caroling sewing is fully finished! I finished the waistband on the last skirt, and made a bumpad for one of the ladies. And while I didn't dye my hair, I did move on to the corset, and ripped off the back and side back pieces that needed changes, and cut out the new ones. I'll hopefully have time to reassemble them tomorrow, though I think we are planning to go the movies tomorrow night, too. I'm also sooo tempted to start on the bustle gown skirt, but I know I really should finish the corset before I start on the gown... This project is just taking forever, though, and it's definitely not making me look forward to the 1860s corset that I had planned to make in Jan/Feb for the giant turquoise ballgown.
So anyway, I'll finish the last waistband tomorrow, re-dye my hair, and then maybe I'll still find time to do corset mockup 2.5. The busk and grommets haven't arrived yet anyway, so I guess my consolation is that I really couldn't have done anything more than the mockup yet anyway. But I really want this mockup to work, because my goal is to have it done by Friday or Saturday. That way, I can wear this for our caroling gigs (which start Sunday), and have time on Saturday to do any alterations to my Ravenclaw bodice based on the new corset. My old corset is falling apart. Plus, once I finish the corset, I can finally start on the green wool bustle gown! I'd love to have it done while we're still in the midst of caroling season, so I can test it out by wearing it to gigs. Not to mention that I really need to do the skating gown and outerwear before the Little House party, so I really need to get on all that.
I did take some time out of my sewing this week to see Fantastic Beasts on opening night. I liked the movie overall, though was hugely disappointed that they cast Johnny Depp as Grindelwald. I am so sick of him, and he's already confirmed for the next movie, too. I'm intrigued to see where these movies go, since there's supposed to be five total. I dressed up to see the movie - I don't have any 1920s stuff, so I wore my Miss Pettigrew 30s outfit, with my vintage 60s coat, and did some super fast 20s-ish hair. I also brought my wand, owl, and Harry Potter blanket (it's recliner seating). I think it worked. I was the only one there dressed up, anyway.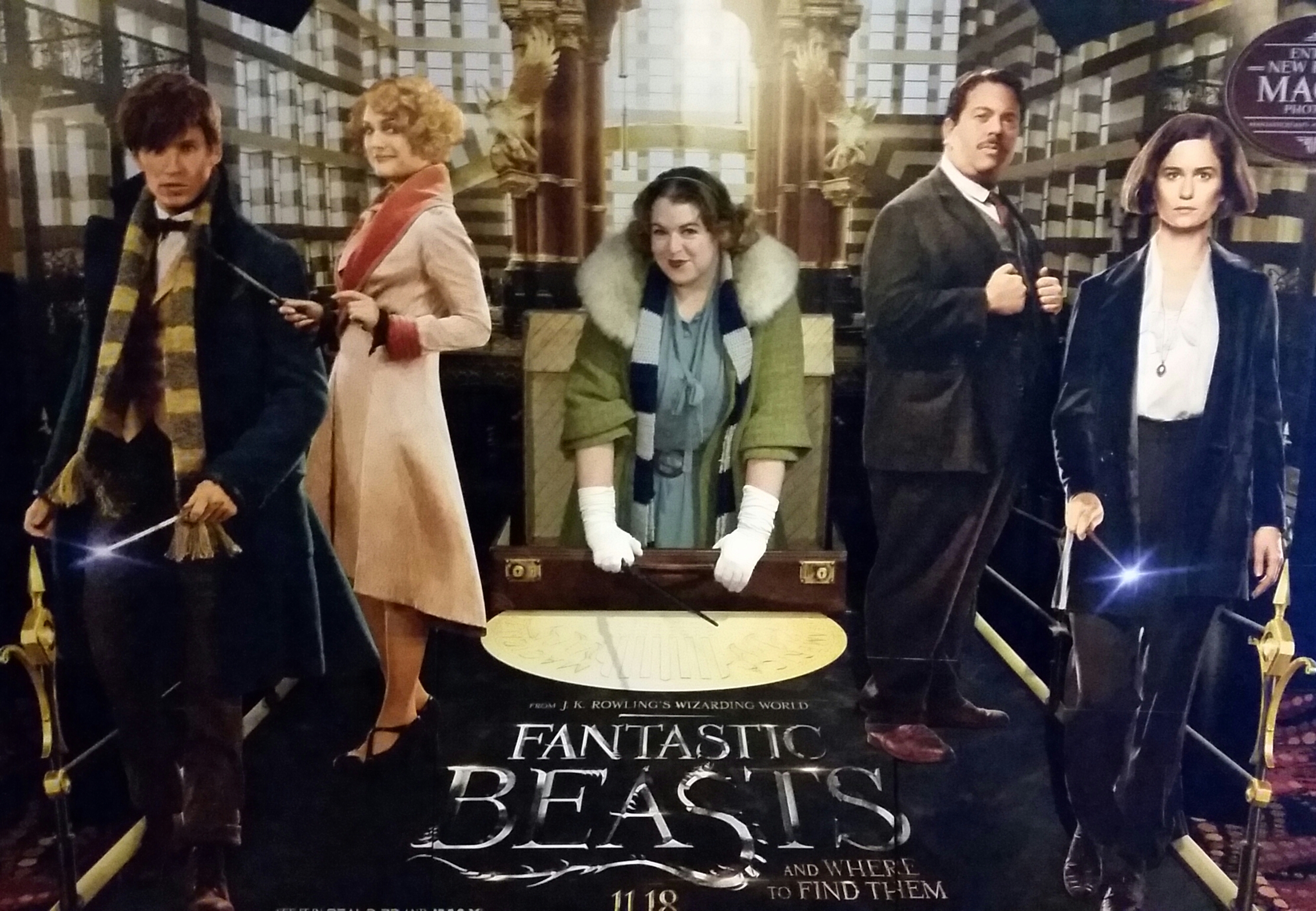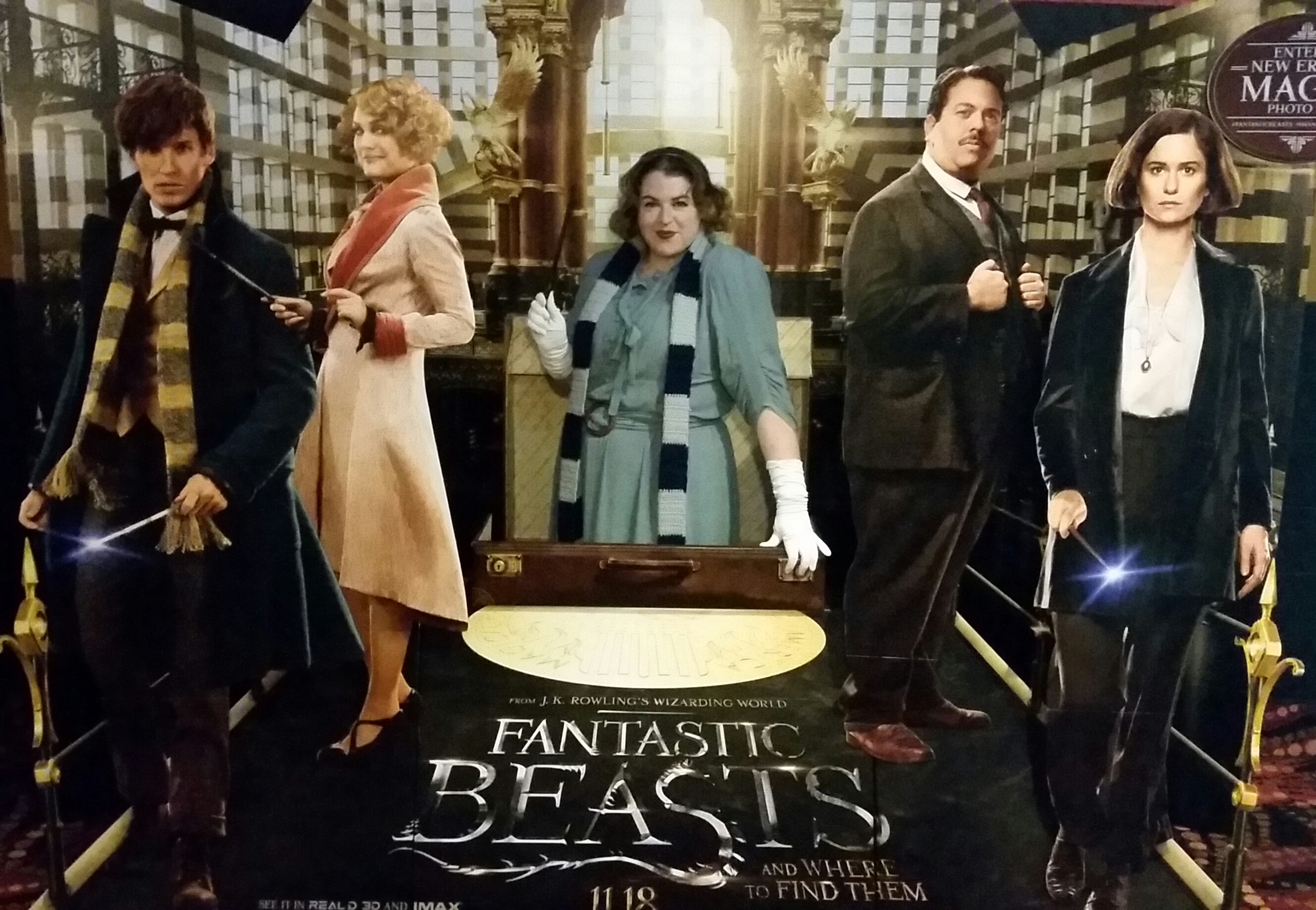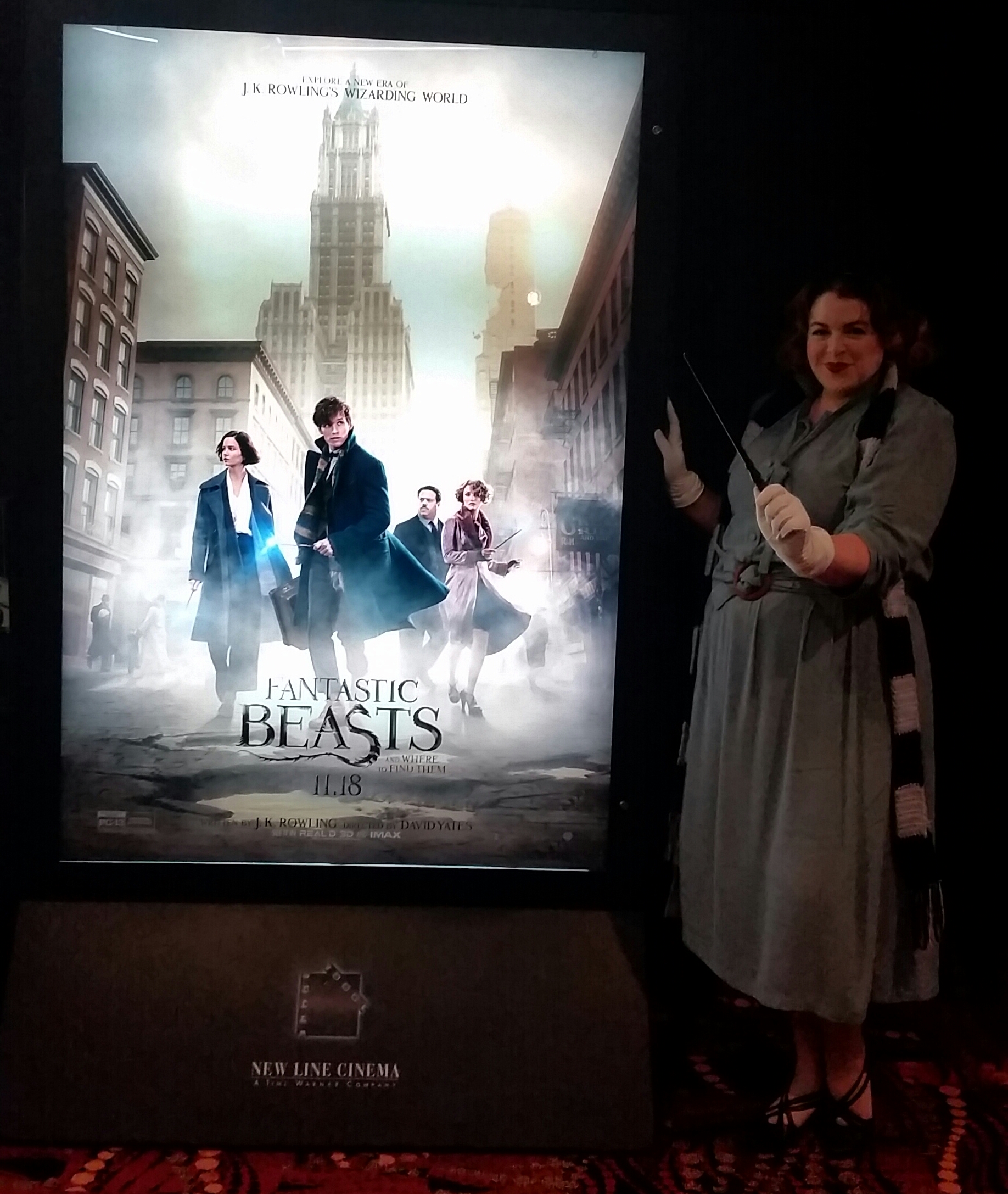 I spent all the sewing time I had this week working on caroling stuff. I was able to finish almost everything by tonight's rehearsal. I think I have about an hour left to go on the last piece, which is redoing a skirt waistband. All of what I've done just feels so fiddly, though, since it's pretty much all repairs and alterations. And resetting everyone's waistbands, since all of the skirts were pulling out from the waistbands all over. Sigh. I just want to get back to sewing for me!
I flew down super early Saturday morning to Long Beach, picked up my rental car, and drove to Disney. By the time I parked, it was shortly before the Dapper Day Expo opened at the Disneyland Hotel, so I waited around a little bit, and then checked that out. There was sooo much vintage and repro clothing and accessories for sale, but it was all quite expensive (and I didn't want to have to walk around all day with it). It was kind of nice that Simplicity had a booth advertising their new patterns, and were giving out vintage apron patterns and travel sewing kits.
After I walked around the whole Expo, I headed to CA Adventure. I was on my own on Saturday, and seemed to have pretty bad timing on wait times for things, so Saturday wasn't the greatest day. That said, I did a bunch of pin trading, met several characters, did a few character drawing sessions, and did manage to ride several rides, too. I also watched the absolute worst Disney fireworks show ever. It was literally 4 minutes long.
Luckily, Sunday made up for Saturday. I met up with a friend of mine who I hadn't seen since college, which was wonderful. It was her first full day visiting Disneyland, and I absolutely love taking Disney newbies around the park. We met lots of characters, had perfect timing for pretty much every ride, and did a ton of people-watching. So many people were dressed up in Dapper style, and most people were also Disneybounding, so it was really fun to try to guess who everyone was supposed to be. Another friend joined us in the evening, and we rode more rides and all watched World of Color. It was such a great day!
Here are some pics. More of them can be found
on my facebook
.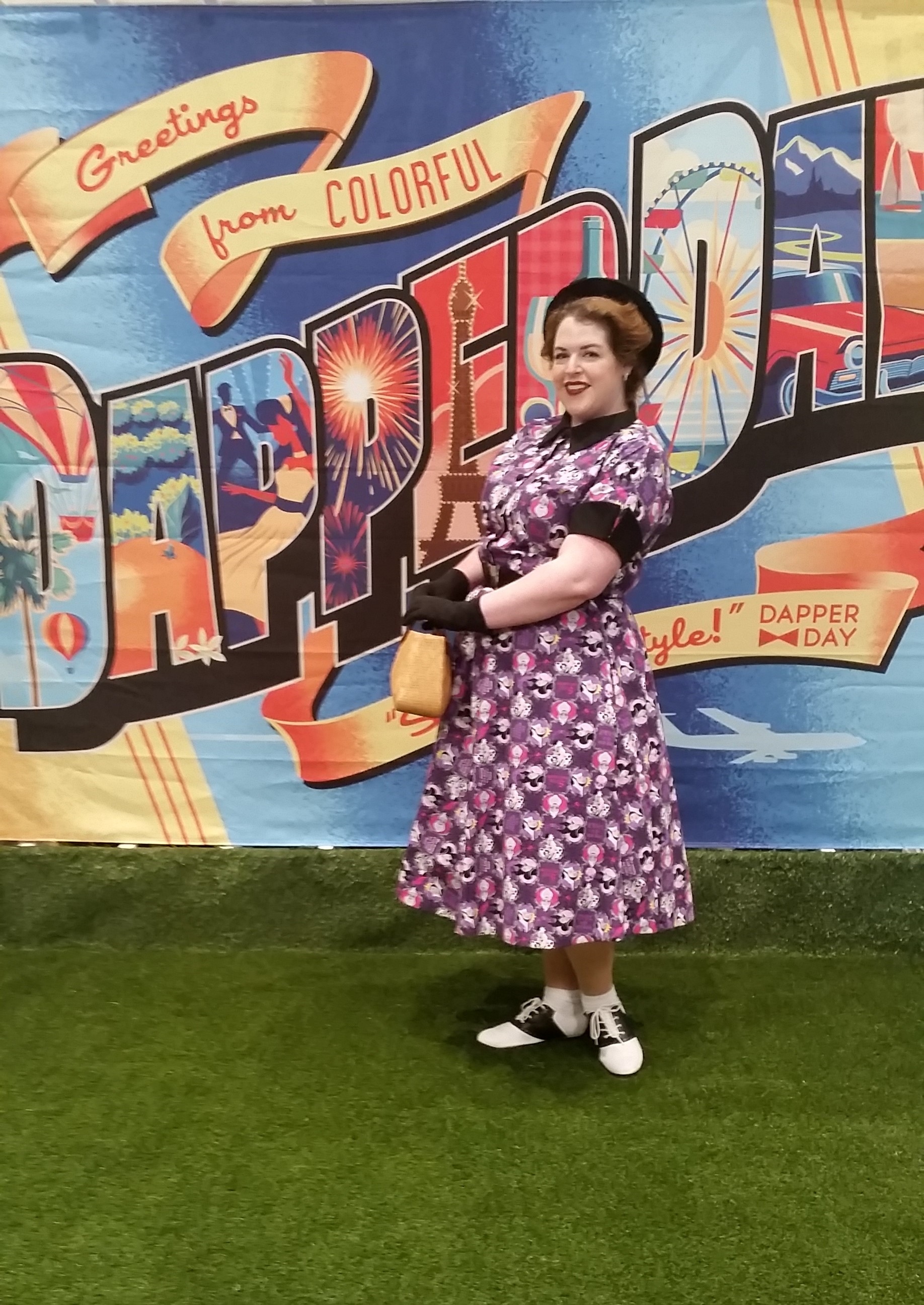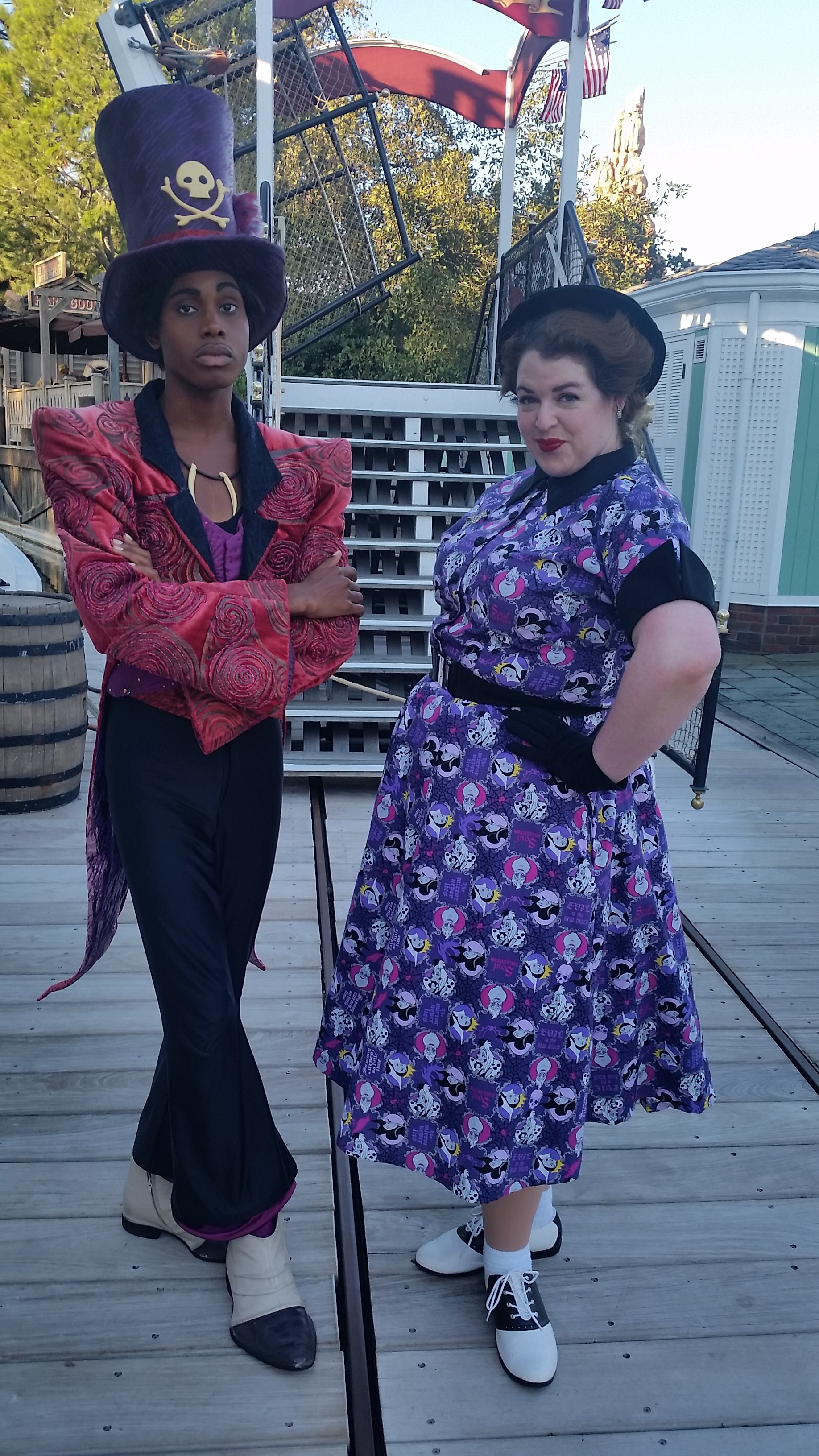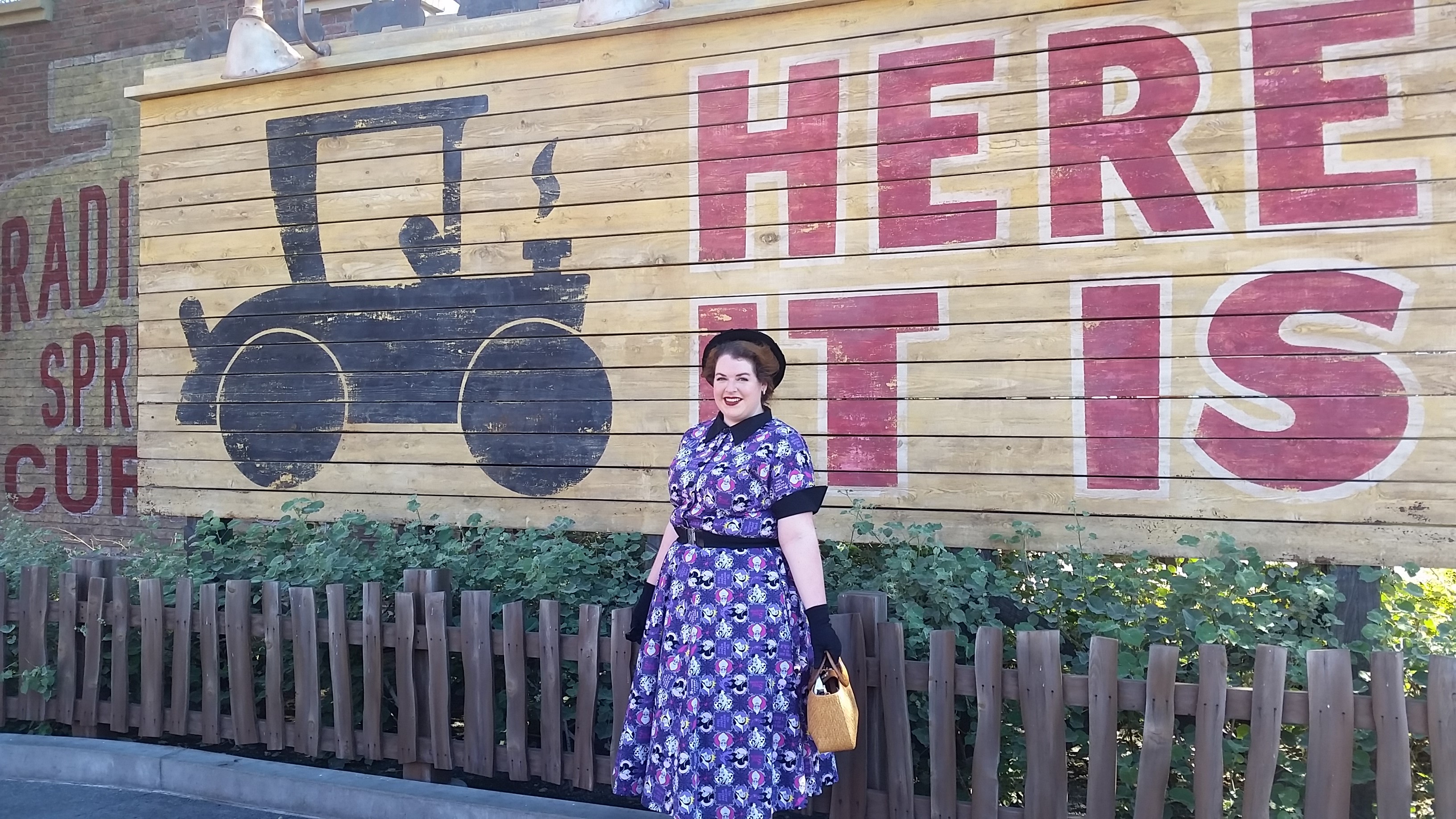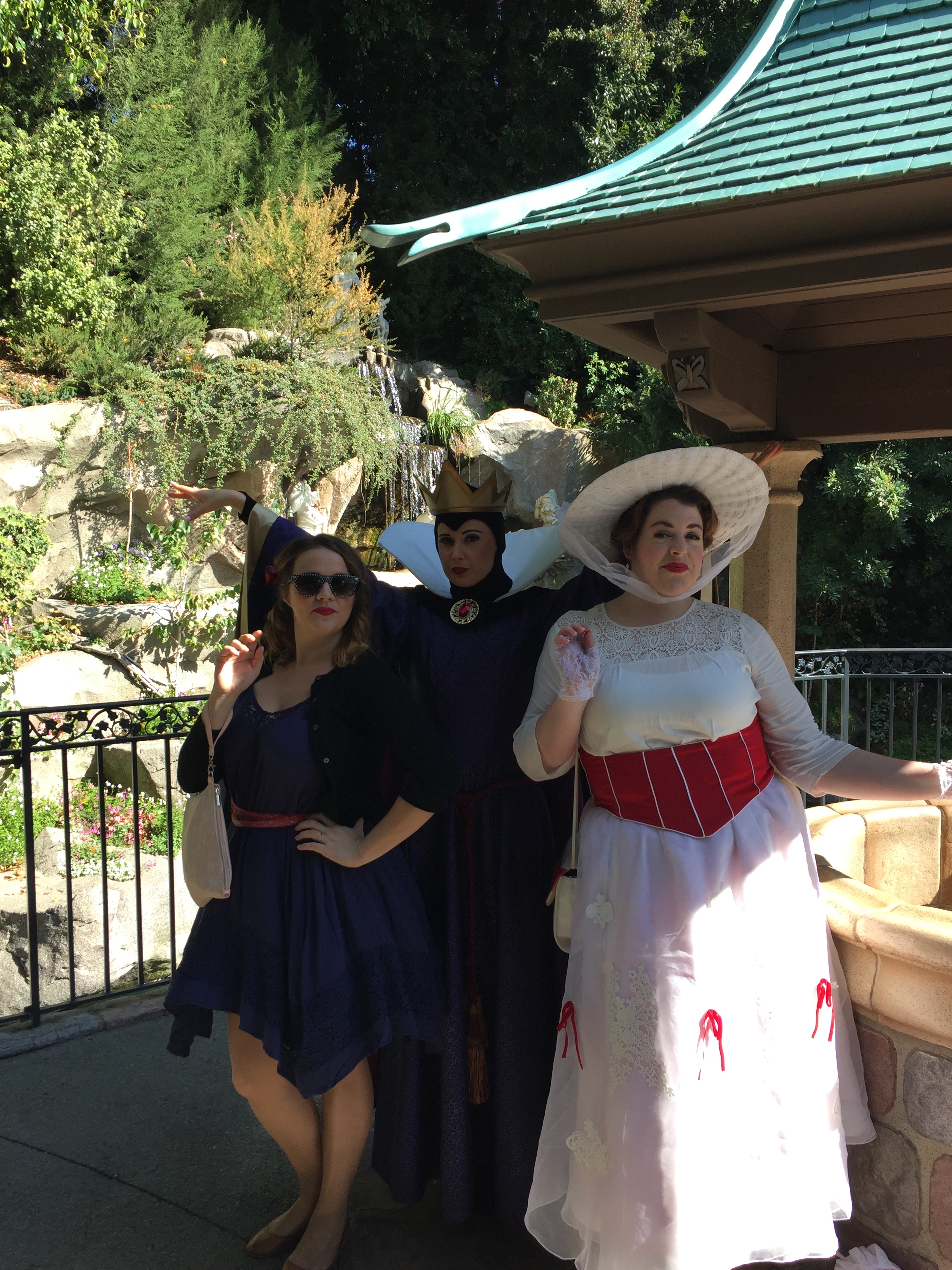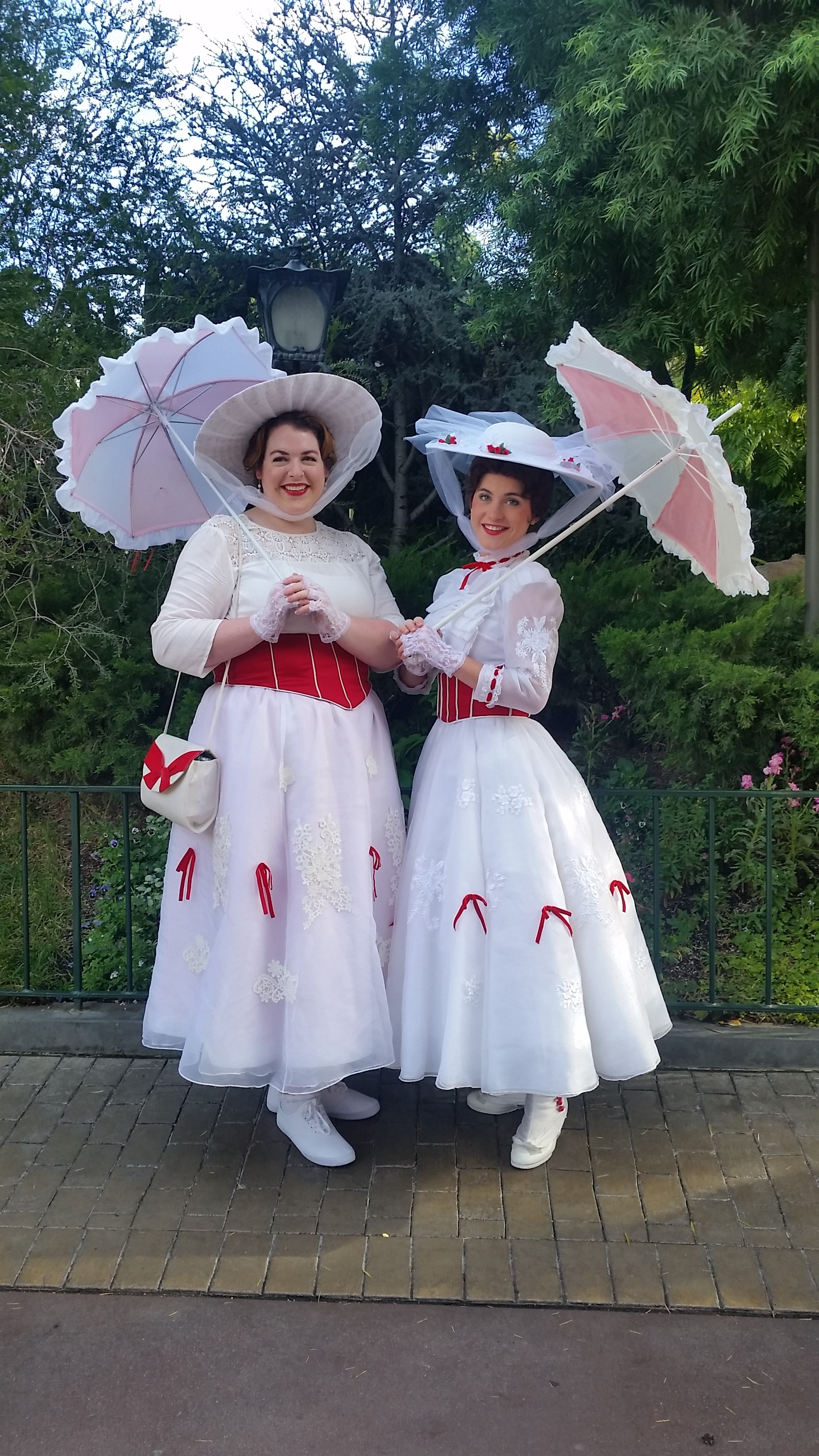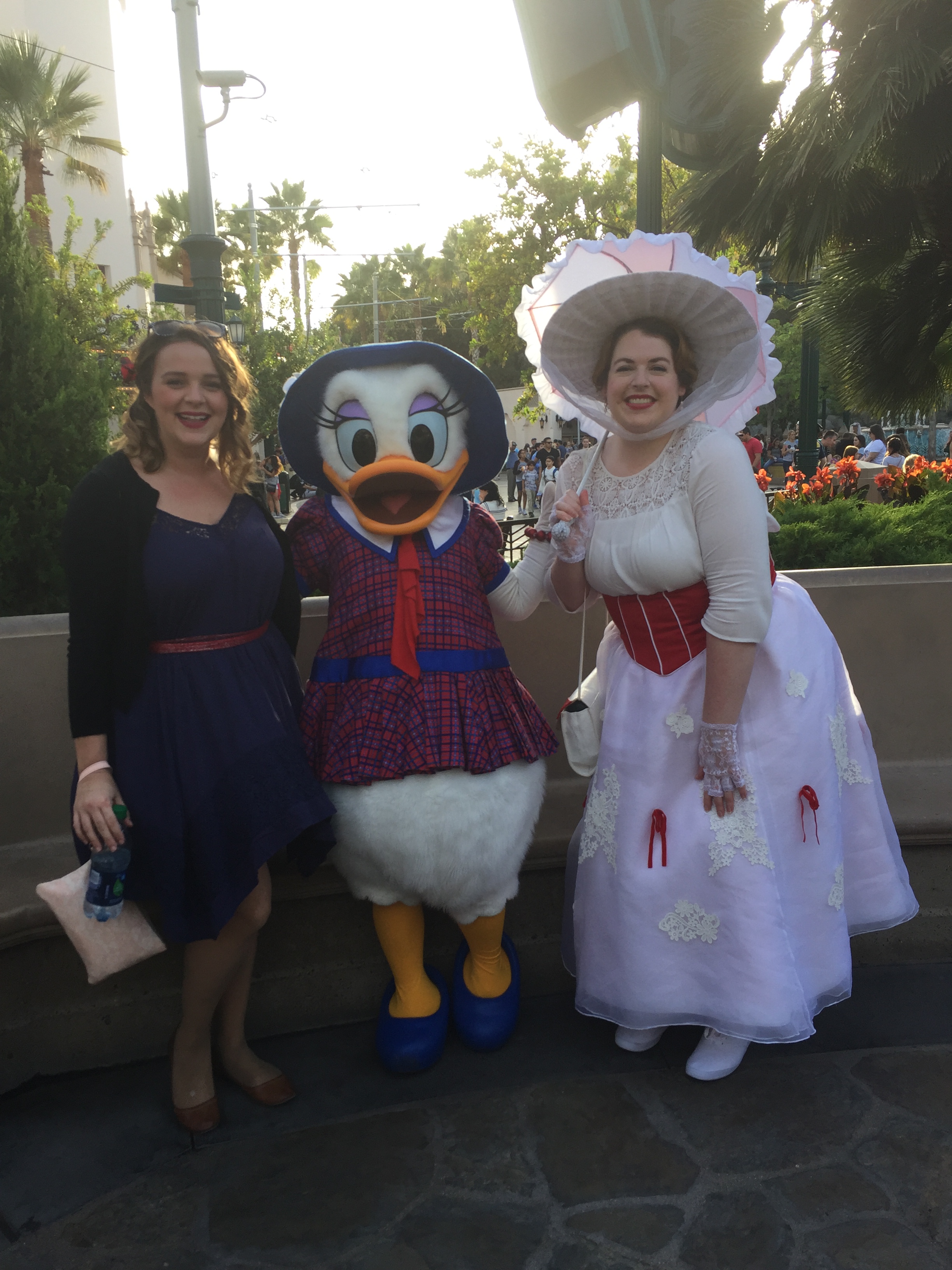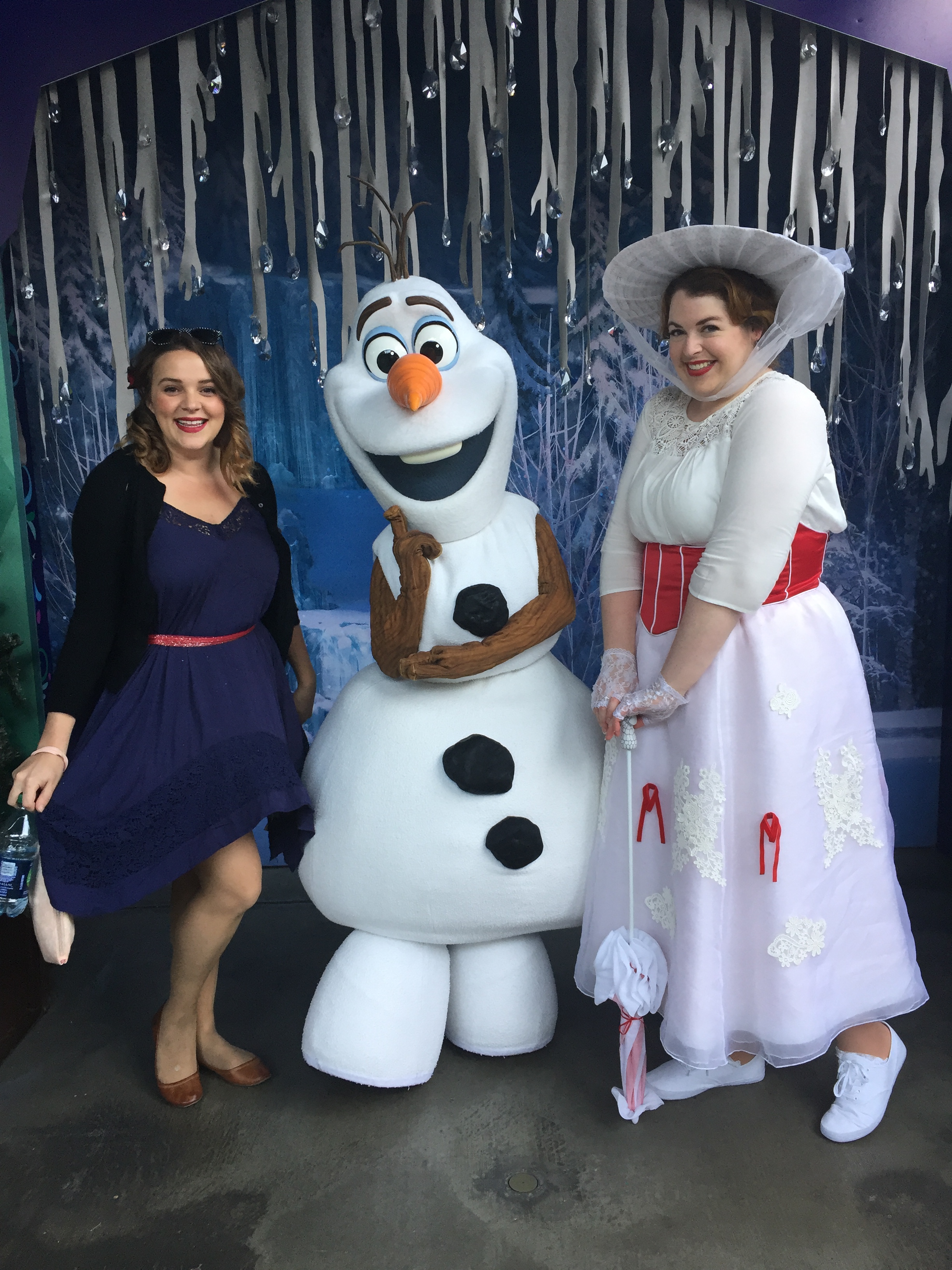 I realized tonight that it's been almost two weeks, and I still haven't done a real post about Dapper Day!


As far as my corset goes, the nearest Joanns apparently doesn't stock pink canvas. Hopefully the one on the way home from work does, and I'll try to pick some up tomorrow. I also have to get new tires tomorrow, but my goal is still to do the corset alterations for mockup 2.5, and also to knock out all the repairs on one of the carolers.
I finished two carolers this weekend. There's three left, plus one man's suit that needs the sleeves rehemmed. The second one that I did took way longer than I had anticipated, because I wound up having to almost fully take apart the skirt, remove one panel (it was sooo much skirt), re-pleat, and redo the waistband, plus do a bunch of stuff to the bodice. And unfortunately, I think two of the three others are going to be pretty much the same thing, and the third one needs a skirt built from scratch (which might actually be easier). The goal is to finish all of this by Sunday, since we start doing gigs right after Thanksgiving.
I had so many issues trying to lace this up. First, the tape I was using for lacing snapped. (In fact, it snapped in two different places, two different times). So we used some of my bf's heavy duty paracord. Unfortunately, that cording was stronger than the stitching holding the eyelet tapes in place, and one side of the eyelet tape ripped off. I fixed it, put it on again, and the other side started to rip. Finally, I fixed that, and was able to actually get the mockup all the way on.
Mockup 2.0 is closer, but the lacing gap is way too wide starting a couple inches above the waist, and going down. I was aiming for about a 4" gap, and it's actually 6.5" at the waist. Not sure how that happened. I can tell that the seam that wraps around my side is supposed to hit the center of my side right at my waist, and it's about .5" too far forward, so I'm tapering that in. Also, it seems like the back piece needs to be .5" wider at the waist in the middle of the piece, and continuing through the hip gusset, so I'm adding that in, too. I'll have to recut two gussets and two pieces on each side - I really hope the next one can be the final.
On the plus side, the length was perfect this time, so I know how long of a busk I need to order. Unfortunately, the ideal busk is 17.5", which I don't think exists. If anyone knows where I can find one, please let me know!
Here's some mockup pictures: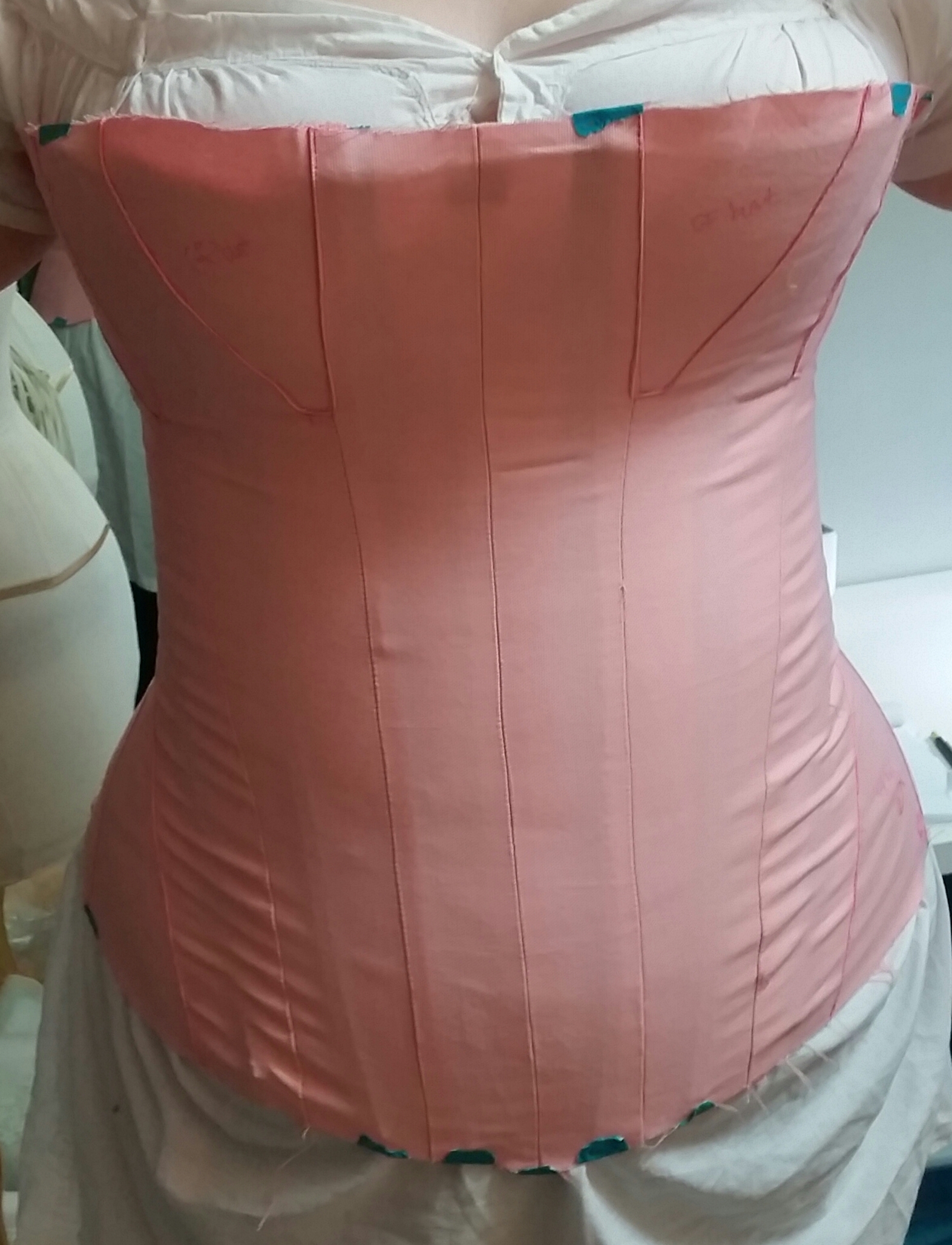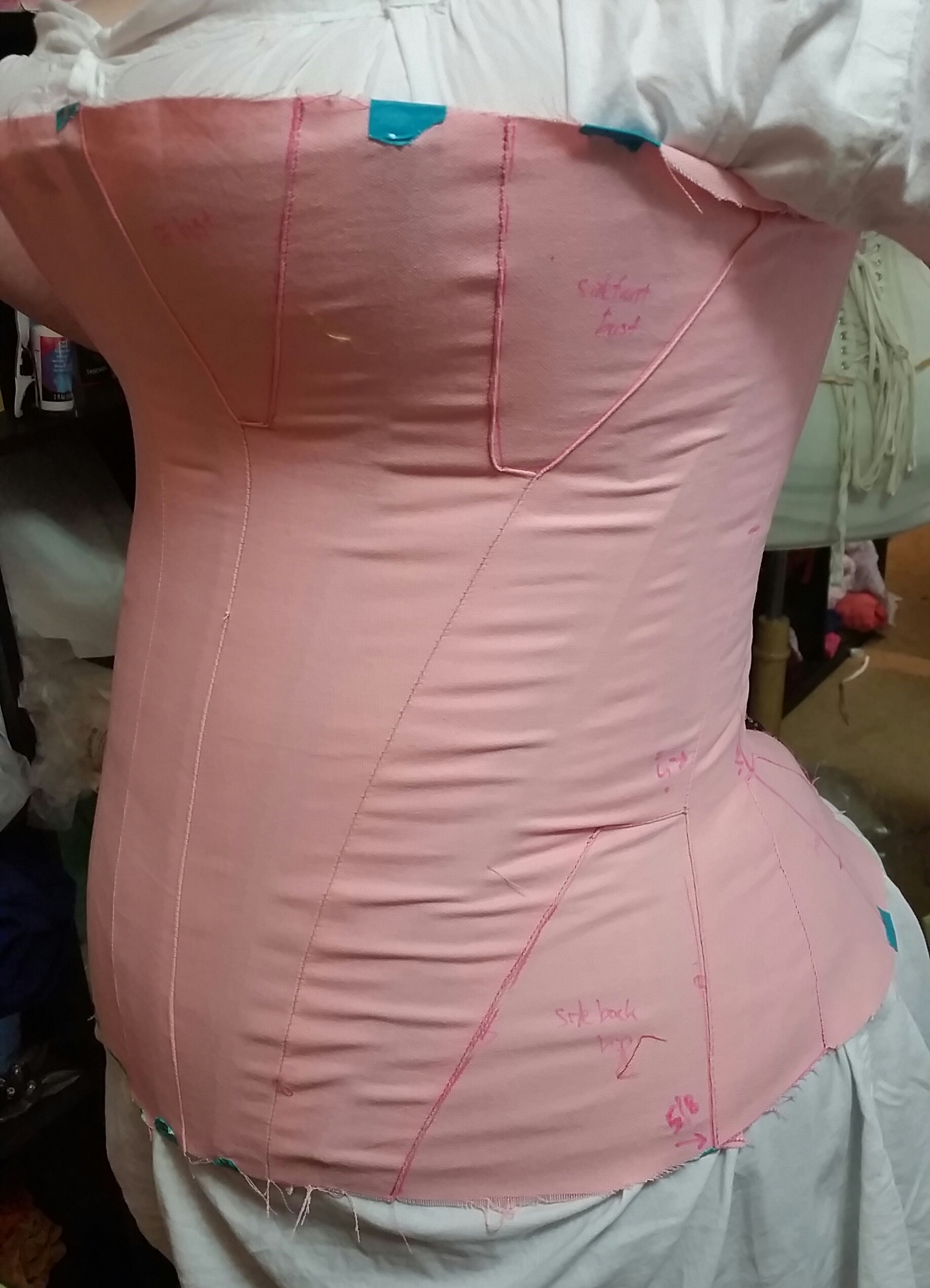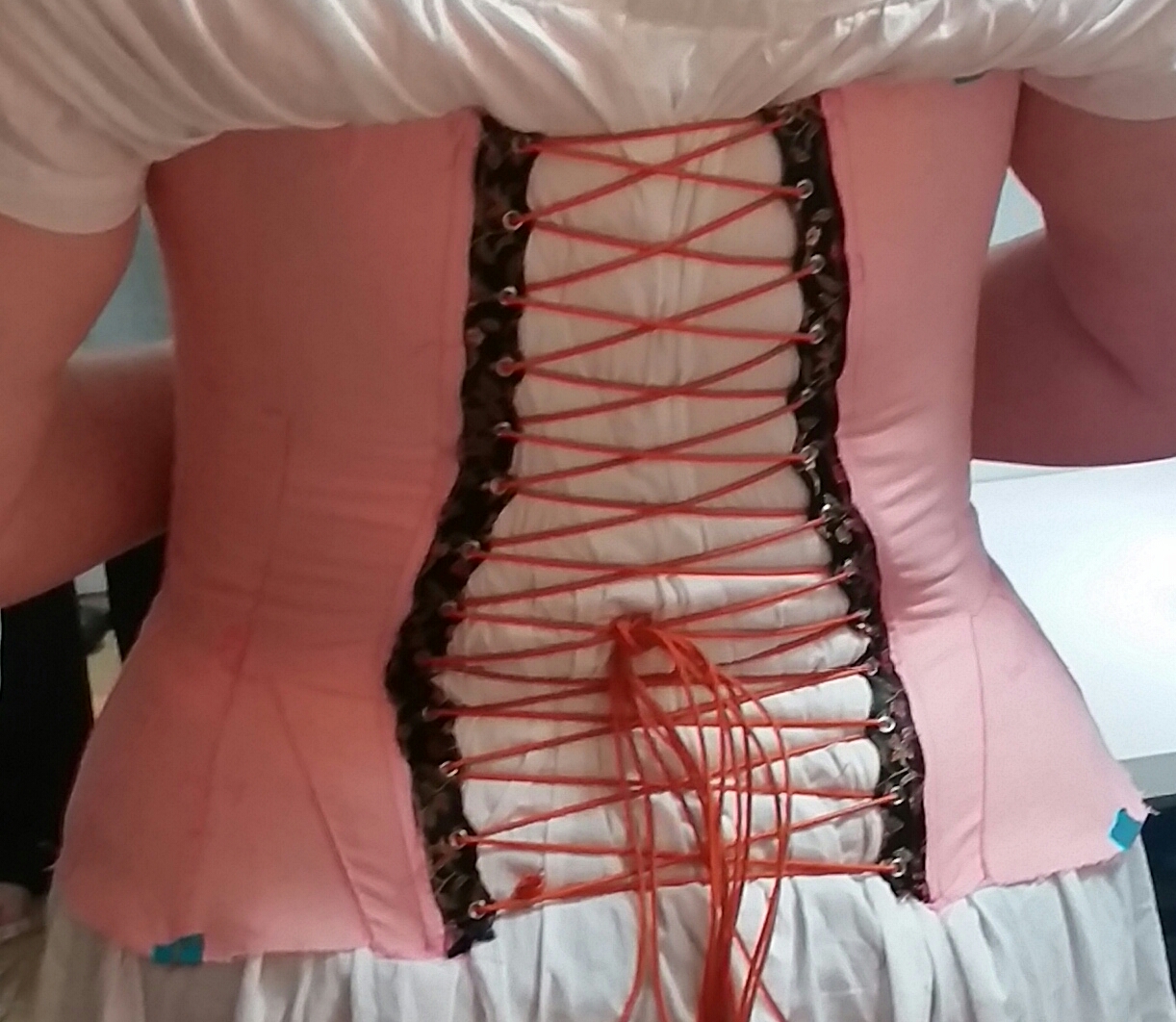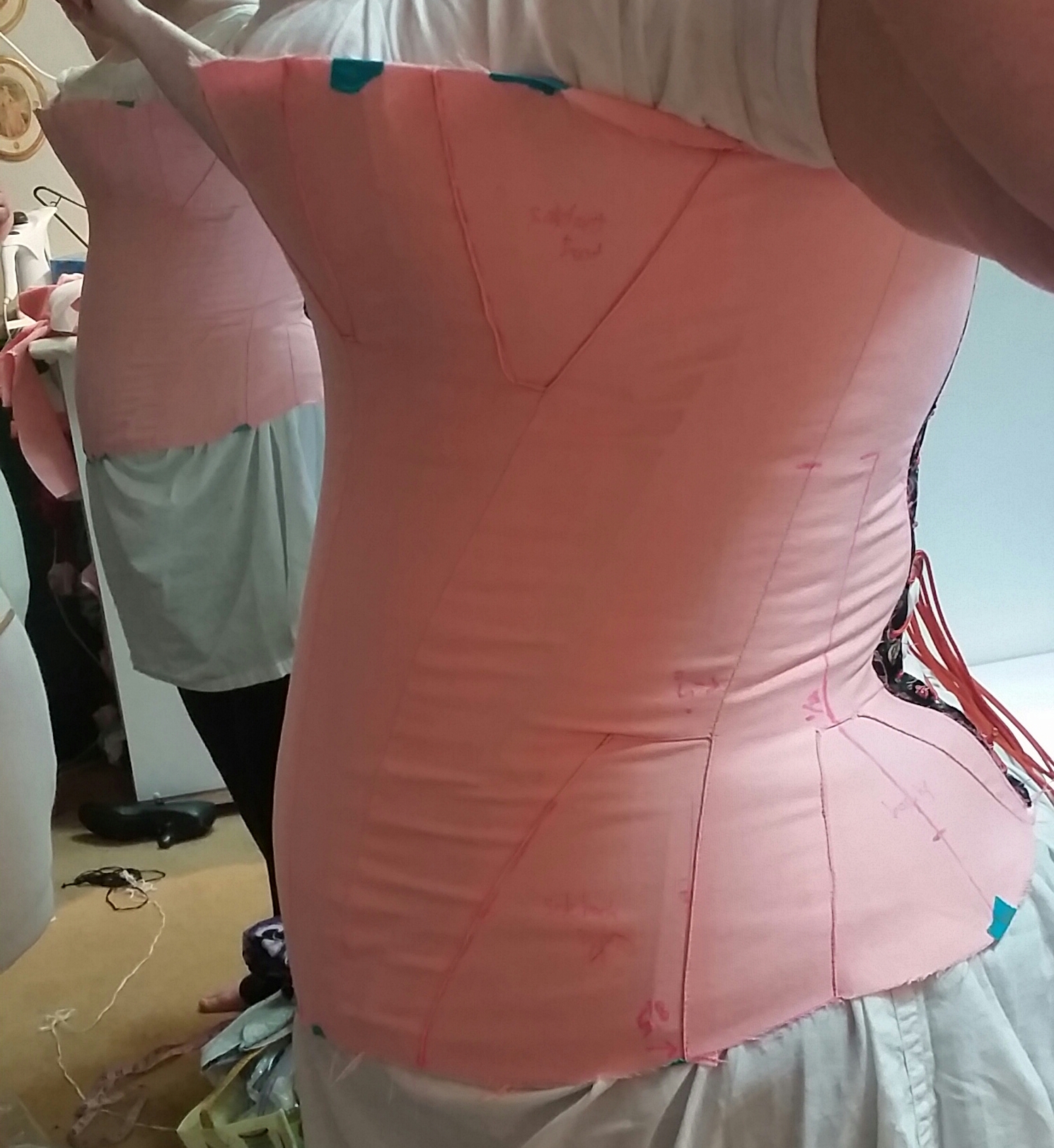 I'll go buy some more pink canvas tomorrow so that I can get mockup 2.5 done as soon as possible. Until I do, it's back to caroling sewing.
After two months, I finally get to return to my corset!
Finally started on the stuff for my caroling group, which is good, since I found out I need a couple of them done by Sunday evening! I finished one of them - I had to re-hem a bustle overskirt, re-bustle it, and re-hem the front of the bodice. I'd also like to make a small bustle pad for this one if I have time. This is probably one of the easier ones, since the other three women's costumes currently in my list are fairly major bodice alterations. Hopefully I'll cross at least one of them off my list tomorrow.