Thank you all for your tips on corset fitting! Unfortunatetly, I've had almost no sewing time the last few days, so I haven't had a chance to implement them. My plan, though, is to take a little width out of the CF, CB and side seam, make that front gusset a bit smaller, and tape boning in (what a wonderful tip - thanks!), and give the current version another go in its smaller (and boned) state.

I have been busy! Friday was when I had the majority of my free time. I unpicked the boning channel and CF seam of the corset, packed an etsy order, and made a present for a friend. I also had a job interview, and held a study night for Harry Potter Trivia. Then Saturday, I had rehearsal for four hours, and then rushed off to trivia - we won third place out of 38 teams! It was a lot of fun. Then I came home and sewed a few things for the job I started this last week. Today, I had a callback for 5.5 hours, a film audition, and rehearsal, and went grocery shopping. And tomorrow I have to work, and then I have another callback. So no idea when I'll get to sew again! But I better get on it if I plan to finish the corset and two bustle dresses by January...
I'm also thinking I need a little more length in the bust area. I made it with seam allowances (including at the top and bottom), and while I think the bottom will still look fine .5" shorter, the top dips down quite a bit, and seems to me to need at least the seam allowance added, if not .5" more. I may even decide to add additional seam allowance to the bottom, too. What do you all think?
The other most noticeable issues are that it gaps a bit under the arm, and should probably taper in up to 1" starting about 3" to the top on the side seam. The most center front bust gussets are also way too big. I tried pinning out some of the excess, and it's looking like I will need to take as much as 1" out of the top of those gussets.
I'm hoping with the plethora of pictures, you all can help me with fit issues! I only have one flat steel at the CF, and one at each lacing edge in the CB, the rest is just one layer of somewhat lightweight canvas, unboned. (Do I need to bone corset mockups?) I curved the CB bone around the tummy, to get the natural form look. I do have the area in the back at the waist and side where it kind of wants to crunch in at the waist. Is this normal without boning, or is this a fit issue?
And yes, I realized that I should have used an unpatterned fabric. This is really hard to see!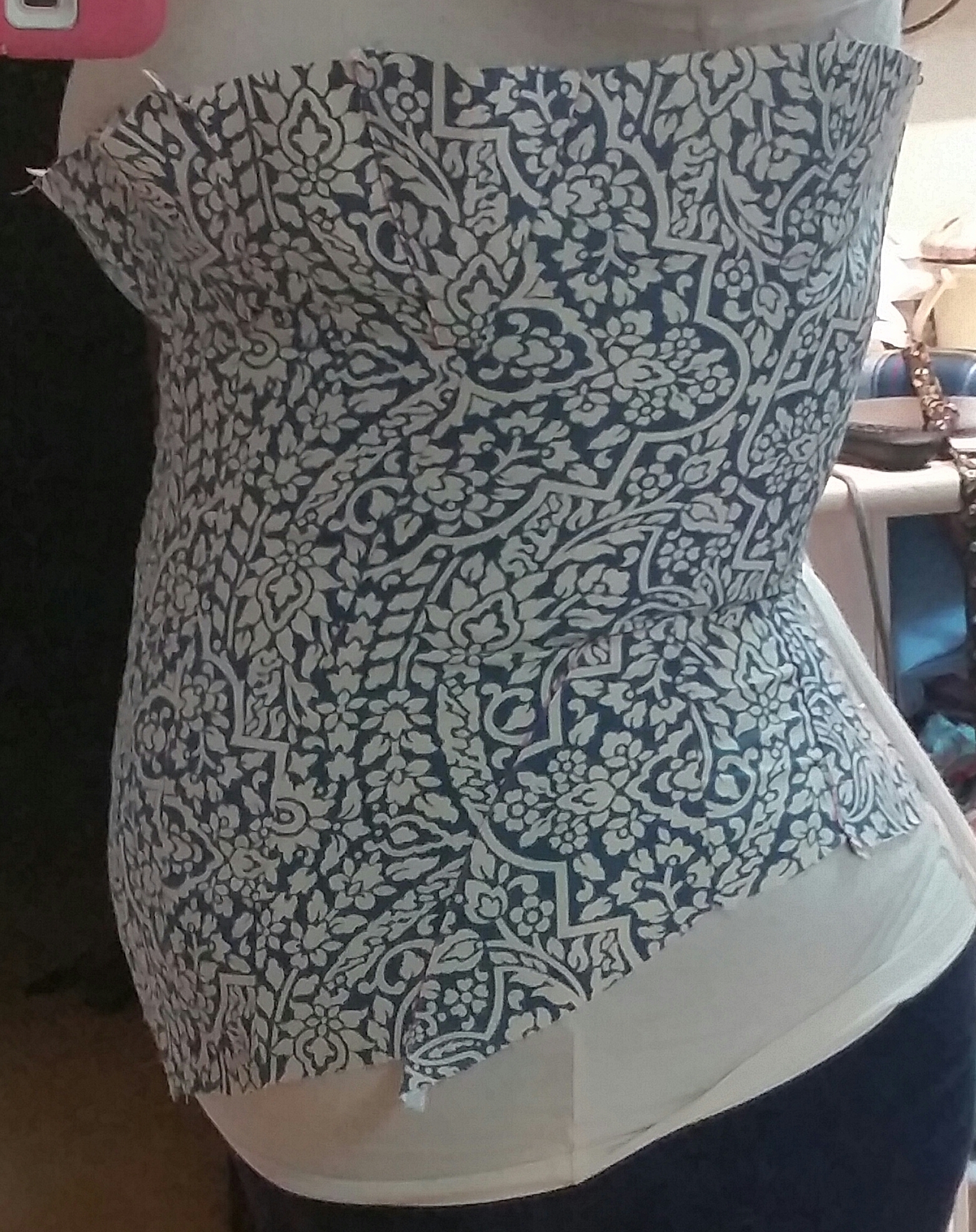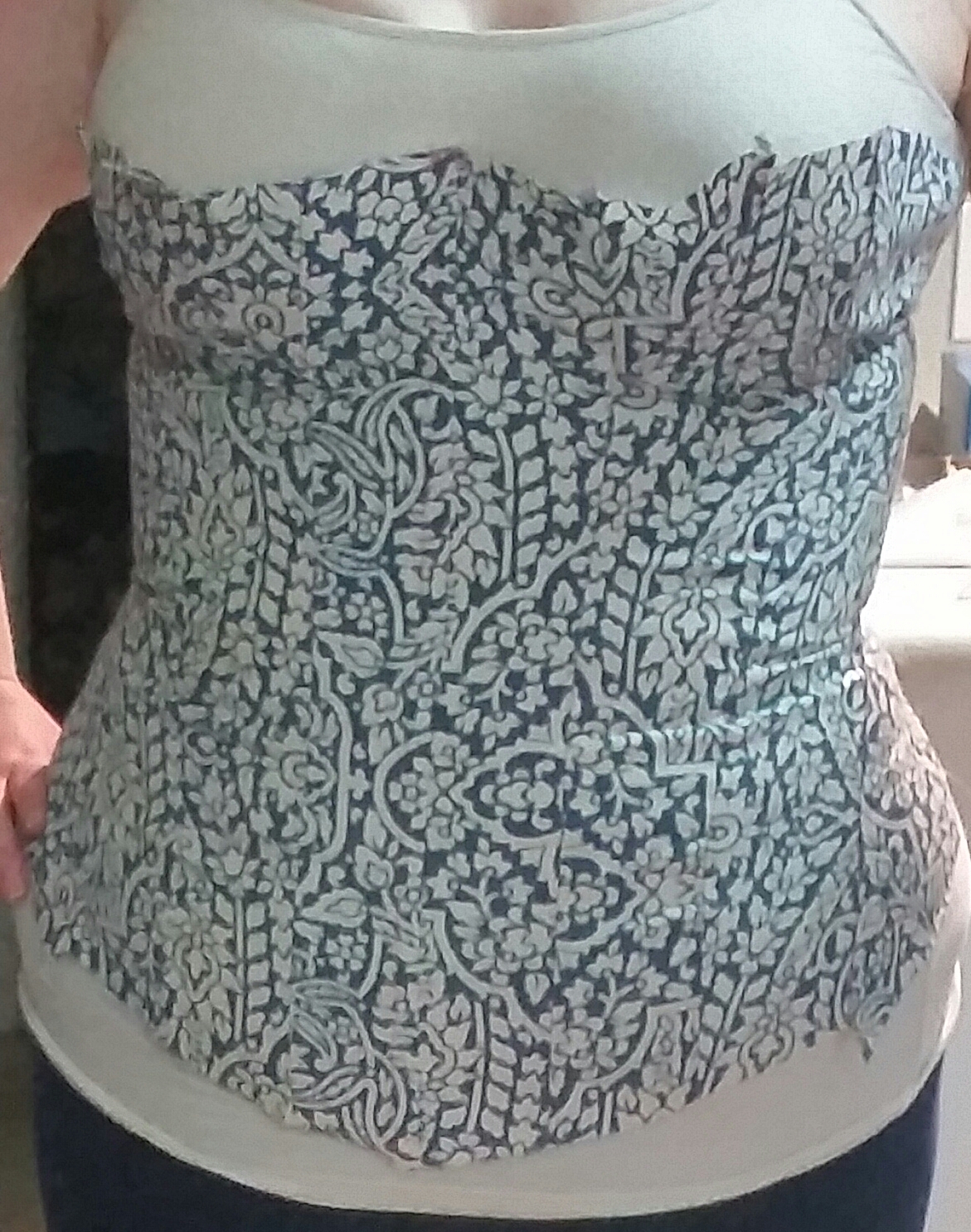 I'm wondering if the curve around the side at the bottom hem shouldn't go up quite as far. Also, I think the weird wrinkle in the top of the back was because I was wearing my bra in these pics. I forgot to take a pic of the back once I took it off, so I'm hoping it went away! The corset felt a little loose in that area, though, too.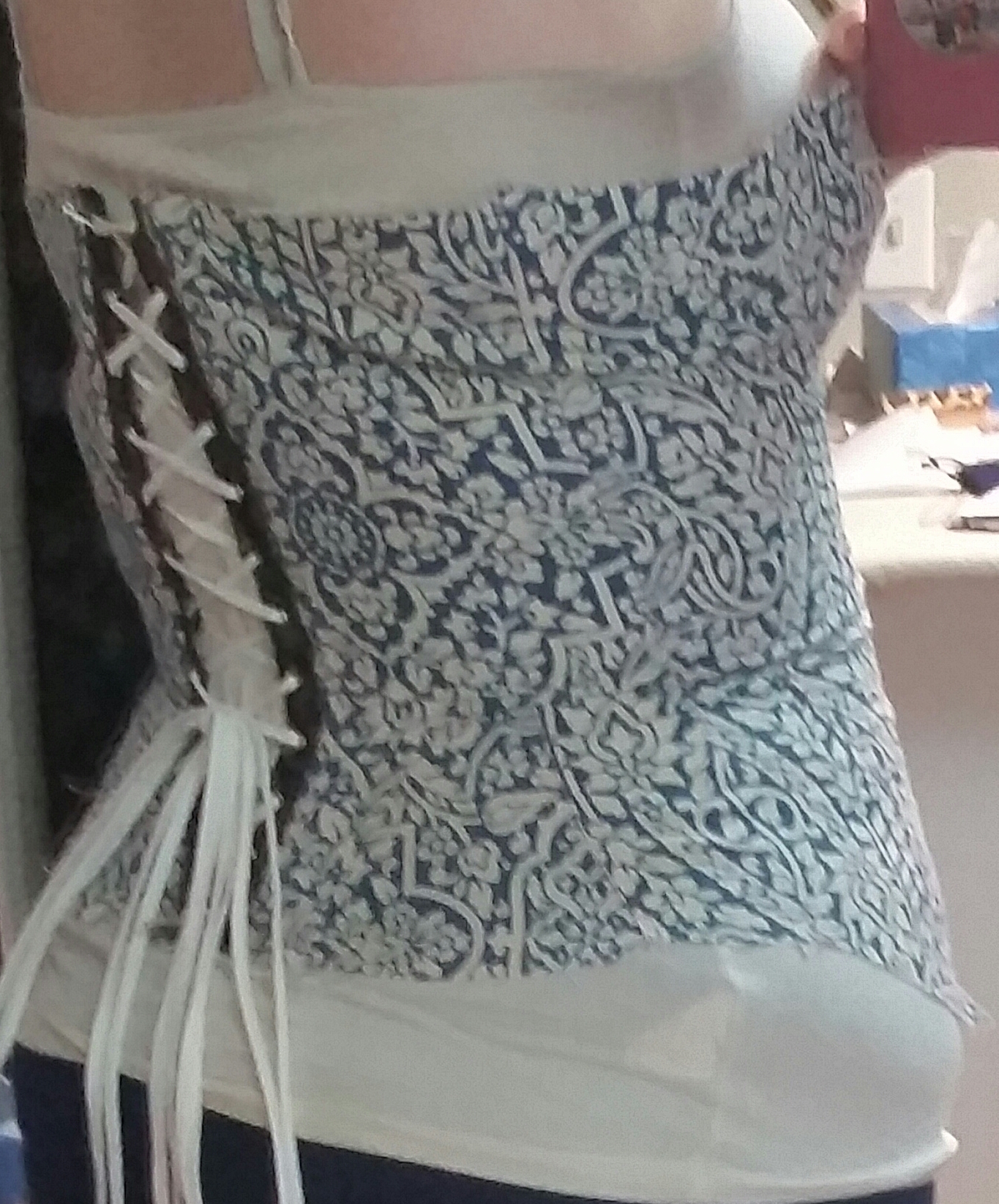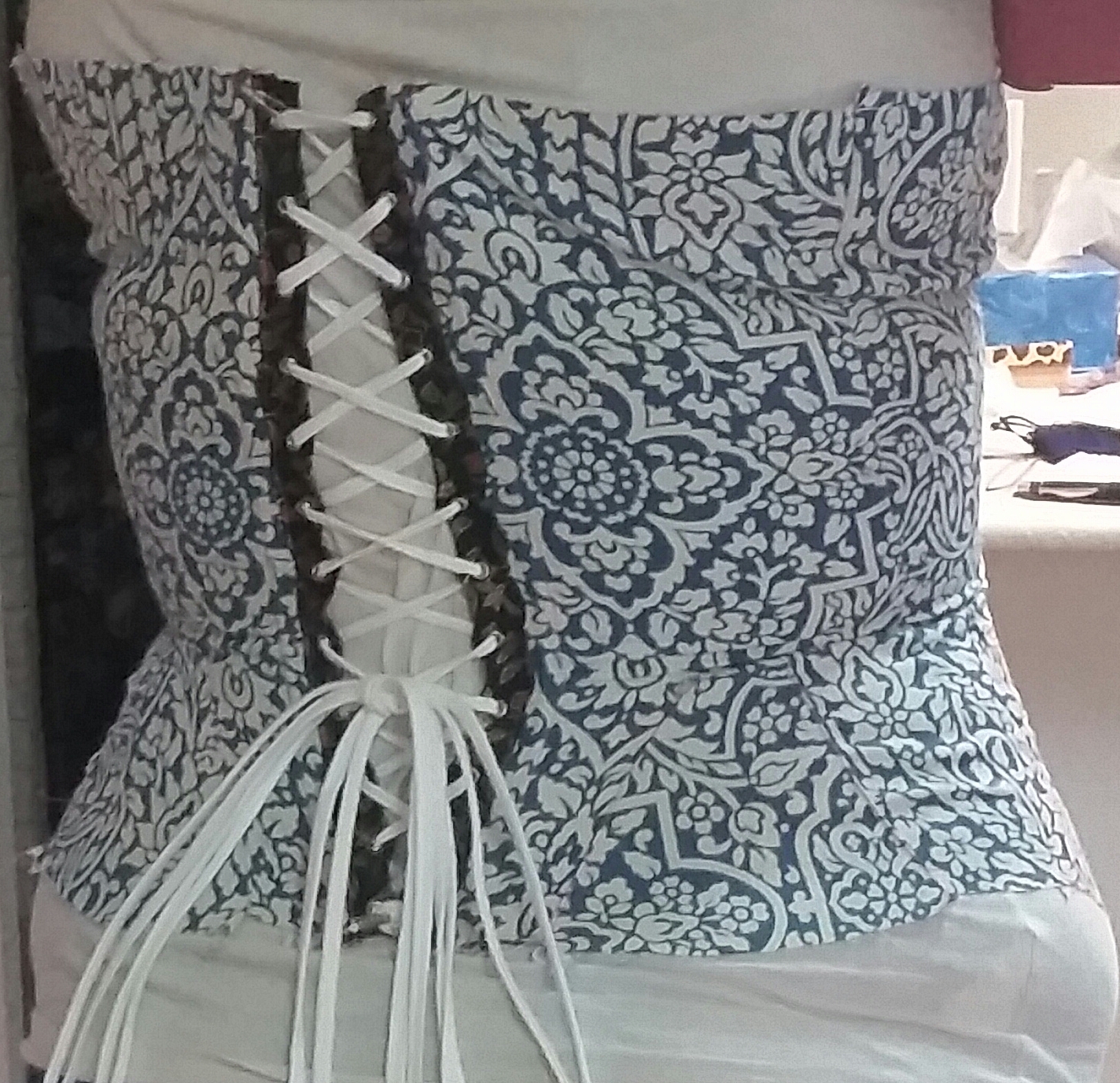 Closeups of the hip gusset shapes, and that wrinkle at the waist: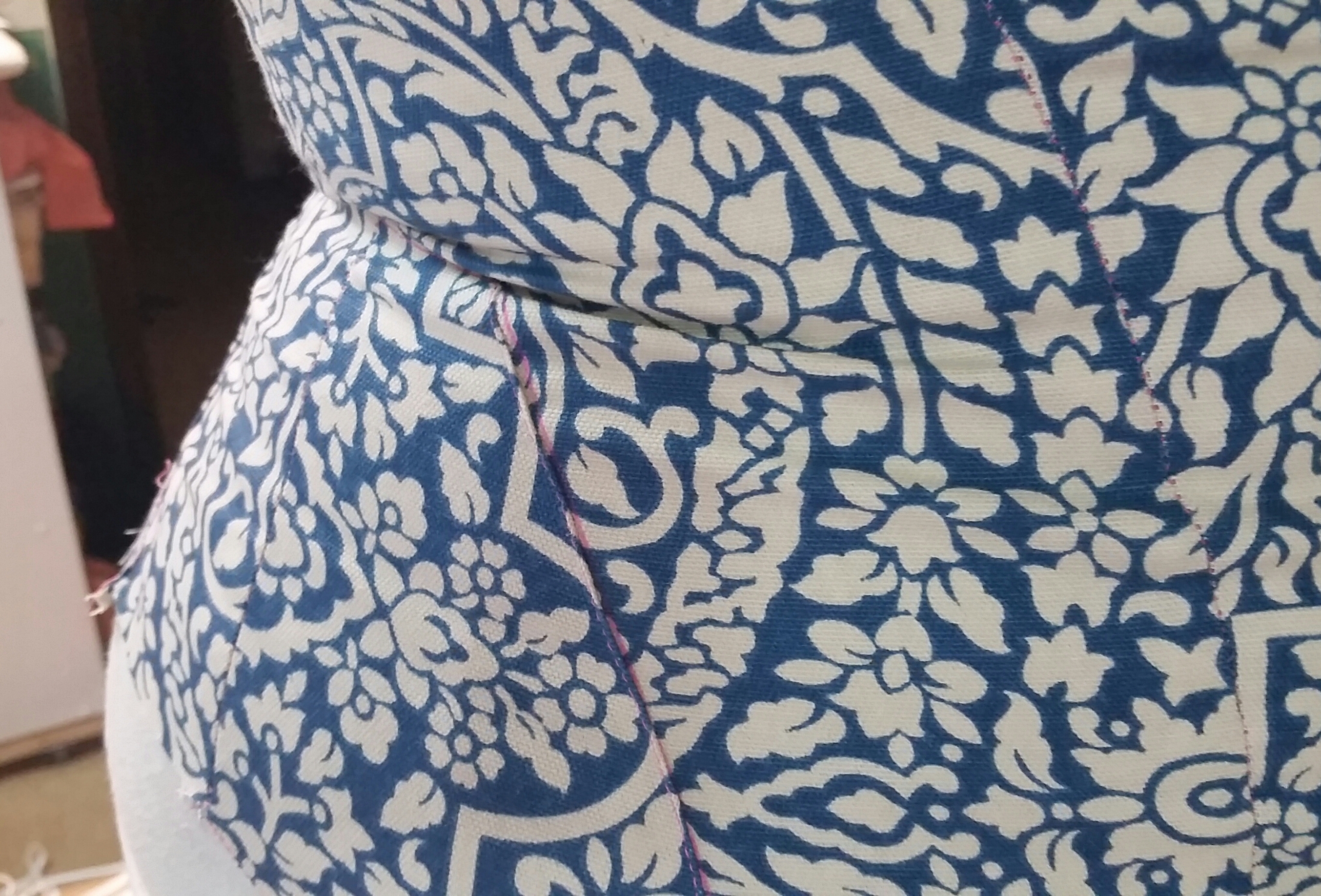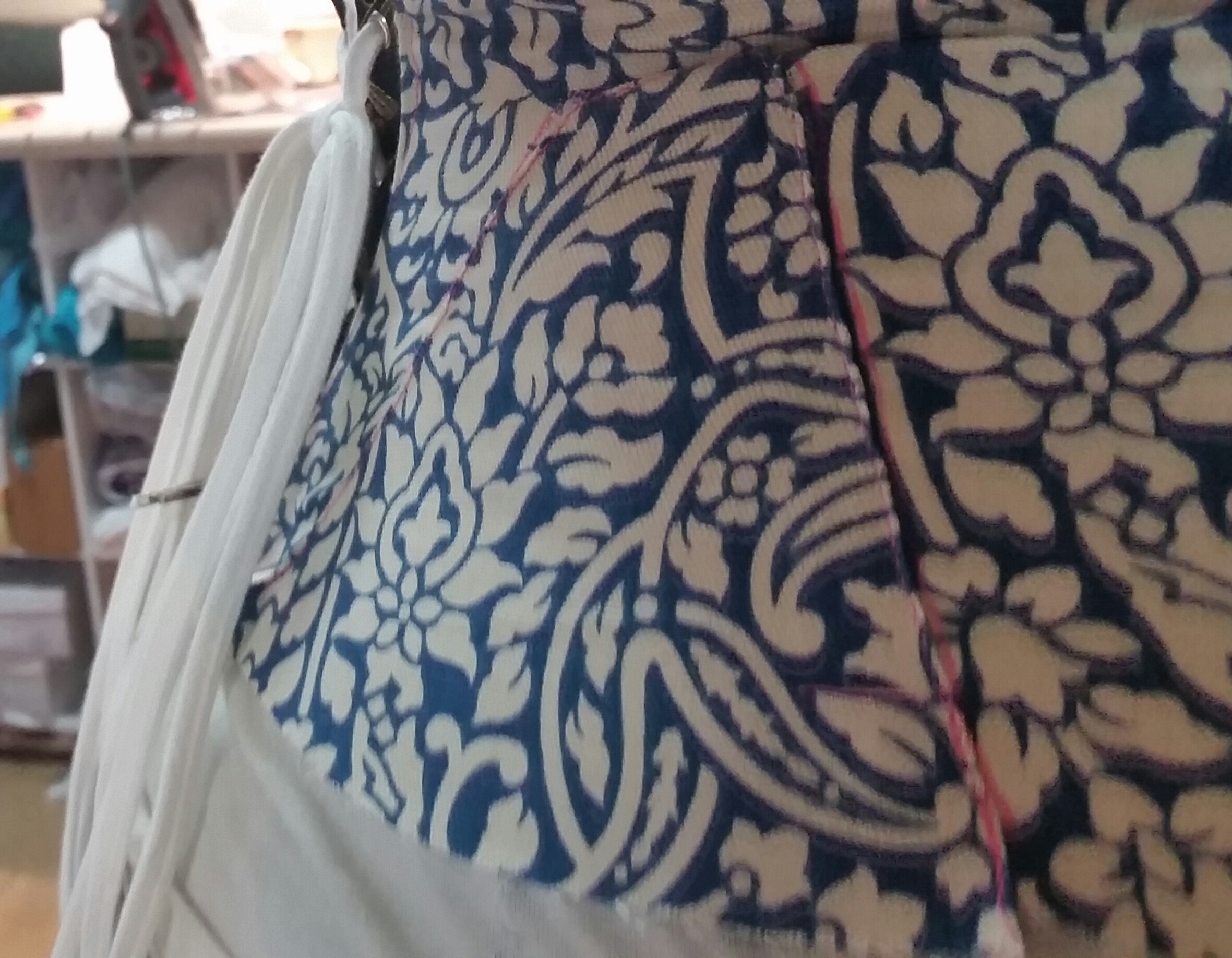 I realized part-way through my photos that I was wearing it with my bra on, so these are without, which actually made the corset top even gappier.
You can see just how gappy the bust was at the top here. I think in the second photo, I had pinned it smaller. There was a definite curve under the bust, which you can see in the second photo - not sure if that's a shape issue, or if it's just a lack of boning. Any ideas?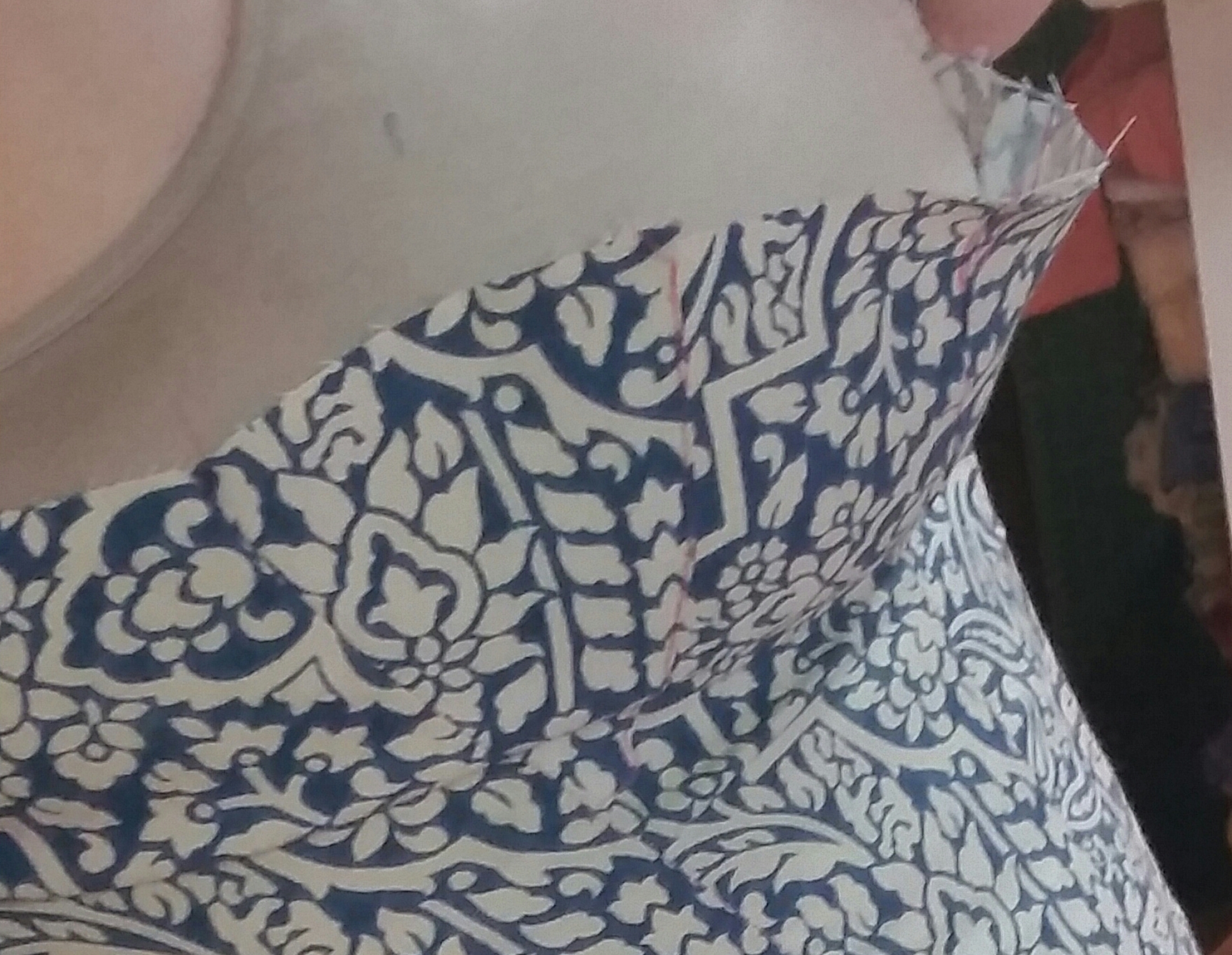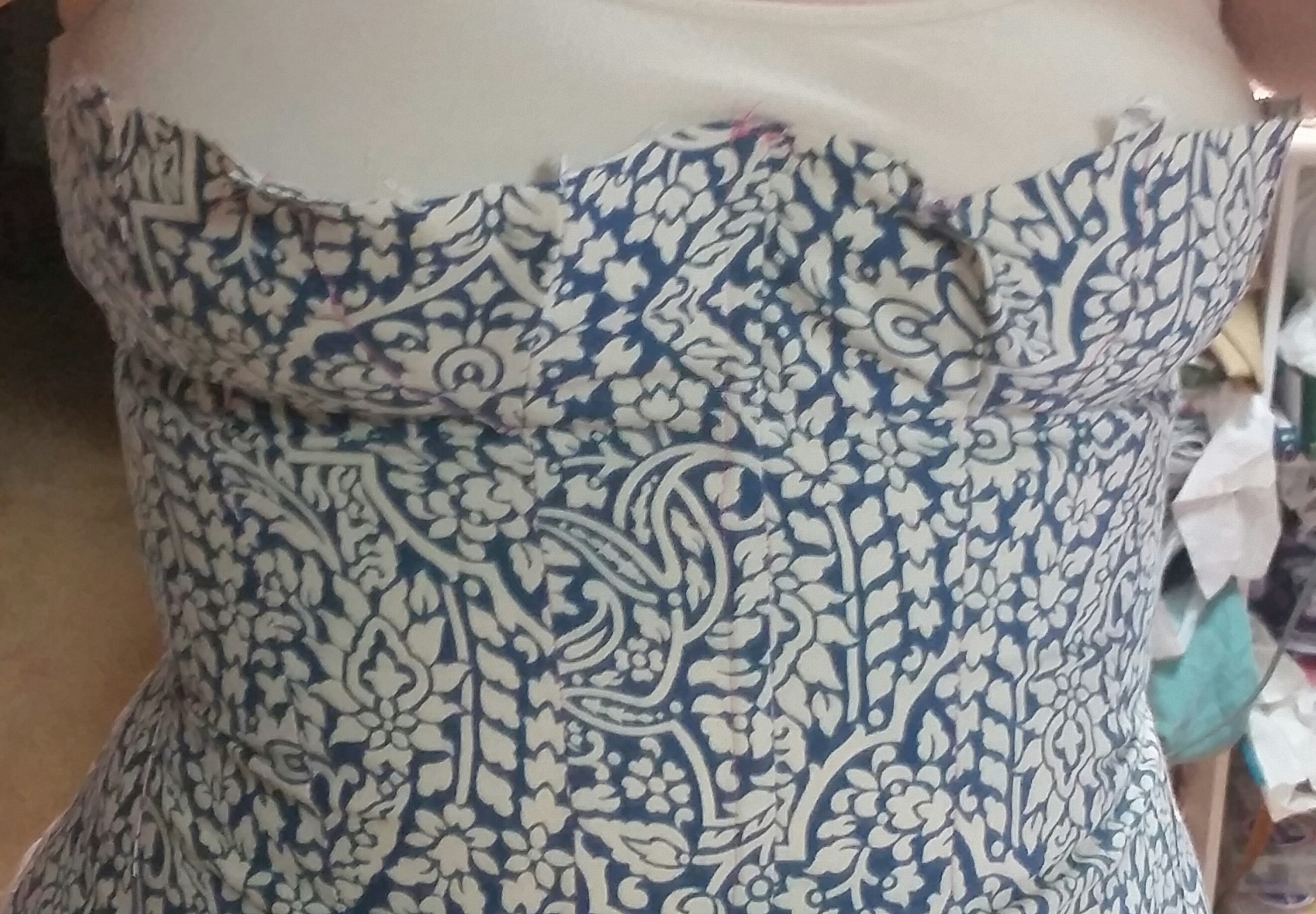 I would love any and all suggestions!
I finished the corset mockup today, and tried it on. It's definitely too big - it closes all the way at the bottom, just about all the way at the top, and there's only a small gap at the waist. So it needs to be significantly smaller. I think I want to take about .75-1" out at the CF, because the bust seems rather spread, but maybe that's how it should be? I'm struggling with where to take the rest out (I think I want at least 3" taken out total), because, though it's closing all the way at the bottom, the hip gusset shapes feel pretty right, and I like the curve they give. I'm thinking I can maybe take back out the .5" that I added in the middle of the back piece, which I had continued through the gusset piece as well. And maybe the other .5" should come out of the side back piece at the side seam?
In between my audition/callback and my rehearsal tonight, I made my headband sample for work tomorrow. It was really easy! Then after rehearsal, I came home and went right into the sewing room to start working on the corset. I got all my pieces cut out, and assembled my back and side-back pieces, and their corresponding gussets. I'll do the front pieces tomorrow after work, and hopefully try it on. I'm also hoping to get to see Florence Foster Jenkins tomorrow, since it's $5 movie night, and I somehow don't have rehearsal. :)


Then yesterday my bf and I drove down to my cousin's wedding in Portland, where it was even hotter. Luckily, her wedding venue somehow topped out at 90, and became pretty comfortable once the sun went down, and it really wound up being a very lovely wedding. We drove back today, in time for me to eat dinner, change, and rush off to an audition. I've been back for at least 1.5 hrs, but I still don't feel like sewing...

Tomorrow I have an audition, a callback, and a rehearsal, but I need to put together a sample headband for my new job, which I start on Tues. And hopefully since I'll be in the sewing room doing that anyway, I'll actually get a corset mockup cut out, too. I managed to avoid the Aug sewing slump last year by just pushing through and working nonstop, so ideally, I'd like to do the same this year. I've already made two projects this Aug, but now it's been 1.5 weeks since I sewed anything! I wish corsets weren't so daunting...
I feel like I'm losing my sewing motivation! My aunt left early Friday afternoon, but it was so hot that I didn't get anything accomplished (after a successful job interview in the late morning) for the rest of the day besides napping, and packing for the wedding. Even with the ac on in the living room, I felt like I was melting, and we closed the doors off to the rest of the house to try to keep the living room cool, which meant super hot sewing room.
The weird gelatin rocks, and a mama and her baby.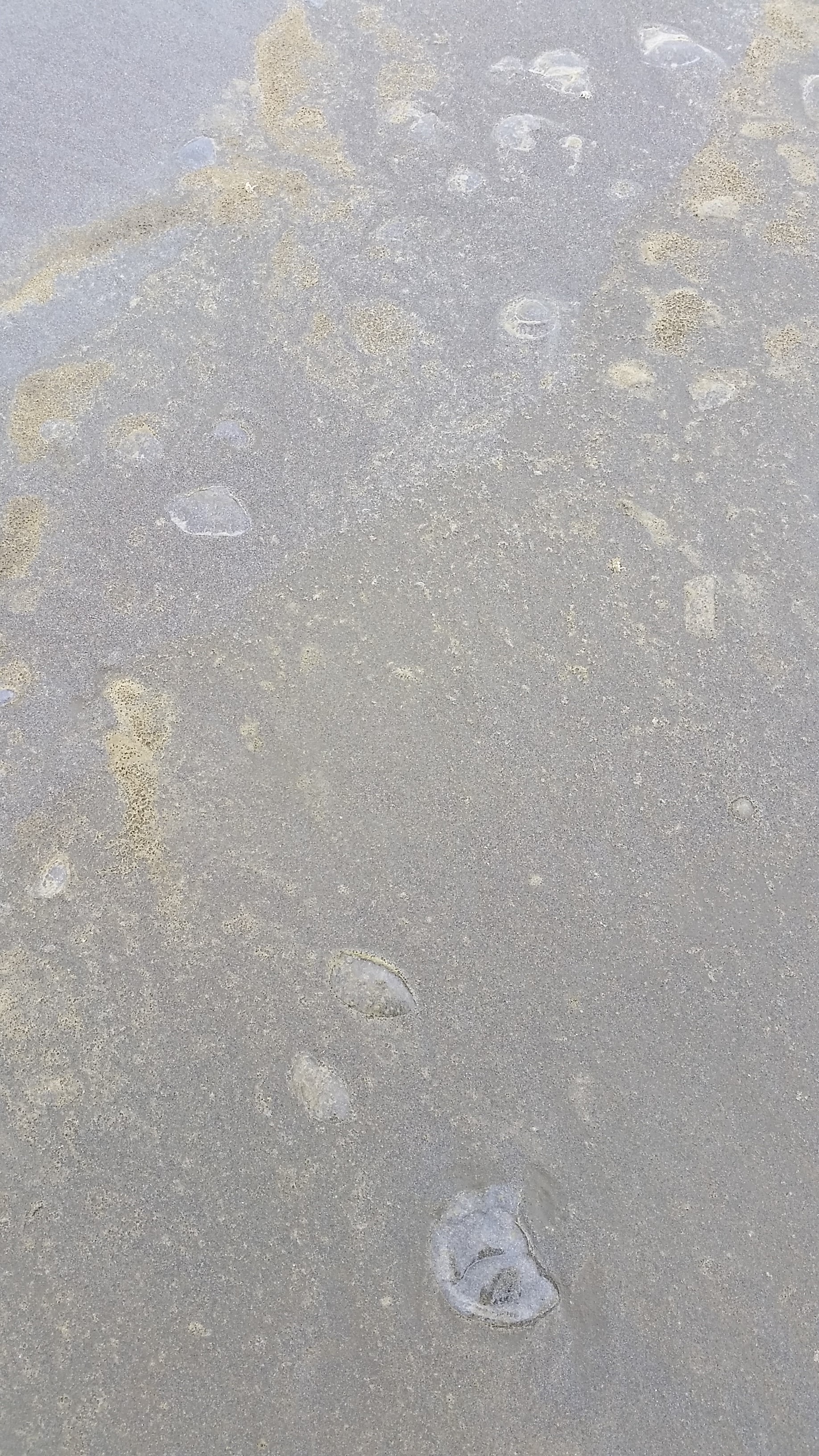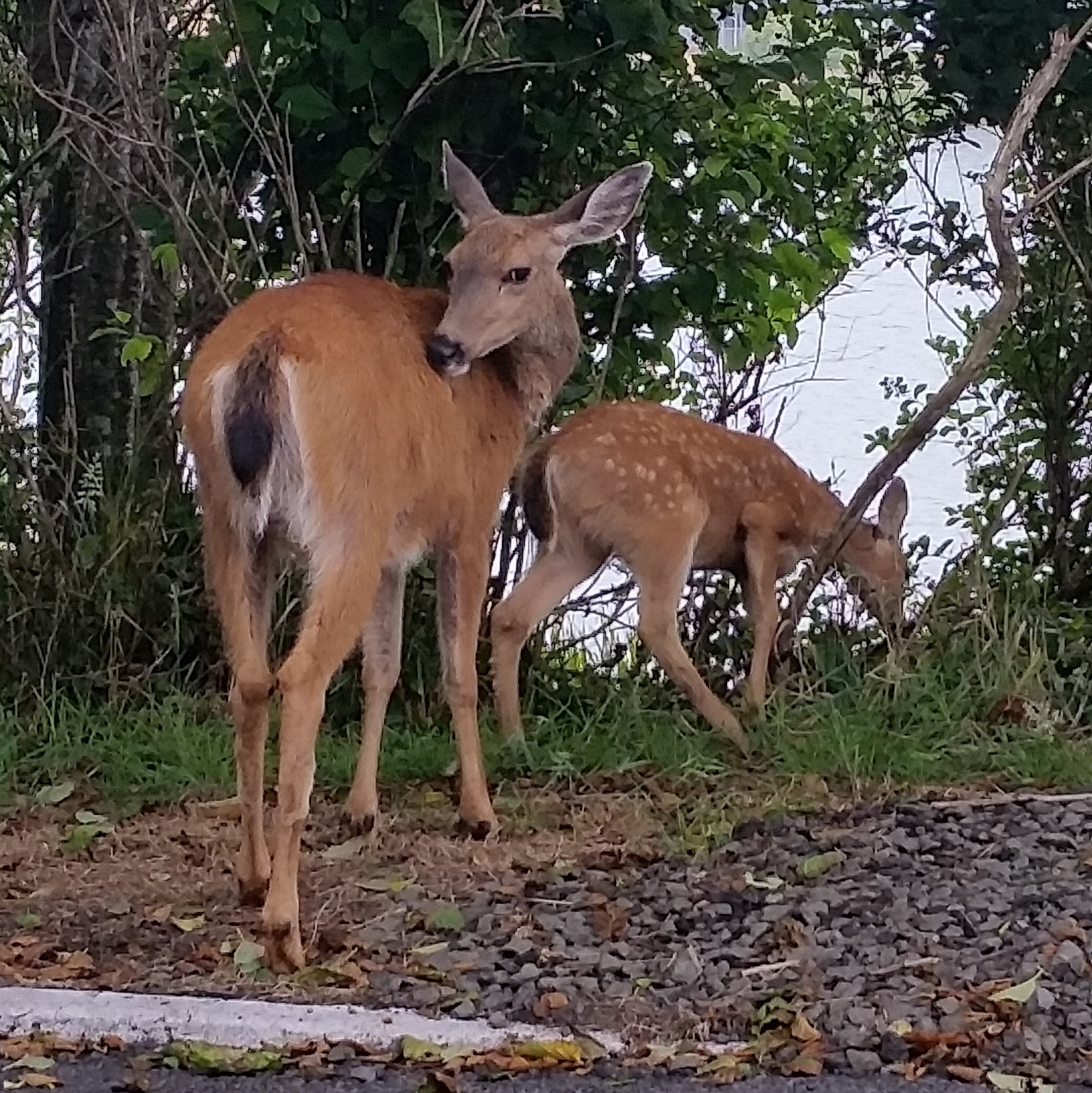 Yesterday, we went to Northwest Trek, which is a wild animal park entirely populated by animals found in the Pacific Northwest. And we saw almost every animal in the park (the only one hiding was the barn owl). It was a lot of fun, and it was neat getting to see a baby moose, a fisher, beavers, and caribou right up close.
Mama and baby moose (his name is Spruce), and two of the beavers doing a weird synchro routine.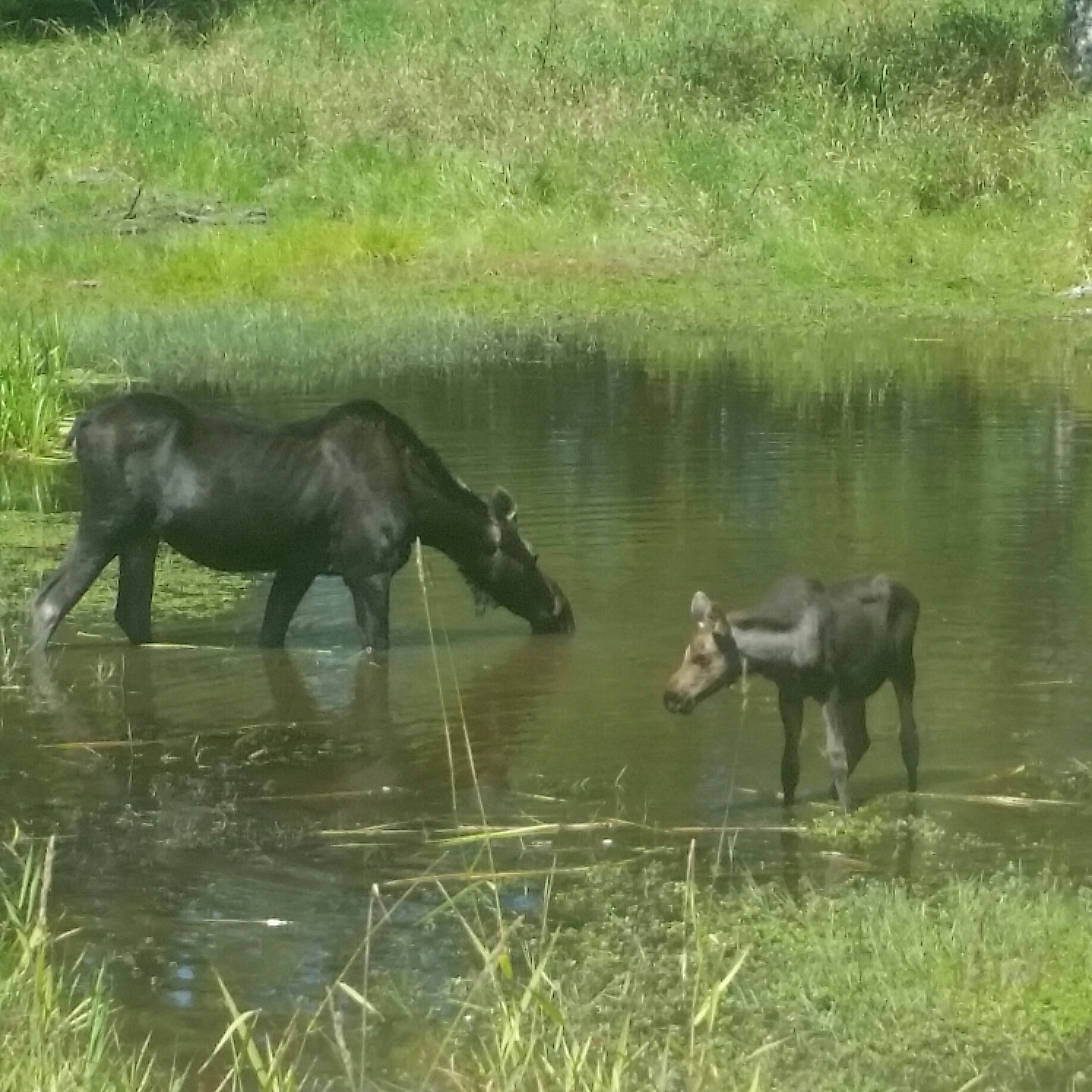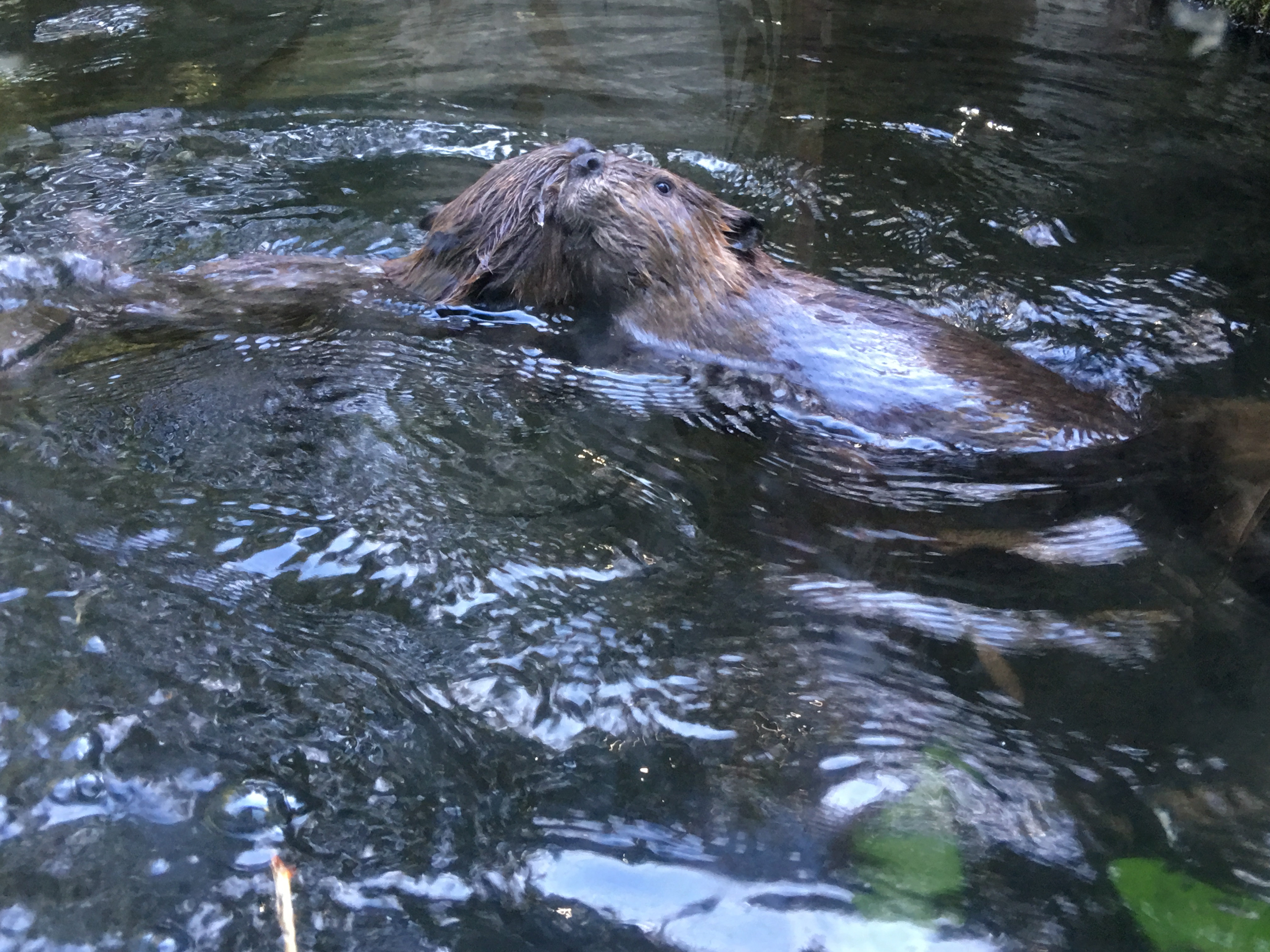 One of the fishers, practicing his modeling, and one of the racoons.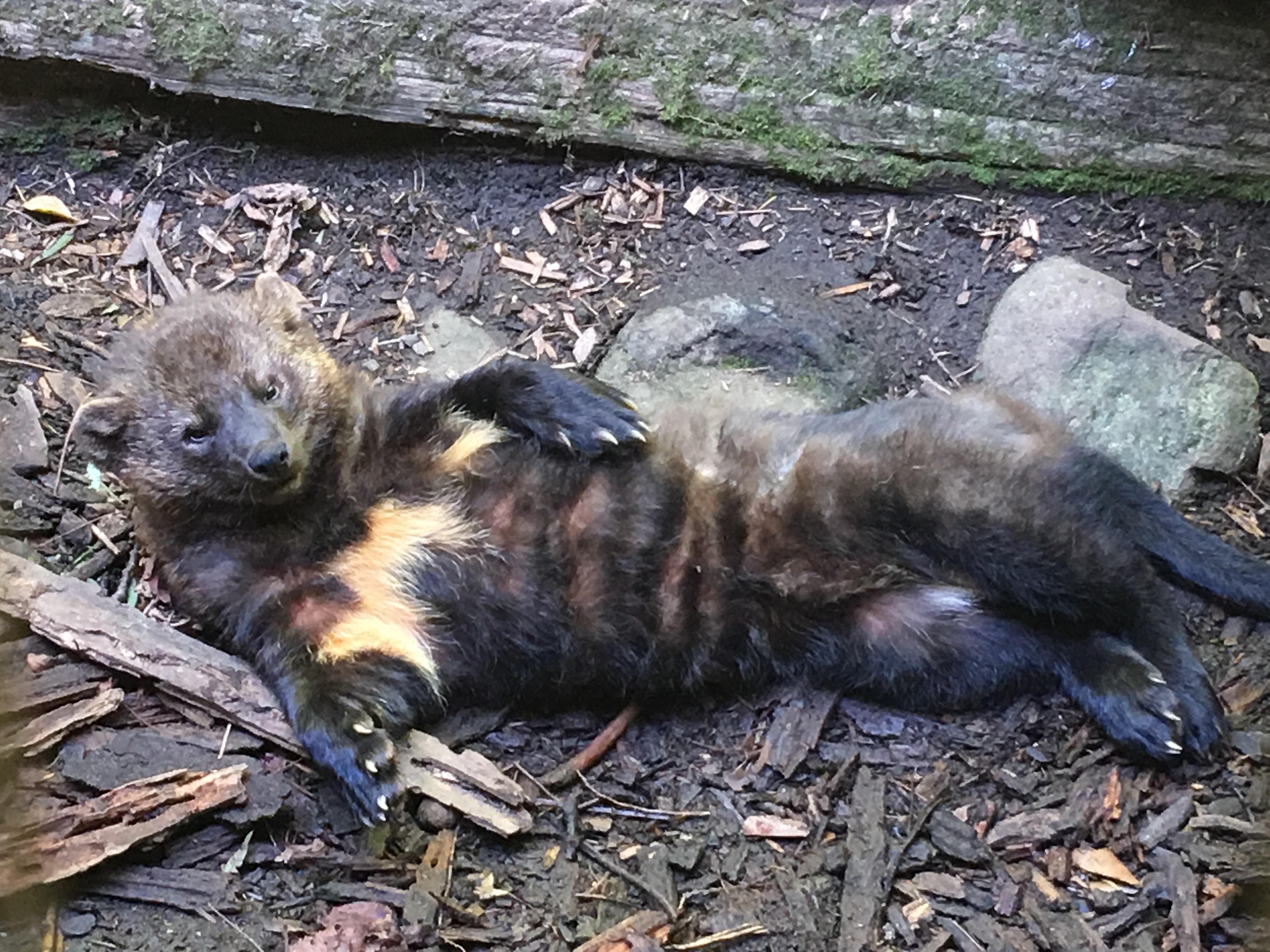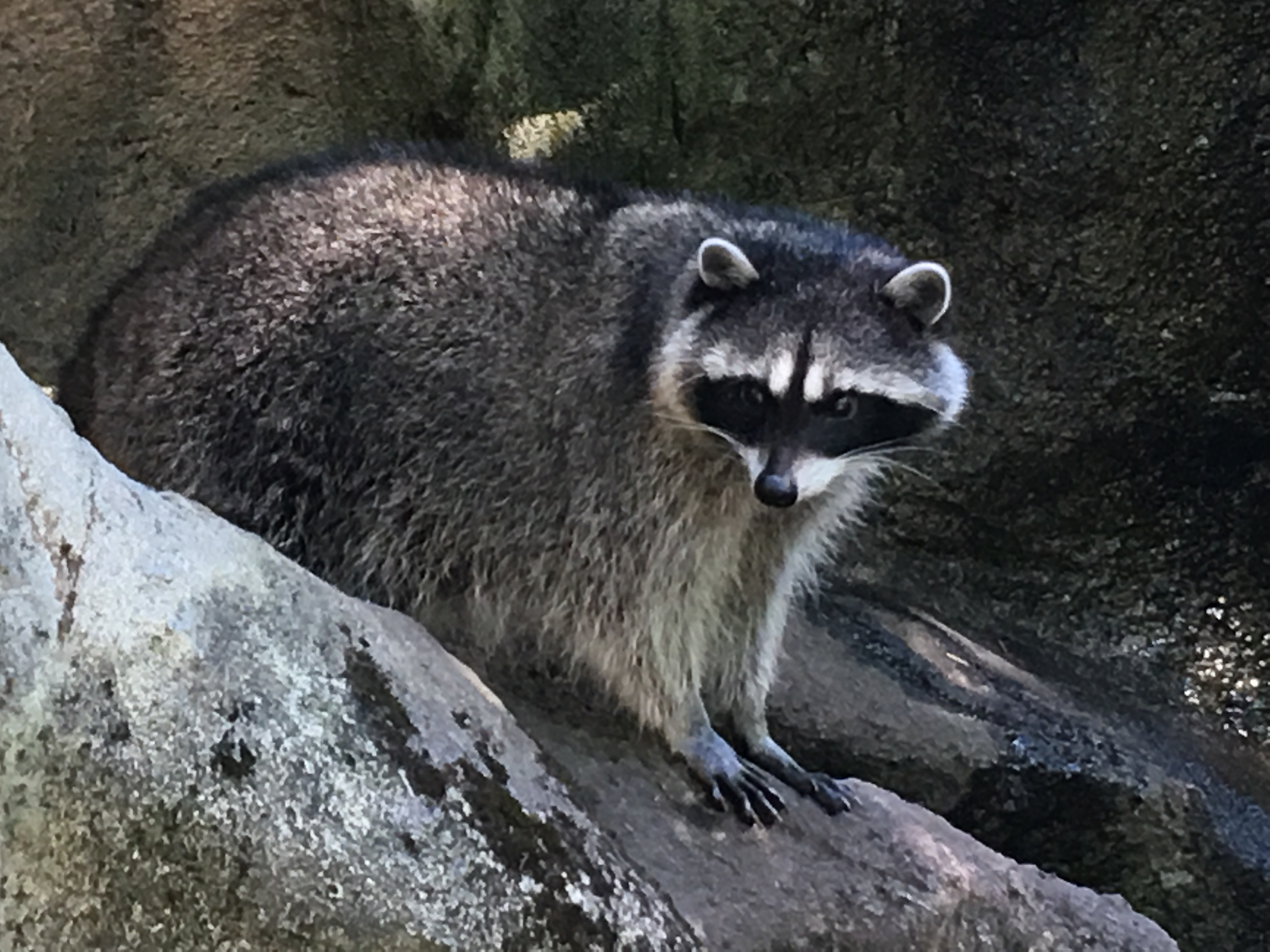 Today, we went to the Museum of Glass in Tacoma, and several antique stores in the area. There was one artist at the museum, David Huchthausen, whose work was particularly amazing. This was one of my favorites:
My aunt leaves tomorrow, but I'm going to my cousin's wedding in Portland on Sat-Sun, so hopefully by Monday I'll get to sew! I want to test out that corset pattern!
My aunt has been in town this week, so I haven't had any time to sew. On Tuesday, we drove west to Ocean Shores, which is a small beach town on the Pacific. It was my ideal sort of beach day - overcast, foggy, about 60 degrees, and not too many people at the beach. We drove out onto the sand, and parked right on the beach, and walked around on the flattest, most compacted sand I'd ever experienced. The tide was way far out, and there were all sorts of broken sand dollars, plus weird little clear gelatin-like things all over, too. It was really pretty. Afterwards, we drove around the whole town, which has canals and waterways almost every other block, and deer all over. Not to mention it was 20 degrees cooler than the Seattle area!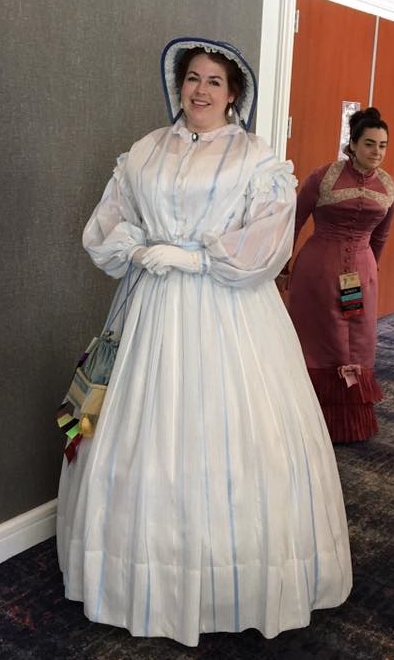 So anyway, I made it to the line soon enough to be in the second batch of people allowed into the Bargain Basement. That said, I was really disappointed in it this year - not in the quality/quantity of stuff, but in the rudeness of the lady helping with the checkouts. After I made my offer ($20 for two grocery bags worth, which seemed totally reasonable to me), she dug through my two bags, and pulled out a torn up fur, rudely saying that the fur alone was worth more than that (it wasn't - it was small and torn), so she took that out, and still took my $20, which, without the fur, made my haul very small. I got a few pieces of scrap faux fur (which will hopefully be just enough for the Winter Bustle I'm making), a small piece of tan wool fabric, some millinery flowers, 3 cut-up patterns, two wide laces, some metal buttons, and a pair of 18th c style buckles (which turned out to be AD buckles, so at least that was good to learn). But in other words, waaay less than I usually get from the Bargain Basement, yet I think it might be the most I've paid there. So rather disappointing...
Anyway, I dumped my stuff in my room, grabbed a muffin from the Concierge lounge, and scurried off to Luca's 19th C Silhouette class. I now plan to make all my stuff with padding (after I make the proper corset, of course!). Next, I took Francis's Galliards dance class, which was very fun - I swear, between his class this year, and
ashamanja_babu
's dance class last year, I think I have more fun in the dance classes than in any other CoCo classes! I want more! I also went to Laura's class on dating historical garments, which was very informative, and she helped me narrow down the dates on my new 1890s walking suit (probably mid-1890s, even though the sleeves aren't crazy huge, because it's not an outfit that's at the height of fashion, anyway).
That was it for CoCo classes. I did spend some of my other time on Sunday hanging out with Harry Potter friends, doing readings of the new play. We made it through the first act together, all playing multiple characters, and it was awesome! I also re-learned how to play Whist. :) But eventually, it got too late, and I had to go pack up my stuff.
Monday, I took all my luggage with me on the tour bus to the fabric district. (I always do that, since it's so much easier to get to LAX from the fabric district with a shuttle or Uber, and just fly out that evening). I did have some nice finds in the fabric district - I bought two new Disney cotton prints for skirts for my shop (and a villain skirt for me!), something like 15 yds of dark forest velvet ribbon,and 8.5 yds of forest green wool for my Winter Bustle. I rarely find reasonable wool in the fabric district, and while it was definitely more than I usually like to spend on wool (it was $12.50/yd), it was the perfect weight and color, and I haven't seen that color online recently. (Oh, and I can't think of the store name right now, but it's right across from the guy known for his wool in that sort of indoor area off of Maple, I think).
No pics of anything, but you can see the fabric in
my etsy shop
, and if you're interested, it's available as yardage or in my simple skirts.
We shared a Lyft back to LAX, killed time before flights, and then CoCo was officially over. :( Is it time for next year yet?
I slept through my alarm Sun morning, and my roommate woke me up at 7:10. My goal had been to get to the Bargain Basement line by 7:30 - aaahh! So I super scrambled, and got dressed crazy fast in my 1850s sheer dress. I literally somehow got all my makeup and hair done, and fully dressed in less than 30 minutes, which is totally a record for me by a long shot. (I usually take 45 mins-1 hr in the morning, and easily 1.5 hrs when I'm doing historical hair/costumes.)
Nevertheless, I'm tempted to actually use my enlarged paper pattern to actually cut it out and assemble it in fabric, just to see how far off it is. I really want to try Luca's thing of making the body conform to the corset, not the other way around (I think that's what he said?). That's why I wanted a really distinct shape for this era.
I'm also going to attempt it with a 15" busk. It's possibly I need a 16", but that seems like it might be too long once I sit down, and I happen to have a 15" on hand already. I'm hoping to order boning in the next couple days, so that I can really get started on this. I got a sample of the Wissner plastic whalebone and the other German plastic boning from Farthingales, but none of it is quite what Luca recommended, so I'm waiting on a couple samples to come from Hallie Larkin, since hers is Wissner as well.
Here's the pattern. If anyone else wants to try it, I'm happy to share the pdf!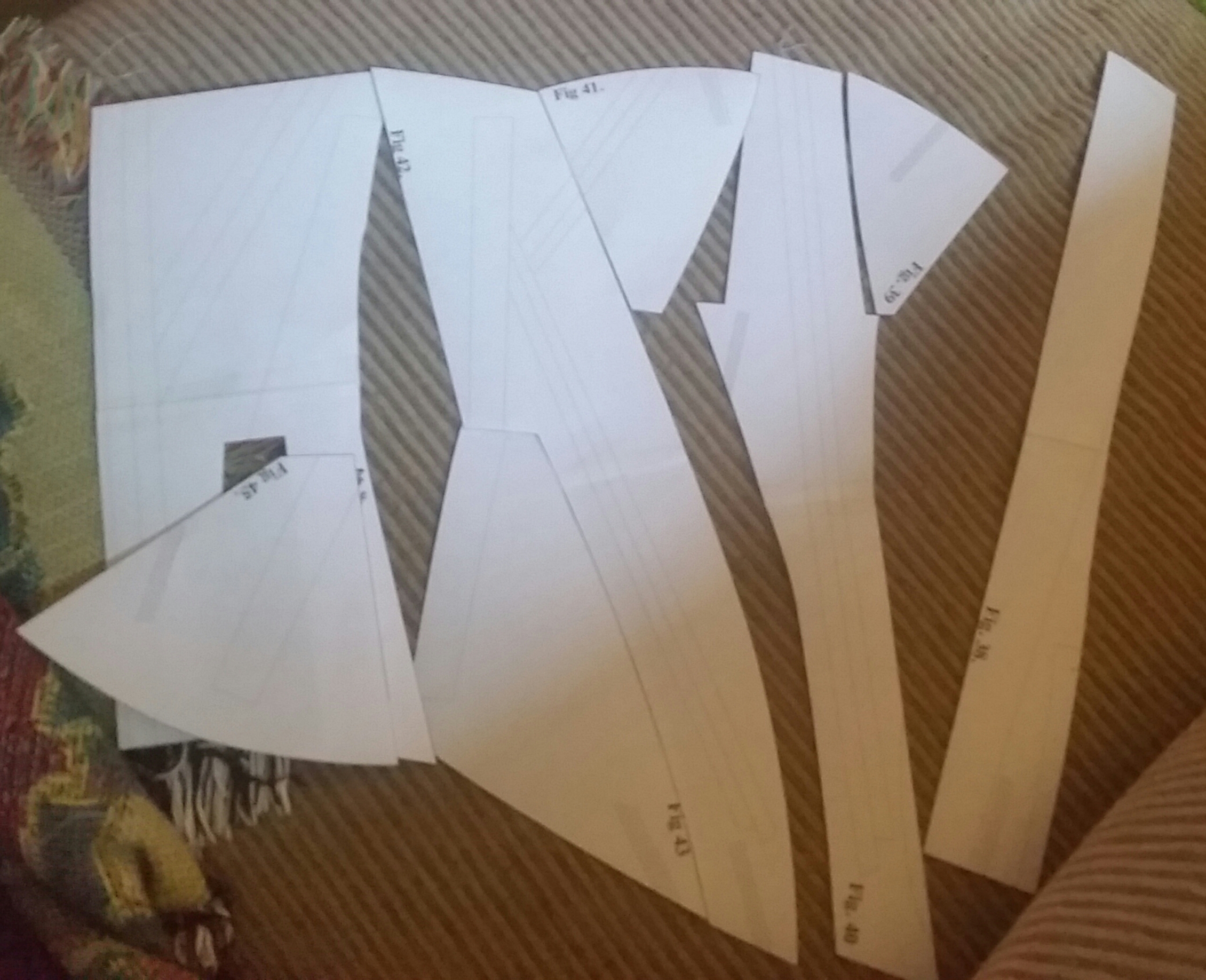 And this is what my weird paper version looks like. You can see the 3.5" of length I had to add!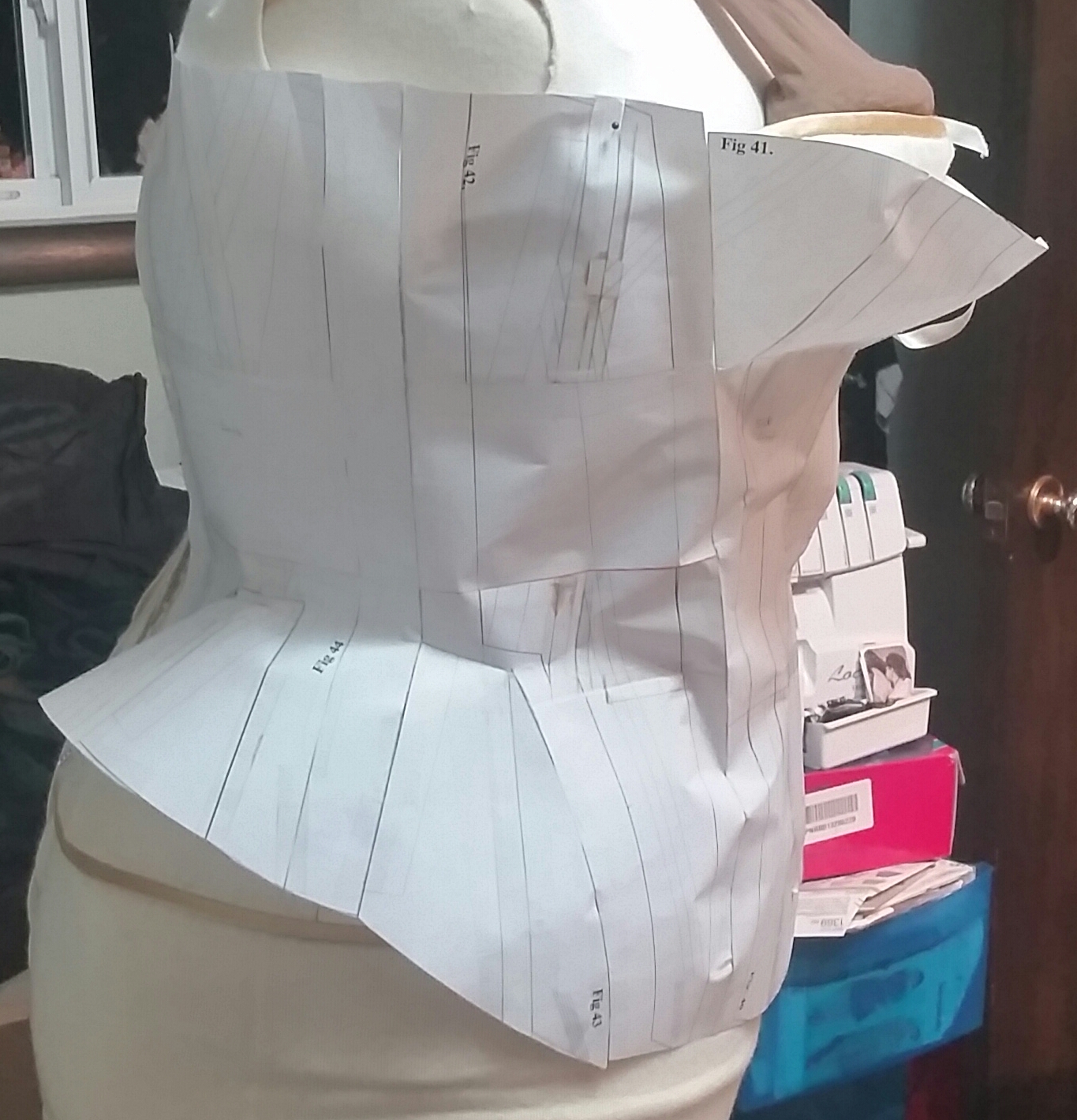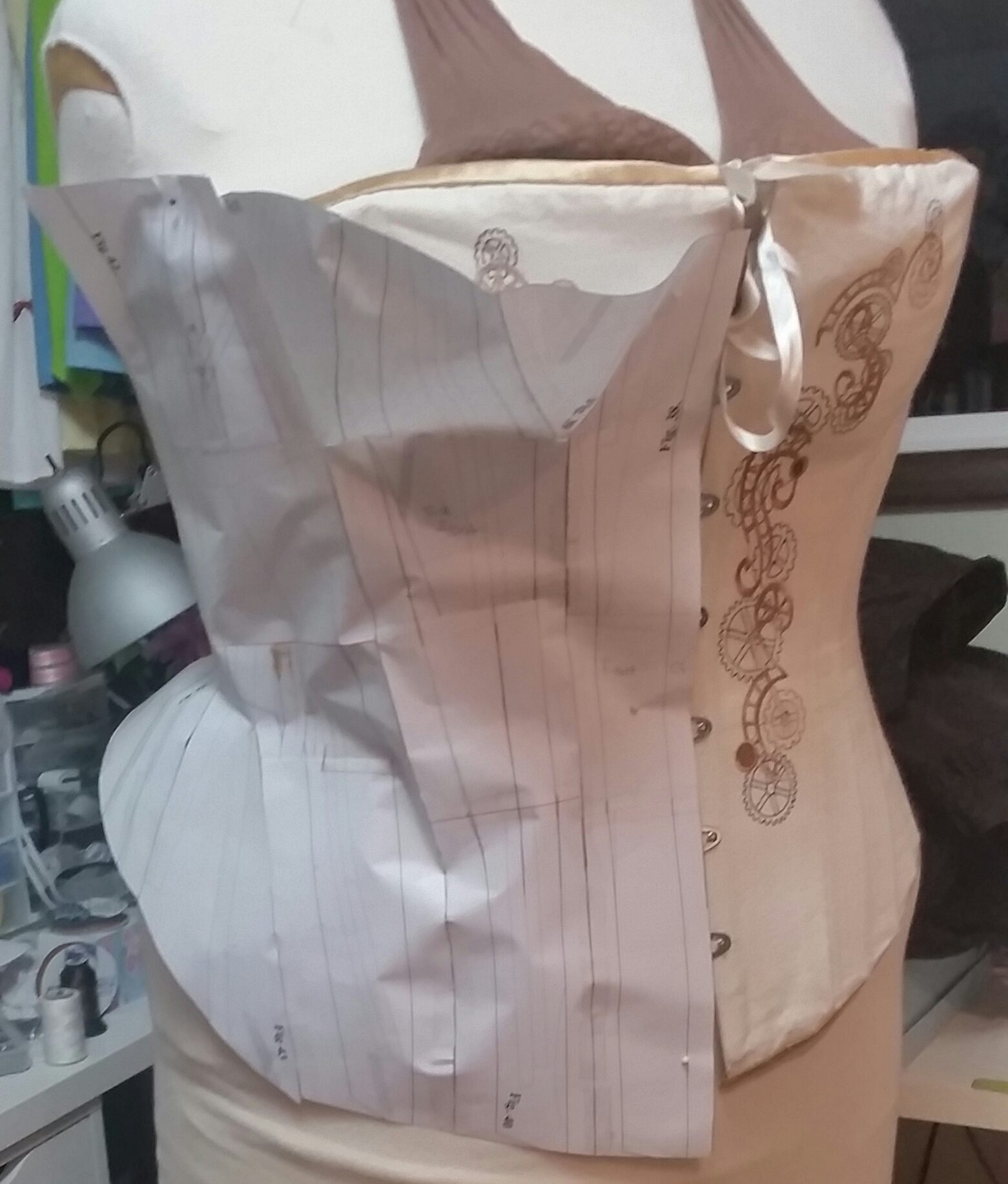 Amy Galles was wonderful enough to trace off the De Gracieuce corset pattern for me, and blow it up, so I'm going to attempt this one to begin with, and hopefully it will work out! So far, I printed out her blown up pattern, and taped the pieces together to see what it would look like. I like the shape, but a) it's super tiny, and b) it's incredibly short-waisted. So I added 3.5" of length between the waist and the bottom of the bust, and I also added at least 1-2" of width to the various pieces. I taped together this new sized up pattern to see what it would look like, and I tried to pin it to Antoinette. Obviously, it looks weird because it's paper, but I feel like the gussets are particularly strange. The front-most bust gusset seems huge, and possibly because of this, it also makes the corset want to spring away from the "body" at bust-level under the armpit. Which seems weird. Hopefully I'm assembling the pieces right!
I wore my 1890s walking dress during the day. It's already very much feeling like a "this old thing" since I made it last Aug, and have already worn it a few times. I didn't even think to take a picture, but Vivien did! I hated my hair, though - I'm honestly not sure what happened there...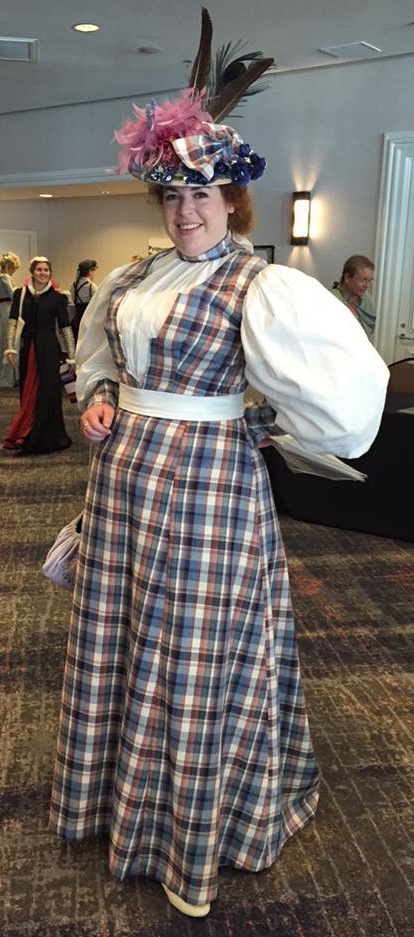 I also "this old thing"ed it for the gala, pulling out my black silk bustle gown I made earlier this year, though this time, I let down the train for a while, since CoCo'ers are the only people I trust around a train. :) And hey, it's nice knowing that a gown is going to fit, and not have any issues with hair etc, because I've done it before!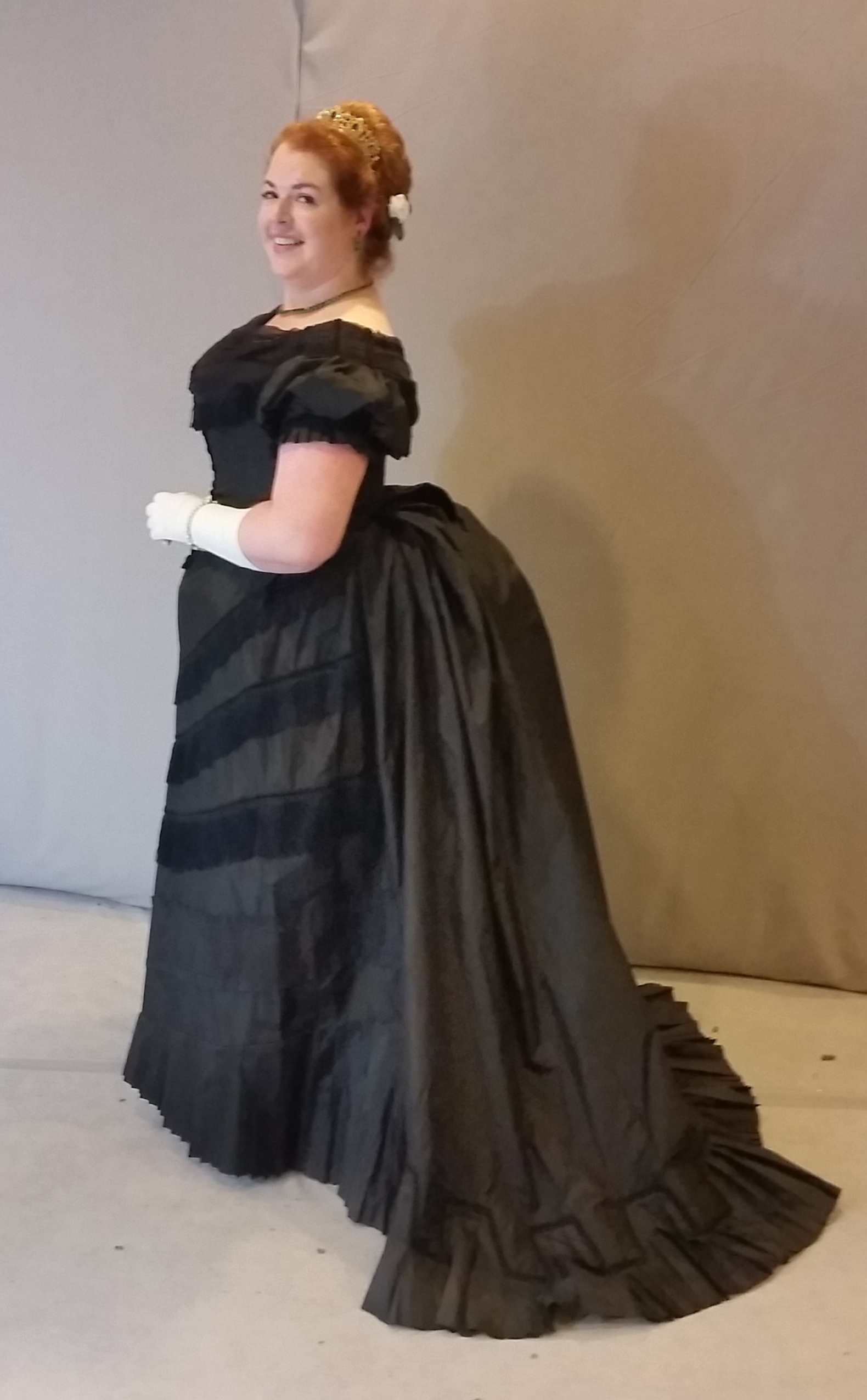 There was a great group of around 25 of us who walked over to Maggianos, and though the service was a little slower than normal this year, it is still a billion times better than eating the overpriced stuff they serve at the gala. We also had plenty of time to brainstorm what we wanted to do as a group project for next year! (Fair warning, I'm probably going to spam post about our Keira Knopely group a fair amount this year.) When we came back, we peeked in on the dancing and stuff, but mostly I just chatted, since as usual, I didn't like the music. Some year I'd really love to hear legit ball music, and have Regency dancing or waltzing or something for the majority of the dances. Pop music just doesn't make sense.
Anyway, my pics from dinner are all dark and blurry because my phone camera sucks, so instead of posting them here, feel free to follow this link to see them:
https://www.facebook.com/media/set/?set=a.954427004153&type=1&l=7e02c68062
There were so many gorgeous gowns this year! As I think I said before, though, I was really bad about taking pictures this year, so I only got a few of them. But I really feel like there's starting to be so many gorgeous costumes that I almost stop seeing half of them, because all the goregousness blends in together!
Anyway, we couldn't stay at the gala for too long, because we had to scoot out to the midnight release of the new Harry Potter play! It made for a very late night, but everyone at Barnes and Noble seemed to enjoy our costumes, and we did get our books!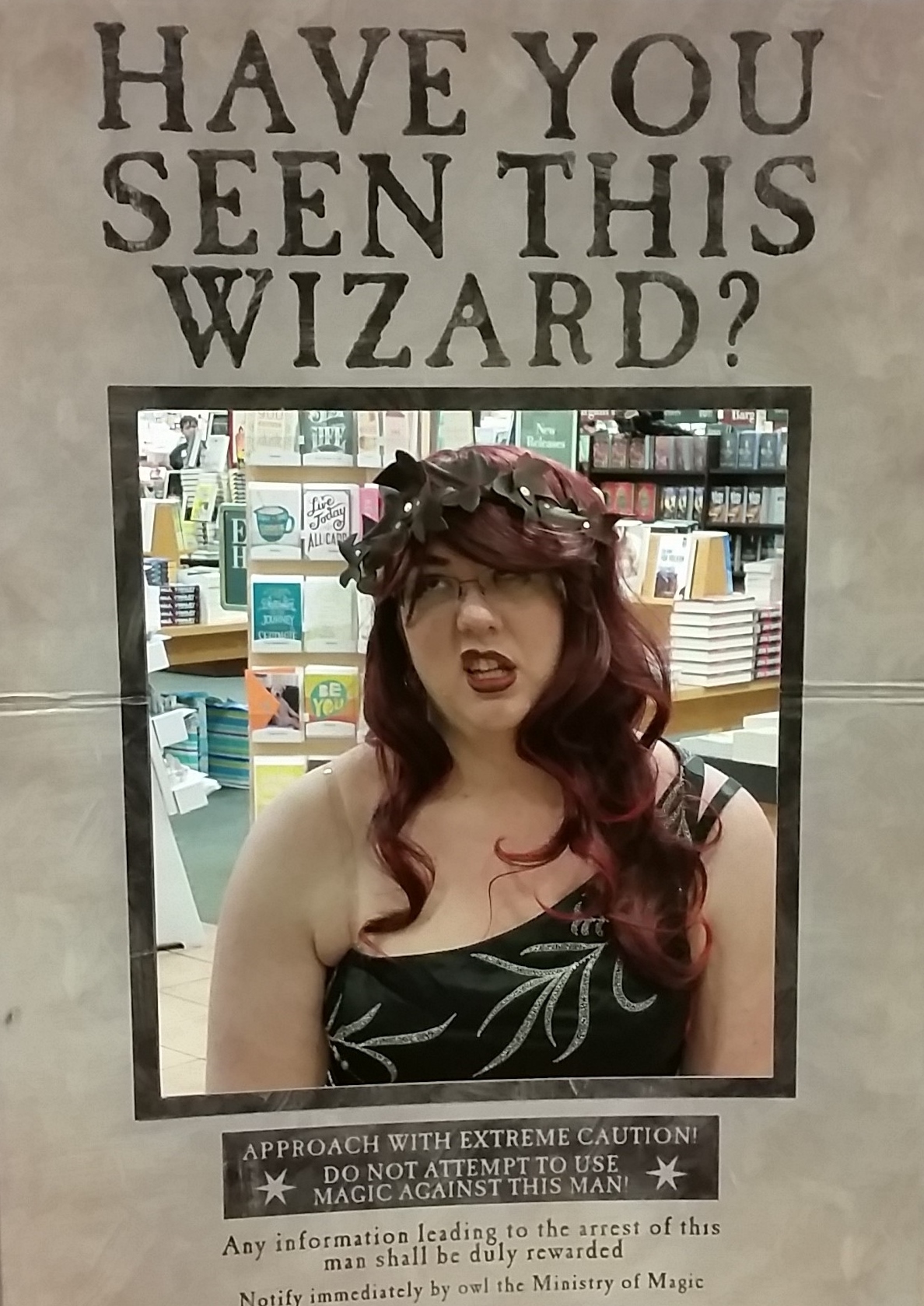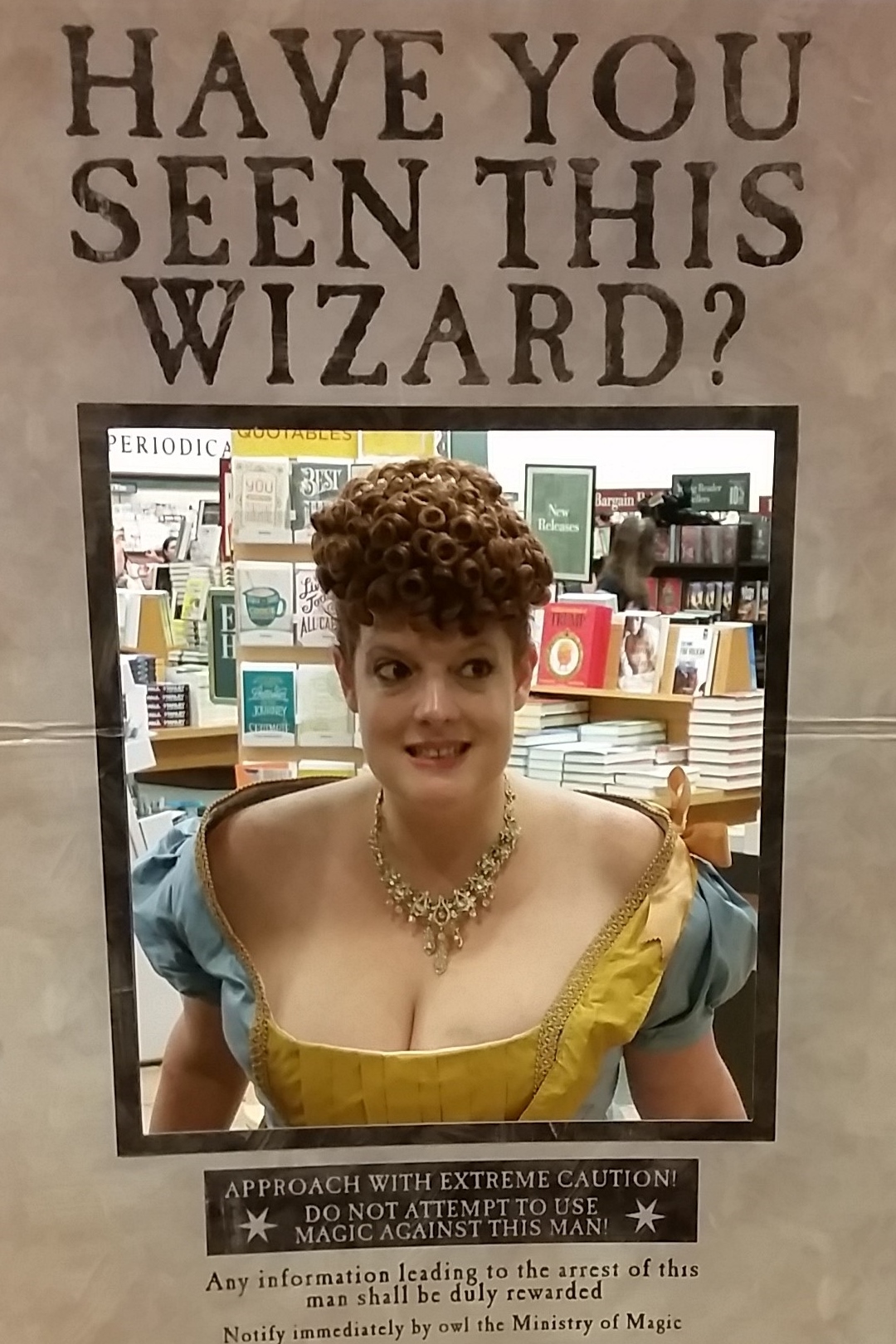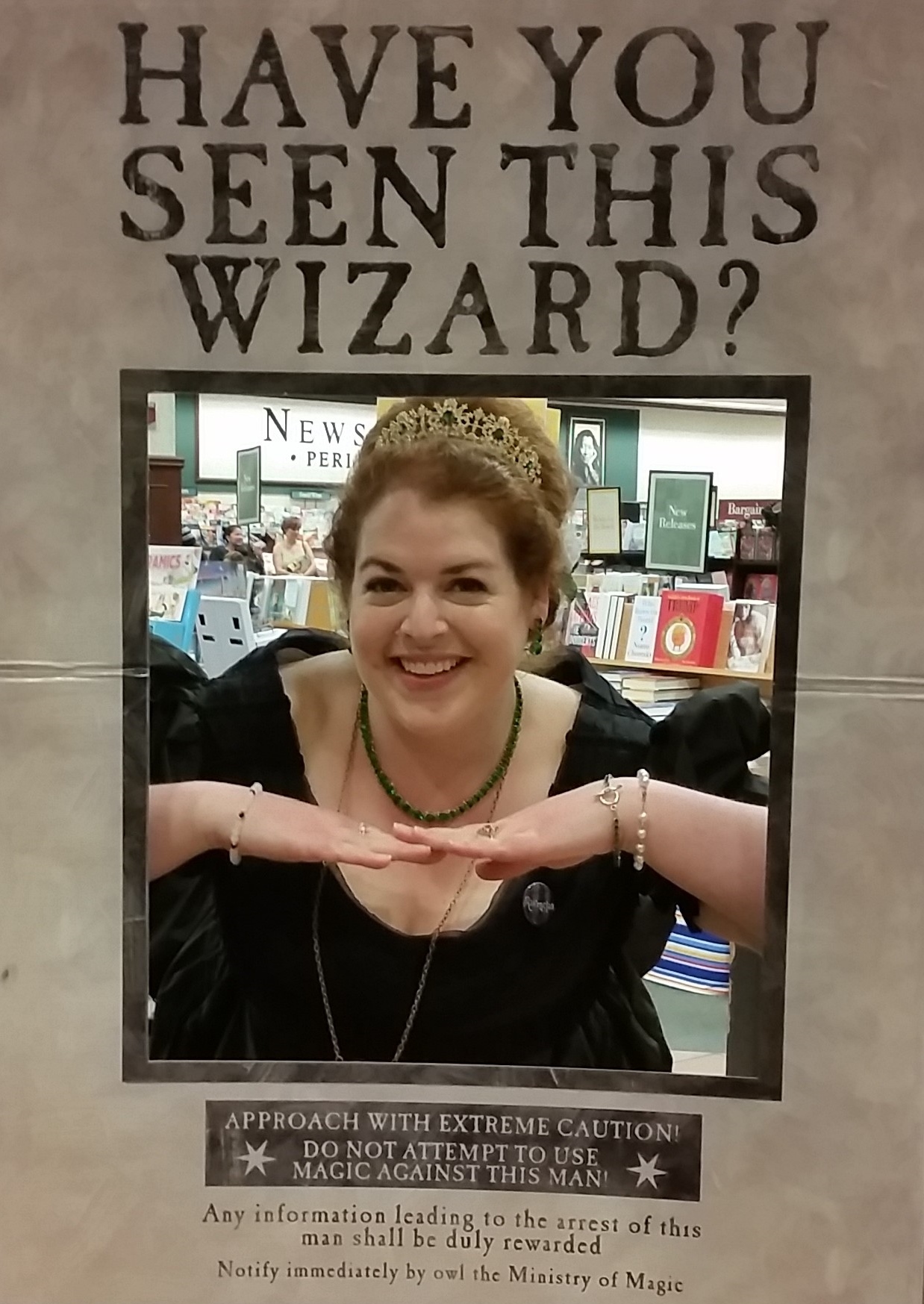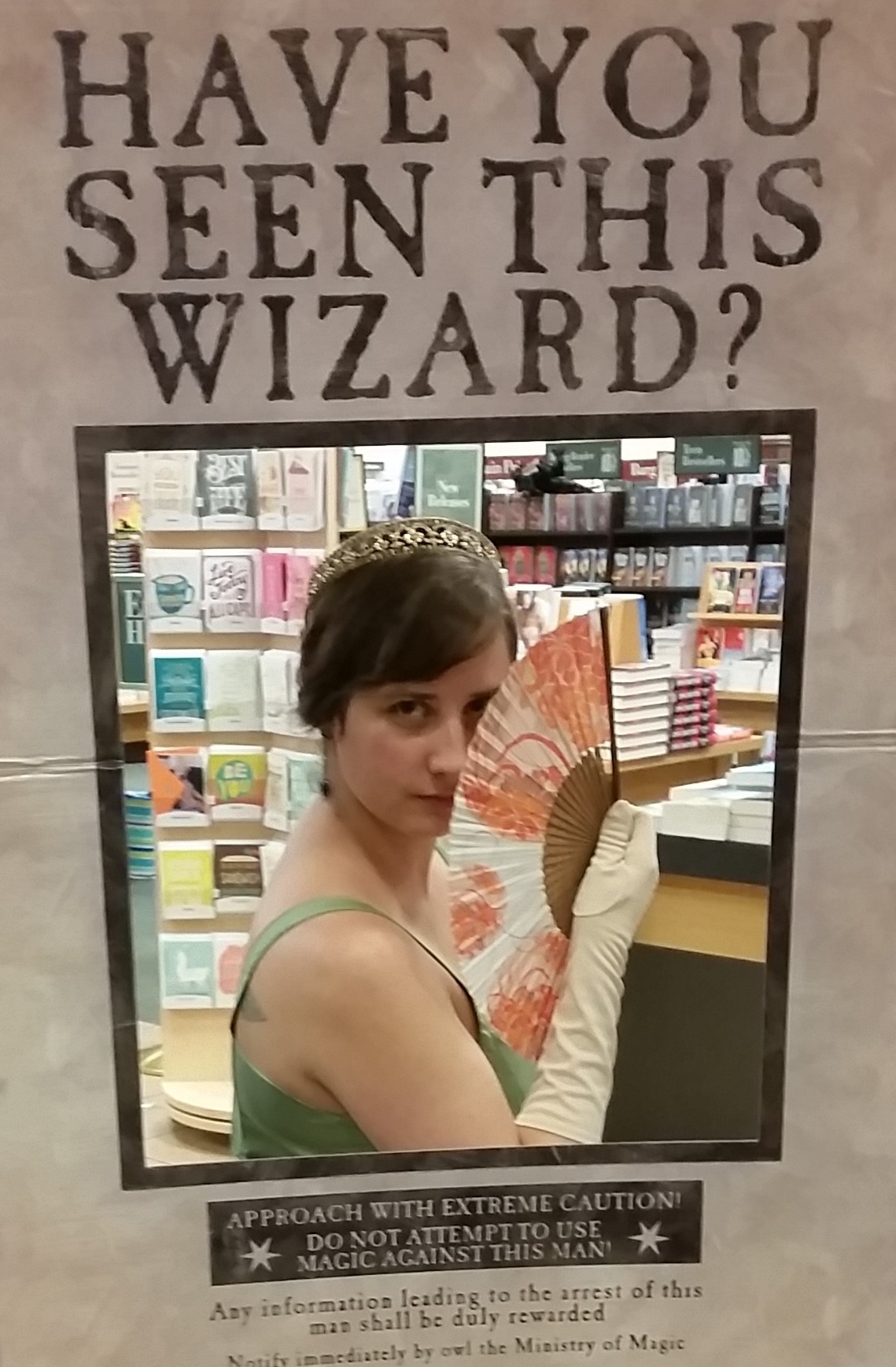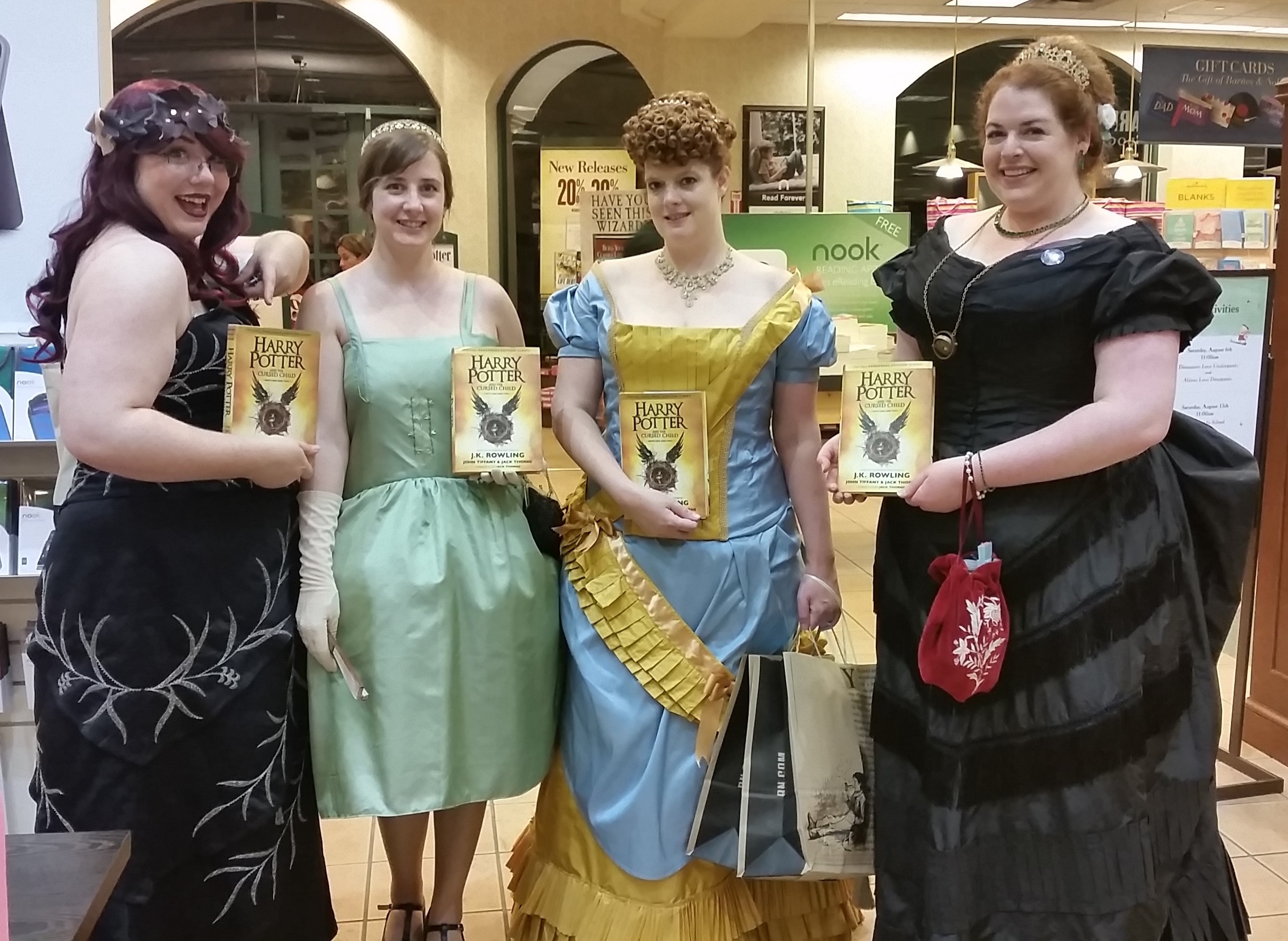 I had my limited class with Luca first thing on Saturday, The Boned Seams of Bodices. Such an informative class! I wish we had had more time, to fully finish our samples, but I think I got enough to be able to implement it all on my own. And I can't wait to order German plastic boning and actually start boning my bodices. I almost never do! And actually, the only other class I went to on Saturday was Luca's lecture on creating a Worth ballgown. I decided I wanted a break instead.


Also, how on earth do you attempt to blow up something like the sheet from De Graciuse? I have a feeling that's a wormhole that I don't even want to attempt to open.

So what else is out there? I need something with the longer, curvier front, because the front of my bodice is defiinitely a cuirass-style bodice. I also really love the dramatic shaping in the picture for the Ageless Pattern one - I definitely don't want a straight panel (or even straight mixed with gussets) style corset - I feel like I want something more dramatic.

And finally, is there any way to really know how long of a busk I need for a corset style that I've never made before?
So other than the Ageless Pattern 1876 and the De Graciuse pattern sheet of insanity, are there any other specifically mid-1870s corset patterns out there? I like the shape on the Ageless Pattern, but I'm having a hard time finding any reviews on it. For those of you who have used multi-sized patterns from that company, what are they like?
I think this is one of my favorite things I've ever made. Which is good, since it's definitely the most labor-intensive by far. Certainly, it was tons of fun to wear! I felt adorable and silly, and I'm surprised I didn't spend the whole night talking in my "annoying British child" voice, since I think this outfit deserves it. (I probably would have if my voice hadn't already been completely shot.) I need to find a way to wear this again, for sure.
Anyway, the only thing I need to change on this is that once again, while wearing it, another covered button broke (I think I mentioned two broke after the first full try-on/photo shoot). Luckily, it was the button that was fully inside the bertha, so it didn't show at all.
Oh, and I didn't wind up using the huge hairbow, but I did wear both of the smaller ones and both ribbon-style bows. And my teddy reticule almost worked perfectly. I had to take the otterbox off my phone so that it would (still just barely) fit, and my fan really didn't fit at all. But he was super cute!
On to pictures!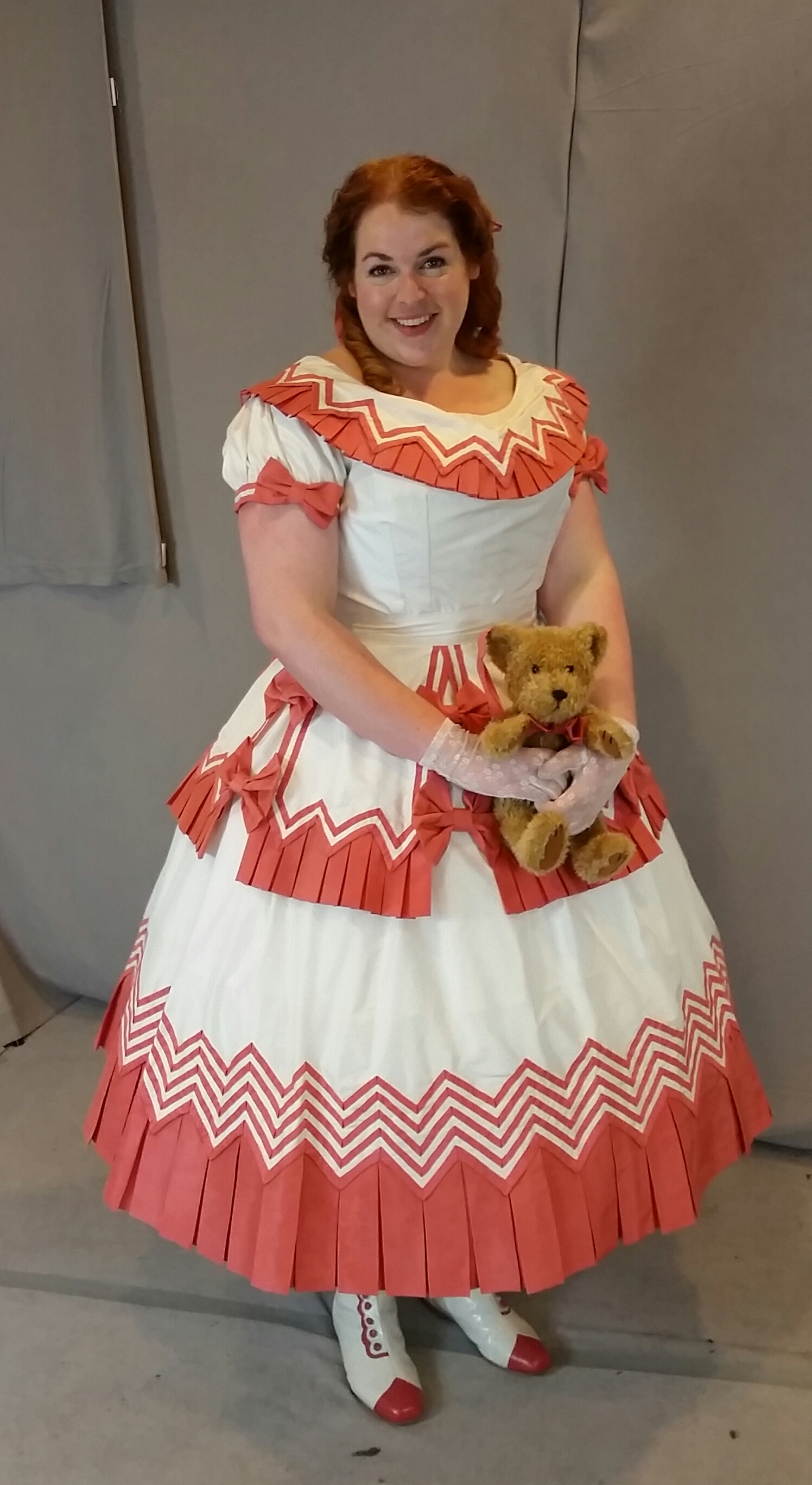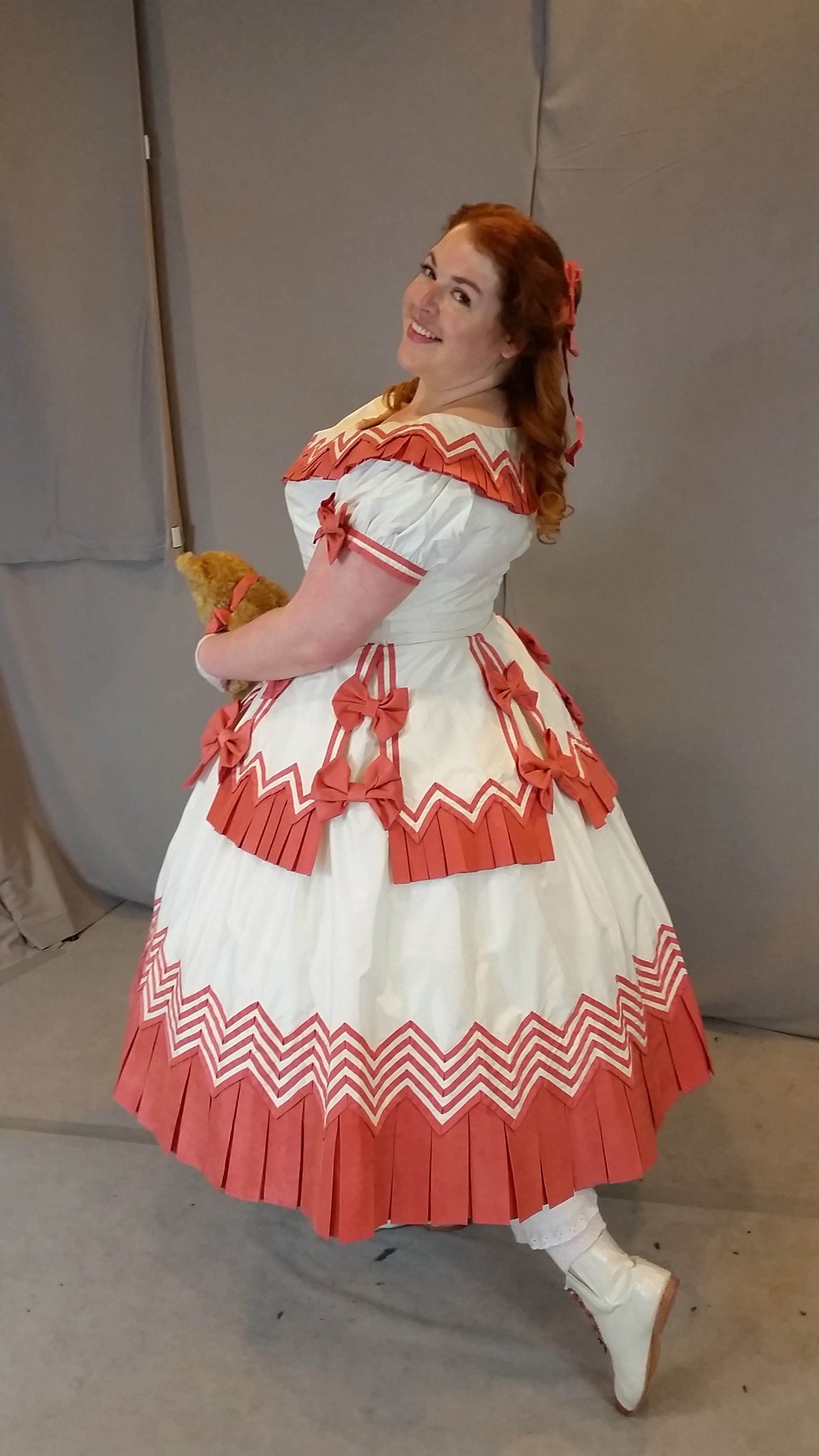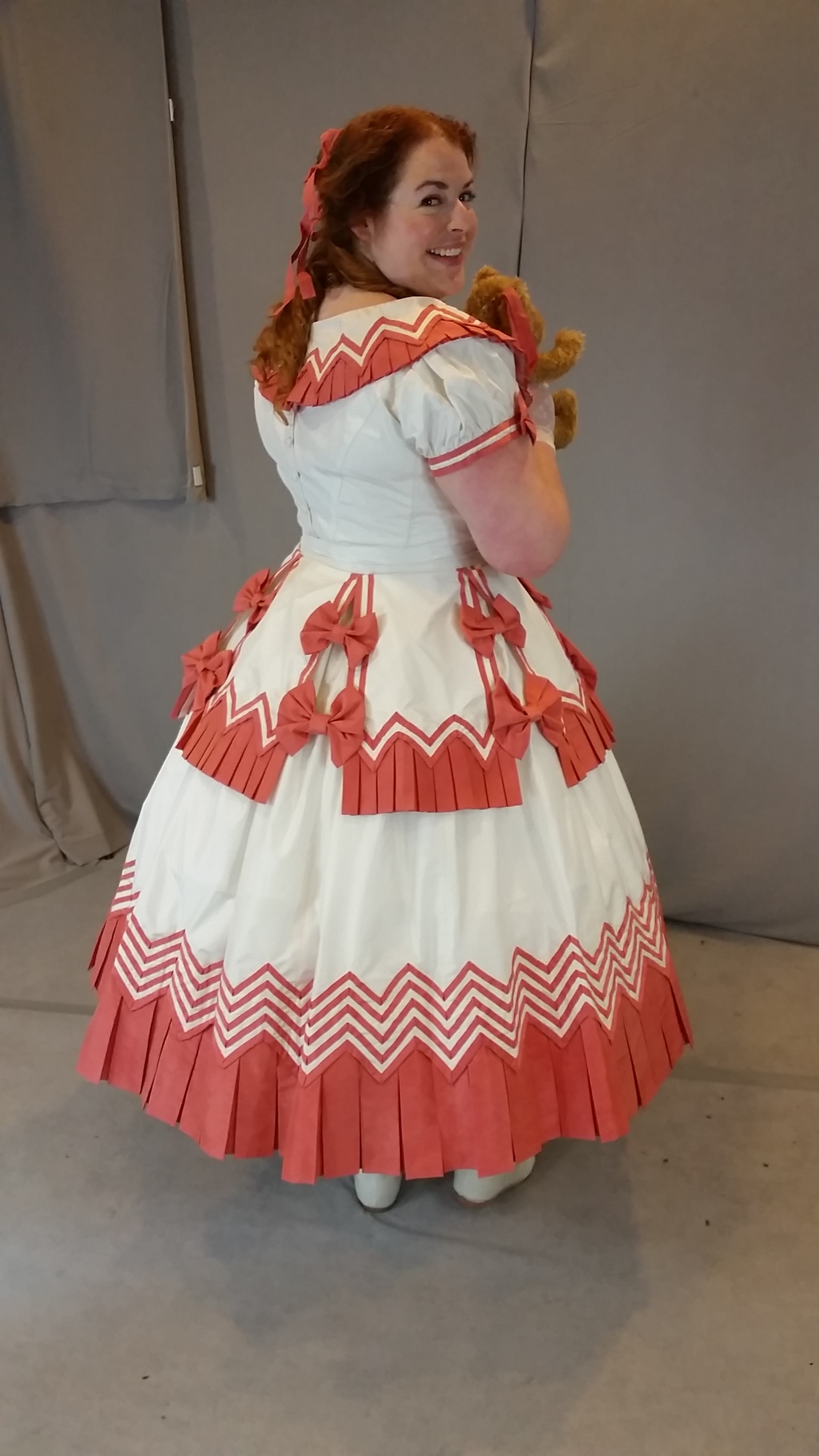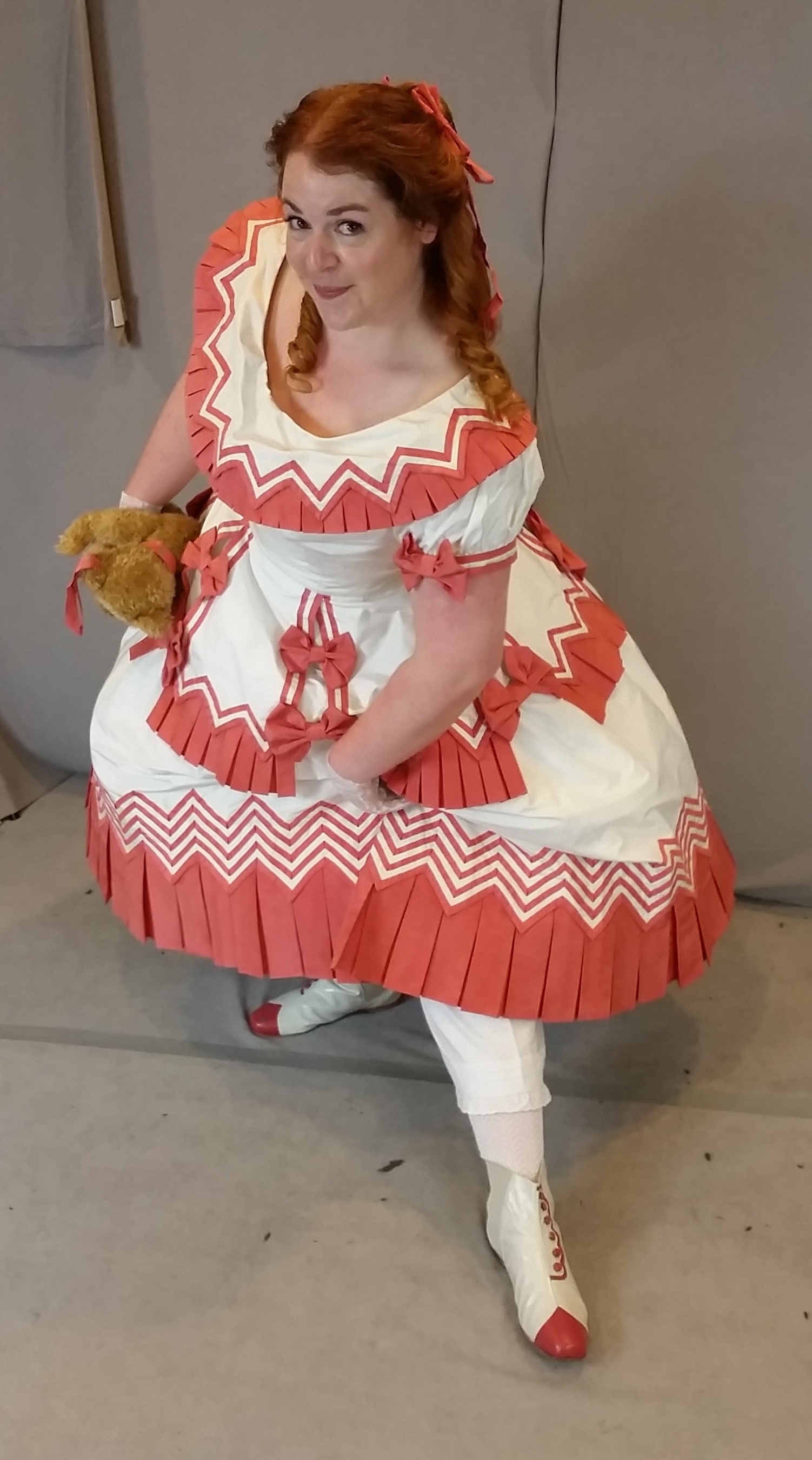 I'm Posty McPostalot today! But I realized I had never done a post on this dress, and I knew I needed to remedy that, since it really deserves it's own finished post.