I'm going to try to get a little more sleep today, but after sleeping on and off all of yesterday, it does make it very difficult, since I'm already really bad at sleeping. And also, I'm really itching to work on my corset or dress, which I'm sure is exactly what I shouldn't be doing...
It does kind of figure that all my fabrics and supplies would arrive just in time for me to get sick. I'm fairly certain it was/is the flu. It started with a breathy/burning throat feeling and cough on Monday night, added sensitive prickly skin by Tuesday afternoon, congestion and body aches on Wednesday, and by Wednesday night-Thurs evening, I was on and off feverish as well. Now I'm left with a sore, swollen throat, plugged up ears, and a congested nose. It's going to make tonight's performance very interesting if it doesn't clear up at all. It also meant I had to miss our first read-through for my next show, which was last night. I'll be in The Diary of Anne Frank in March.


I take it no one had any ideas as to whether silk organza would work for the underside of my train, though?
My organdy finally arrived today, so I can get back to cutting out the skirt tomorrow, which is good. And my ribbon arrived today, too, in the perfect shade of turquoise!
1. You rip on the grain in both directions.
2. You dye to the perfect color in about 10 seconds.
3. You are crisp and beautiful
4. You wash easily and dry fast.
5. You are silk, but you are inexpensive!
Basically, other than fraying and attempting to cut anything other than straight lines, you might be my favorite.
So anyway, the three gathered tiers on my skirt are going to be silk organza. I have already dyed it, and I had just about enough yardage to be able to use selvage edges for all my hems. I might roll-hem the gathered side that I'm attaching to my skirt - I haven't decided yet if just putting the edge underneath the ruffle will protect it enough or not.
The problem, though, is that I can't get the ruched look I want with roll-hemmed (or probably any hem) organza. So I think maybe I need to use tulle? I need something very light, airy, and sheer, which can be significantly gathered, and doesn't need to be hemmed. This part does not need to be dyed, so that may make that part easier. Any suggestions?
But back to the silk organza. Does anyone have any idea if it will work for the underside of my train? Honestly, the only place I'll be able to let it down will probably be the CoCo red carpet. Because otherwise trains are just asking for a disaster.
Look how perfectly this dyed! Yep, that's why you can hardly see it!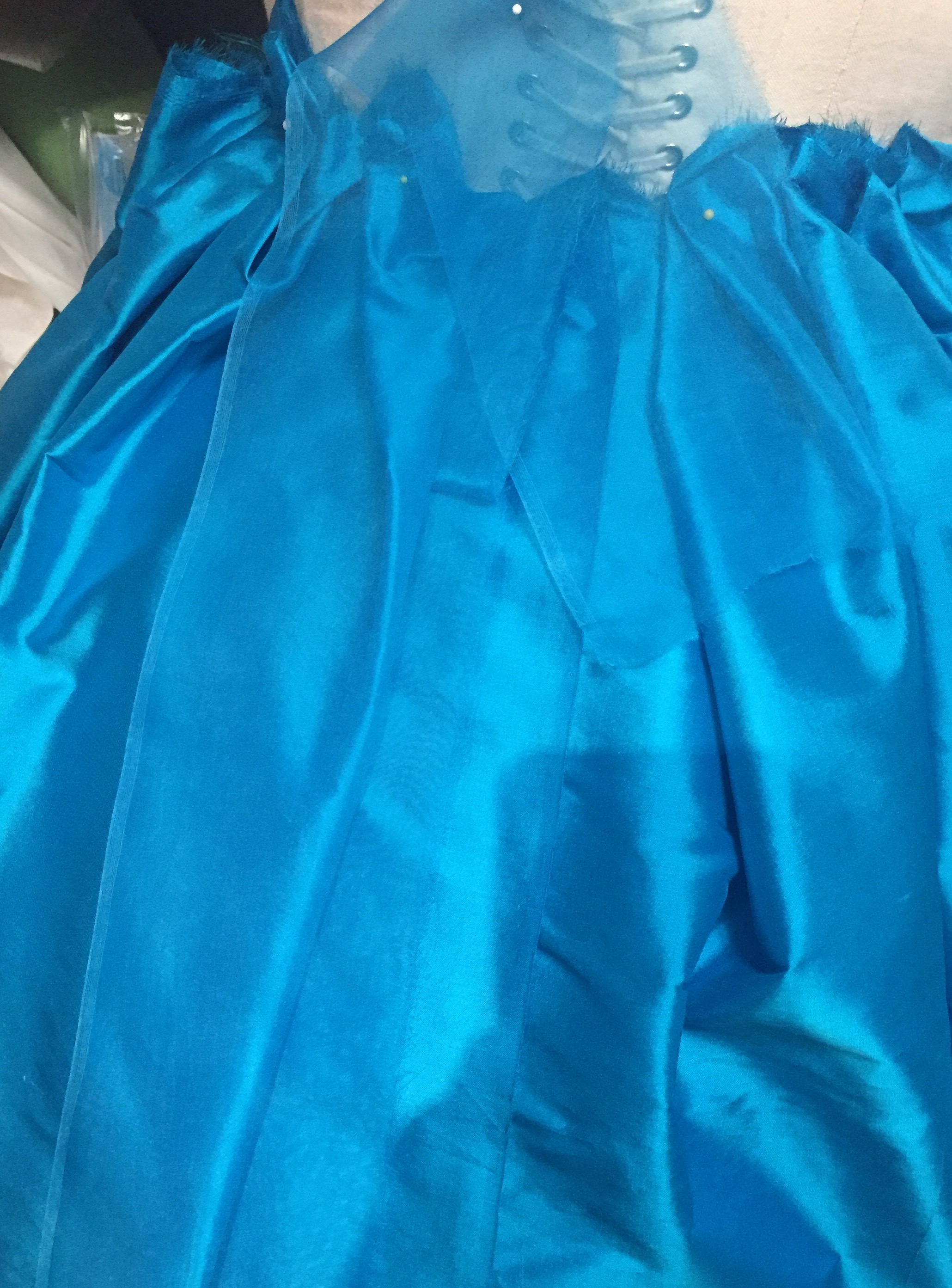 Also, I blew up the corset pattern that
mala_14
shared to my post the other day, and printed it at a 3 pg x 3 pg scale, and I think it might work really close to perfectly. The bust gussets are enormous, and I'm a little worried it might be short waisted as it goes around the side of the body, but otherwise the measurements seem pretty darn good. So I'm planning to create a mockup with no alterations except the bust gussets, and see how that works. It's weird, but I'm actually kind of excited to make another corset now.
Oh, silk organza, how do I love thee? Let me count the ways:
I didn't want to rinse it in the washing machine yet, so I just threw it straight into the dryer to see how it fared. And yet for some reason, it is now totally light again, even though the wet fabric was the color I wanted. Like, it's probably hardly darker than it was after the dylon. I seriously don't know what's going on with this fabric, but unless someone has some miracle idea that I could do with the pot of dye I saved from today, I'm done dyeing it. It's sooooo frustrating. Not only did I waste the $25-30 on the sateen, but I have now spent probably a good $20 on dye. This is ridiculous! I've never had this much trouble dyeing something - not even polyester! So I guess now I'm going to have to spend another $25 on plain cotton. At this rate, I could have splurged for silk for what I'm winding up spending on stupid cotton.
It also doesn't photograph well, since the cotton net is definitely not really this blue - it's actually just half a shade darker than the sateen. The sateen is to the left, and you can tell how pale it is compared to the silk, which is on the right.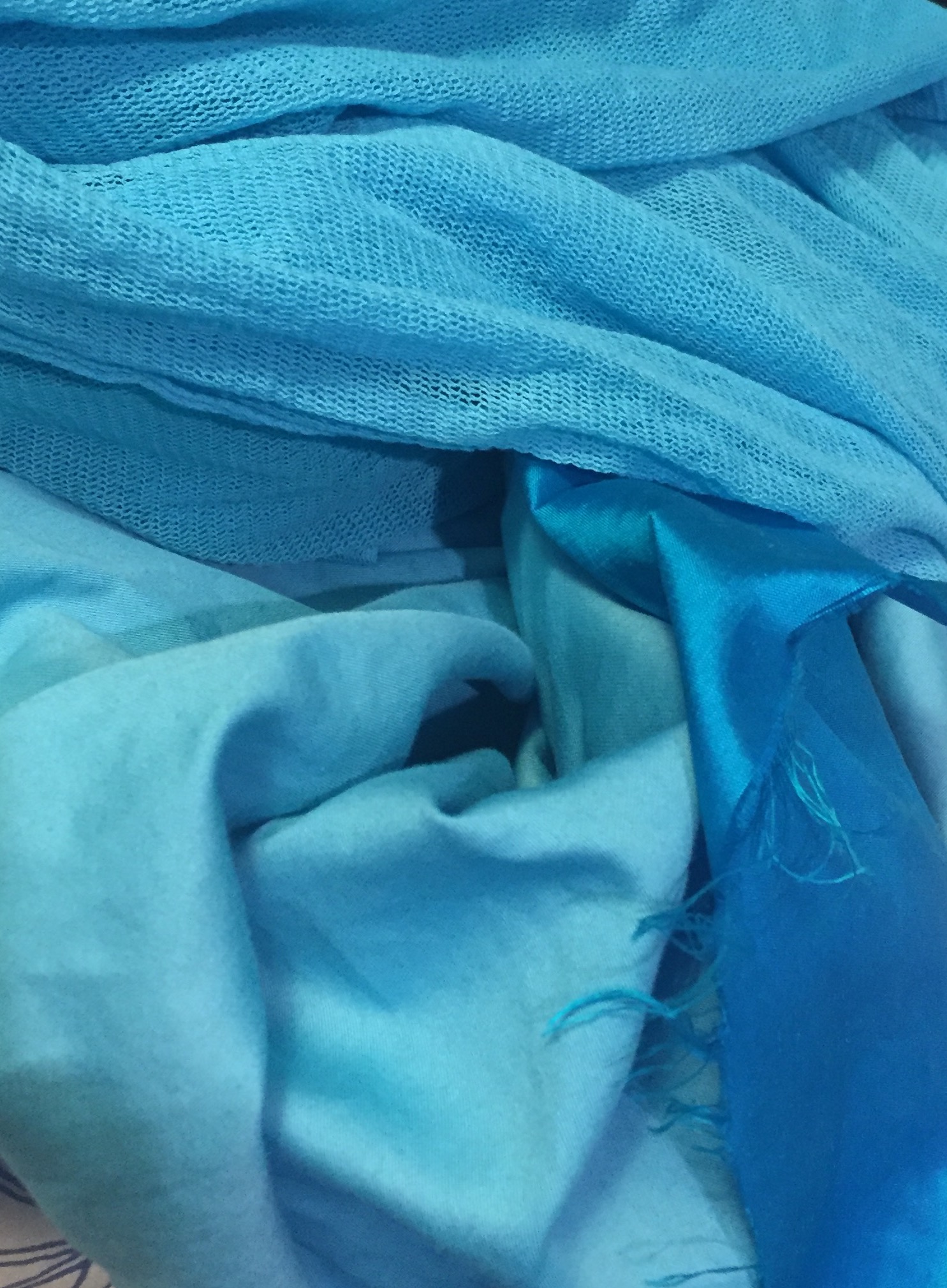 Also, my ribbon order has been stuck in MD since at least Friday due to weather, and my organdy, which was supposed to arrive Saturday, has had no additional tracking information since Thursday in Chicago. I'm also not in love with the cotton net, which so far looks quite coarse. So maybe I should just scrap the idea of cotton entirely, and go with silk organza for the underside of the train and for all the things I was going to use the net for. Except then I have to figure out how to make ruching look nice, even with a rolled hem. Basically, this project hasn't even started, and it's already seeming like an expensive disaster...
Edited: I decided I wouldn't be able to go to sleep until I tested the silk organza in the now-only-lukewarm-dye-pot. I dipped in a test sample , swirled it around for about 10 seconds, rinsed it completely, and toweled it dry. It's perfect. The exact shade of turquoise I've been looking for the entire time. So I guess that's what I'm going to have to use. Because honestly, I tried ruching up a sample of the cotton net, and it looks horrible. It's so white and thick looking. I'm just going to have to figure out what to do for hems on the ruched part. Mostly, how much will the silk organza hate me if I don't hem it at all?
Oh, and is anyone interested in buying 6 yards of white and 4 yards of turquoise cotton net off me?
I'm so frustrated! The idye totally didn't work. I used two packets of dye. First, I tried dyeing it in the sink, and it was in there for probably a good 45 mins, but every time I tried to rinse off a corner, the color changed drastically. So I transferred the water from the sink to my large pot and added even more salt, and once the water got hot enough, the fabric was in there for another 30 mins or so, until it seemed like it was going darker than what I wanted. I could tell it was still rinsing out some, though, so I left it soaking in the sink for another 20+ mins with about 1.5-2 cups of vinegar mixed in. And when I rinsed it out, it seemed to keep the color! I didn't rinse it out 100%, but enough where it wasn't crazy running dye all over the place.
1868 diagram
, which is a little late, and
an 1863
, which is a little early. I blew up the 68 and put it together on paper, but it doesn't have bust gores, and looking at all the corsets I like online, they all have bust gores. The hip is also not quite what I wanted, though it does all make up to a nice shape. Looking at the 63, I think it's a little closer, but the bodice shapes don't seem quite curvy enough, and the hip gore still isn't perfect.
My favorite two corsets I've seen online for this era are these: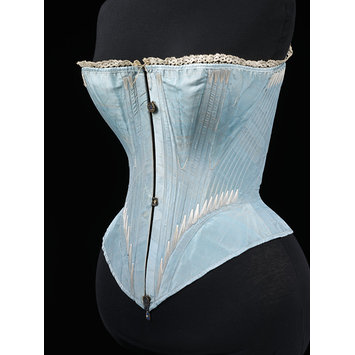 Both of them have an interesting hip gore/peplum piece that both stop at the side seam. There are no back views of the orange one, but I have to figure it's constructed quite similarly to the blue one, which is, two main bodice pieces (front and back), front peplum/gore, back hip gore, and two bust gores. I rather like the flowy top and bottom edges of the orange one (and the color!), though I do wonder if the flat top of the blue would be more practical. I also don't think I want it to be fully boned in front like the blue one - that seems a bit much.
Here's a question, though. The blue corset's boning all stops at the waistline, except for CF and CB. The orange may also have one bone that goes all the way to the hem at the side seam, though I can't tell. But can anyone who has worn a corset with boning like this tell me if it winds up digging in at the waist?
Also, does anyone have a pattern closer to this than the 1863 one I have?
And in other news, my Joanns doesn't carry idye, so I decided to try Dylon. It sucks. Like, even with two packets of dye, my fabric didn't even get that bright before rinsing. I'm going to try Pacific Fabrics tomorrow, but if it doesn't carry idye, I'm just going to forgo the sateen, and go for the kona cotton that already comes in the right color... :(
I've been twiddling around a bit with 1860s corsets, trying to find a pattern diagram, and to figure out exactly what I wanted from the corset. I found an
mala_14
!), and 60 yards of turquoise ribbon for all that stupid train trimming.
Have I mentioned that this is a ballgown of doom? It's certainly feeling that way on my wallet! Hopefully, other than figuring out my order medallions and brooch, this will be all I'll have to buy for this dress.
Speaking of which, does anyone have a good source for inexpensive reproduction order medals? I am looking to spend $20 or less on each, and I need one Order of Charles III, and one Order of the Starry Cross. Or, does anyone have any tips on making them somehow?
Anyway, I did attempt to dye the sateen for the train today, but unfortunately 1.5 bottles of dye, which looked fine before I washed the fabric, seemed to come right out. So I'm going to need to try that again, or I'll have to buy 5 yards of the turquoise kona cotton instead, which just doesn't look right, since it's not shiny.
In other news, my boyfriend and I broke up on Saturday, so I also haven't been wanting to sew, even though I could have all day today, since we had a snow day. But I've kind of just been wanting to clean the house (I have a potential roommate coming tomorrow), and mope around watching movies. On the plus side, between the breakup and tech week/opening, I have had almost no appetite at all, and I've lost about 3lbs since last Tuesday. Oh, and we had a fantastic opening weekend. It's such a fun show!
So anyway, that's my life right now, and I probably won't be doing much sewing or posting until some of those purchases arrive. Though I am looking for patterns for the 1860s corset, so maybe I'll actually decide to mock that up first instead.
And to reward you for actually reading all this jabbering, here's some snow pictures!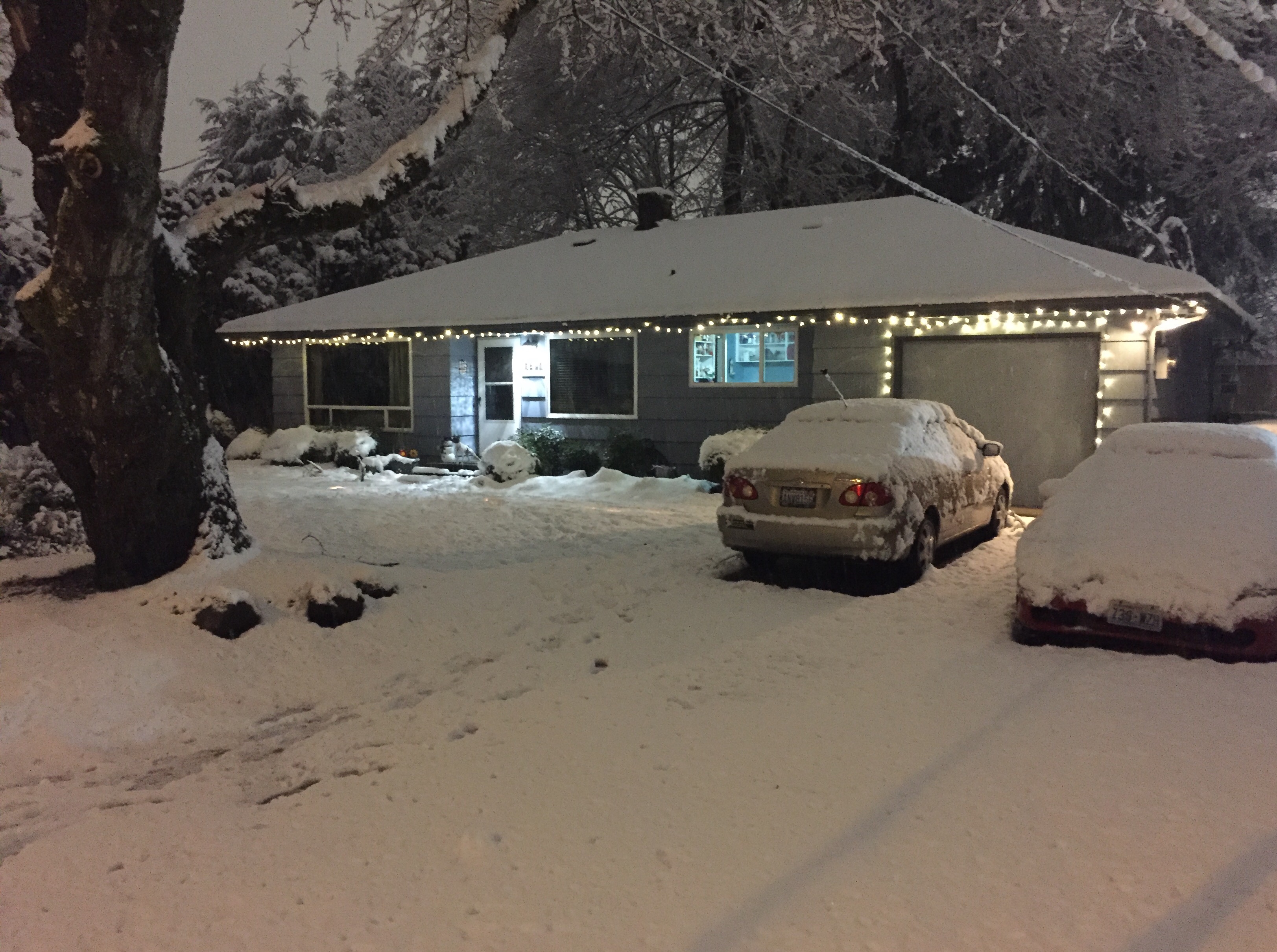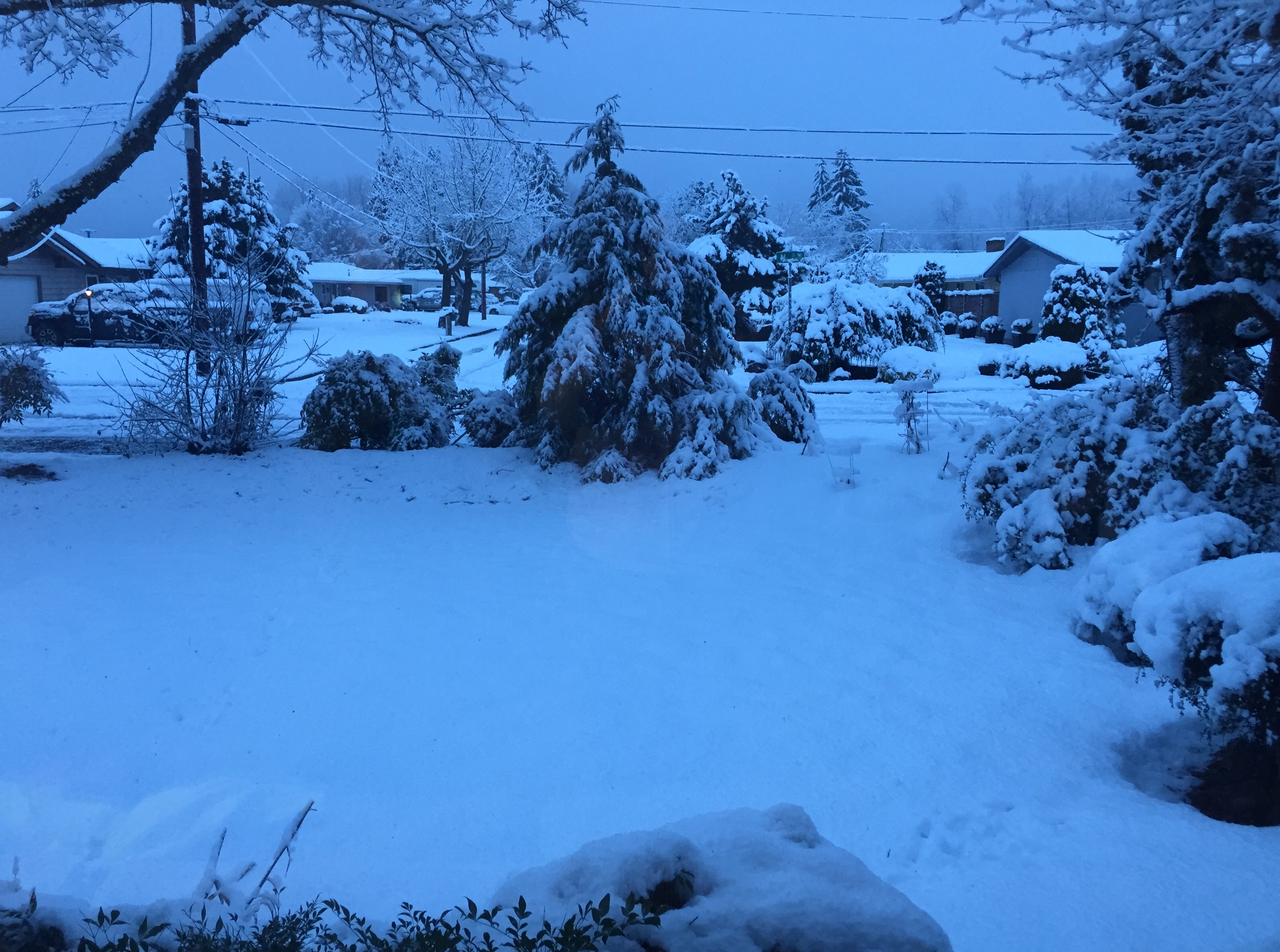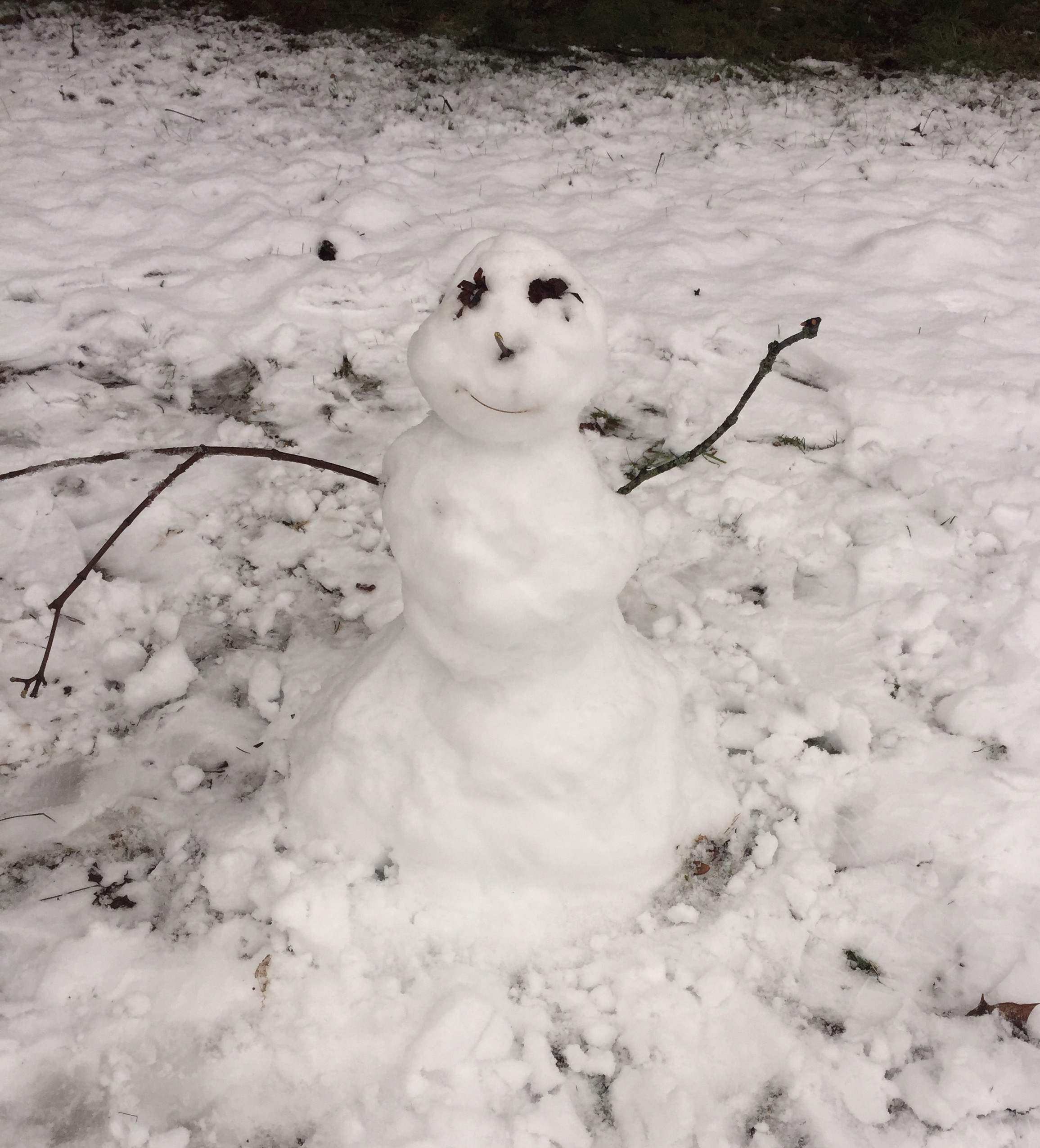 I haven't been posting, because I haven't been sewing. But I certainly have been purchasing! I bought the 10 yards of organdy to line my skirt and use for the petticoat, 5 yards of cotton sateen for the underside of the train, most of the 23 or so yards of lace for the train and skirt (the first Joanns I went to didn't have quite enough, so I think I have about 8 yards more to pick up at another Joanns), 10 yds cotton net from ebay (thanks for the source,


So now I'm going to have to wait until the organdy arrives to assemble the skirt. Frustrating. Unless, would it make sense to flatline the skirt with something else? I had thought to use the organdy because it's so lightweight, and will provide nice body, but on the other hand, it wrinkles like nobody's business, so maybe I shouldn't use it? And if not, what should I use? I worry that sateen is going to be too heavy. Any recommendations?
This is the first day I've had to sew this week, so I started cutting out the skirt and train for the ballgown. I knew I was going to have to buy sateen for the train lining, which isn't a problem, since that's from Joanns. But then I went to go look for my organdy for the skirt lining, and I have almost none left. I thought I bought some this fall, but apparently I just looked at it, and never placed the order. *Sigh*
I'm still trying to figure out what to do with my hair in act 1. I bought some new braids to try out that match my current haircolor, but I can't decide whether I want two hanging loops, two braided buns with the rest of my hair down, or a crown braid, or a high braided bun, or some combination of those. It's supposed to be a casual hairstyle worn with pajamas, but also possibly a tiara. The baroness is a bit crazy, after all.
I'm also finally starting the giant turquoise ballgown of doom. I think I can get both the skirt and the train out of about 12.5 yds of the 39.5" wide silk, which leaves 2.5 yards left for the bodice, so that's plenty. However, I don't think that's enough to cut all the ribbon trim out of the actual fabric, which means I have to find turquoise ribbon to match. This is my first time doing a court train, too, and while I'm lining the skirt with cotton organdy, I have no idea what to line the train with. I don't have enough fabric to line the train with more of the silk, but I feel like cotton isn't nice enough. I don't suppose turquoise silk organza would work as a liner, right? I want whatever I use to also give the train a lot of body. And let's be honest - probably the only time this train will be allowed to touch the ground is for the CoCo red carpet and pictures. After all, it's about a yard of trailing on the ground. (and is that even enough?)
Just as a reminder, this is the dress:
I worked on some costuming stuff for my show over the weekend. My bf and I distressed six lab coats, attacking them with scissors, an exacto, a belt sander, coffee, eyeshadow, and mascara until they looked appropriately grimy. I also made 14 cotton shoe bows, turned a pair of old leggings into bike shorts, and made red sequin bows to pair with my crazy 1830s hairpiece, since I'll be using it for the show.
here's a link to all of my pictures on facebook.
Although I've been home for two days now, and I'm not working on any sewing, I've hardly actually been at home at all. This is run week for Chitty Chitty, so I've had maybe 1 hr of awake time at home each day, before and after rehearsal. It's going really well, though! I need to do a little bit of sewing for the show this weekend, but I'm also itching to start my giant turquoise ballgown of doom. I've decided that I'm going to start the skirt and train before I make the corset. That way, I can figure out just how much trim has to be ordered (assuming I can find it!), and that will have time to arrive while I start on the corset. I'm also wondering if I need a new petticoat - maybe a ruffled one out of organdy? Then once I finish the corset, I'll make the bodice.
That said, before I can allow myself to start on the ballgown, I really need to take down the Christmas tree and clean the house. It's a disaster in here!
The trip to MN was so much fun! I promise I'll do a full wrap-up post at some point, probably this weekend, but for now, in case you've missed them so far,
I did finish the skating dress about 1:30am on Thurs morning, packed after work, dyed my hair after rehearsal, and sewed the 17 buttons on my quilted petticoat at the airport. I managed to sleep a couple hours on the plane, and a couple more once I got to Elizabeth's house, so I wasn't completely dead yesterday.
We went out to lunch, and then to the Hill House, and took lots of pictures. Here's a couple for now - the rest are on my Facebook. It's so fun so far, but I wish you all were here, too!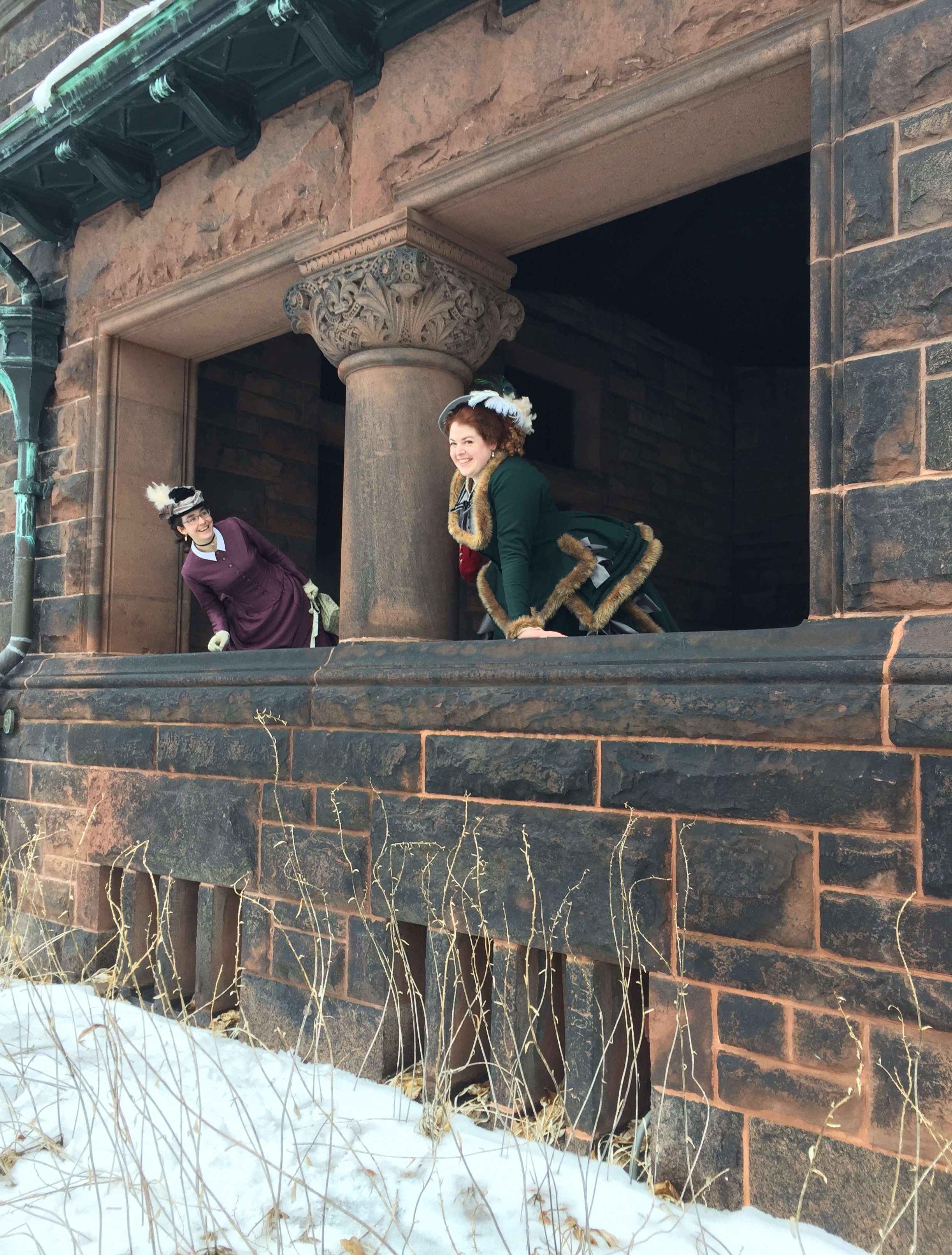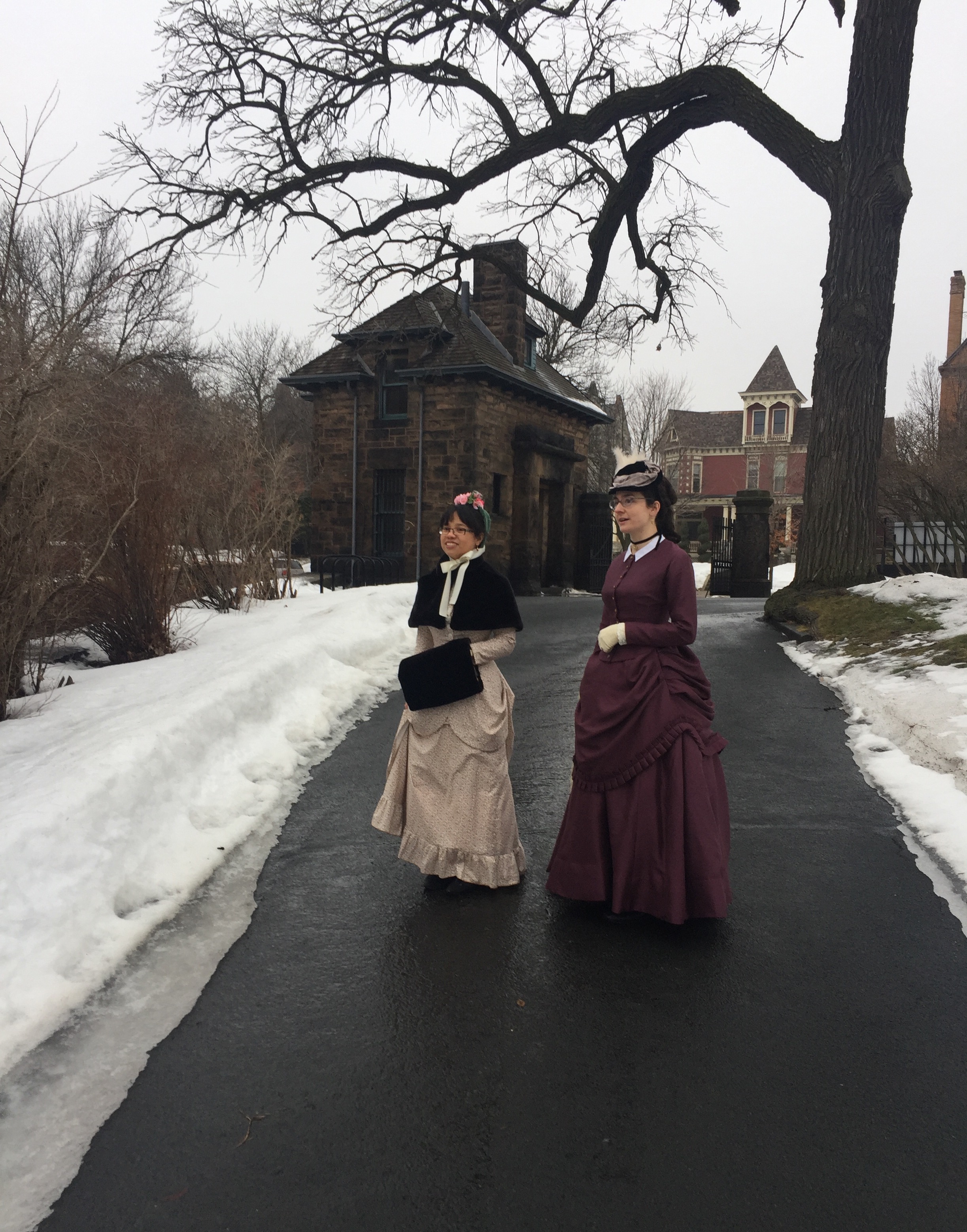 I'm attempting to post from my phone, so I'm not sure if this will work. I'll do a full wrap-up when I get home.