This one.
So anyway, I've been working bit by bit since Sunday evening on this pattern. I had to go to three different Joanns before I found one with enough of the fabric I wanted, which is that white-on-white 100% cotton dobby stripe from the shirting section, but I did finally find it. (PS - pretty sure Joanns is closing out this fabric, so if you can still find it, you might want to do what I did and buy all 10 yards they had. I've been eyeing it for about a year, but had never pulled the plug on purchasing it, and it was almost too late!) I'm mostly using lace from the stash, which unfortunately isn't insertion, but then again, the pattern also doesn't call for insertion lace. I'm going to see if I can get more of a similar lace so that I can put some on the skirt as well, since otherwise it looks really plain.
A few notes on this pattern in case anyone wants to try it.
For one, it's huge. Naturally, I didn't make a full mockup, though I did mock up the paper, which led me to increasing the length of both the bodice and skirt, changing the armseye (it was so far off the shoulder!), and tweaking the neckline a bit. Luckily, it's really the back that is huge, and for some reason, the pattern calls for it to meet edge to edge and close with hooks and eyes. Weird. So mine is now overlapping and closing with buttons, at least down to the waist. I'd say it was about 4-5" too big, and that was with using the size down from what I normally am anyway. So, like, super huge.
The skirt unfortunately is also way too big, but it also calls for a weird continuous lap closure thing. Which I didn't want to undo. So now I have a little bit of gathers in the CB of my skirt, which are uneven on either side. Hopefully it's not crazy obvious. The skirt is not as ginormous as the bodice - I'd say maybe 2.5-3" too big. That said, it does seem to me that the skirt is also a bit on the slim side for a white summer dress - I think those usually were less fitted.
We already all know that the trim goes way too far off the shoulder. I'm using much narrower lace trim (I think it's about 4-5" instead of 6 or 7"), and it goes over the edge of the shoulder seam by about 1". Then again, I also took the shoulder seam up a couple inches, because it was so far off the shoulder.
I'm completely redoing the sleeve on this. A) It's too short, by a long shot. The sleeve should hit just above the elbow. B) It's huge. Like, probably at least a few inches bigger around than my arms (and I usually have to widen a fitted sleeve pattern). It's like a men's t-shirt. I'll hopefully be redrafting new sleeves tomorrow.
I'm putting lace around the waist as well. It just looks wrong otherwise.
The yardage requirements for this pattern are very overblown. I added 4" of length to the skirt pieces, plus about 1.5" (I think) to the bodice, and though I have not yet cut out the sleeves, everything else has so far used up 2.5 yards of 54" fabric. Pretty sure those sleeves aren't going to take up an extra yard of fabric...
All that said, I think it's still a relatively quick project, despite all the complications I'm adding to it. If I had more time, it would probably be a fun one to play around with insertion lace on, but alas, mine will have ugly modern lace. I probably don't have time to sew today, but I would like to get the buttons/buttonholes up the back tomorrow. That will leave me all day Friday to do the sleeves and the hem. Everything else is already done!
I started sewing again on Sunday! We were chatting during the Colonial Festival about our plans for this weekend's Railroad Days. Originally, I had wanted to wear a bustle dress, since that's my favorite, but as of last Sat, the weather for this Sat was supposed to be 87 degrees and sunny. Way too hot for any of my bustle dresses. (Of course, now that forecast has gone down to 81 and mostly sunny, so maybe I could have done a bustle anyway. Oh well.) So anyway, I decided last weekend that I would try the new teens-era Butterick pattern - the one that looks quite off because her shoulder trim is ridiculously huge, and the waist seam seems wrong.
So anyway, on Saturday I went to the NW Colonial Festival. Despite the pouring rain that started right after we arrived, it was wonderful! (and the rain did mostly clear up). It's such a gorgeous location, on the grounds of an inn designed to look like Mount Vernon, with views of the Strait of Juan de Fuca on one side, and the Olympic mountains on the other. I haven't done 18th c in ages, so I was actually glad for the colder, wetter weather, because it meant I could wear my riding habit again. I wore it over my quilted petticoat, and I did not regret that decision. I did get warm when the sun peaked out, but it kept me so nice and dry when it was raining - none of the rain got through to me at all! Because of the rain, I decided not to wear the velvet 1780s-style hat I made to go with it originally, and instead, decided to wire the brim of a black wool hat I had in the stash, and make a tricorn. It would have looked much better with feathers, but not in the rain, so I decorated it with a simple ribbon cockade. It's the least favorite part of my outfit, but I think it looked okay.
At the event, there was a decent sized encampment (way bigger than when I was there in 2015!), presentations and some items for sale from the DAR (I bought a nice cap for $15), some other presentations from reenactors, a tea on the sun porch of the inn, and a battle on the reproduction Lexington and Concord bridge.
Anyway, here's what you want - pictures! I'll have the rest of the pictures up on Facebook within the next few days. Naturally, I took a ton.
This month is apparently my costume event month, since every weekend has/will involve costumes. (CoCo, then the Ren Faire, then the NW Colonial Festival, plus next week is Snoqualmie Railroad Days, followed by a costume contest at Disney Trivia).
I haven't been to the faire in a couple years, and it's gotten a little bigger. It's still in the middle of a field with not really enough shade, but on the plus side, it was a tiny bit cooler than this year than it has sometimes been in the past (I think it was 81 or 82 on Saturday with no clouds at all). On the other hand, my favorite act from past years, the Rat Circus, wasn't there this year, so that was a little disappointing. We watched three acts plus the joust - my favorite act was Broon. I've seen him before, but he's pretty funny.
Here's some pictures:
On Friday, I went to the 5th Ave Theatre Costume Sale. My friend and I got there two hours early, so we were 18 and 19 in line, which was great. I gathered up a bunch of stuff once we got in there, and then we got into the super crazy long line to check out (it took us about 1.5 hours). I spent $65, and this is what I got:
A plaid vintage wool coat (a little short in the sleeves, and slightly snug, but I can move the buttons over an inch and add cuffs to elongate the sleeves)
A navy vintage (?) suit (I was sure this was vintage, but when I got home, I realized that although I knew it was quick-rigged with snaps and faux buttons, there were no buttonholes! So now I'm wondering if it was vintage, but made for the theatre. The jacket fits perfectly, but the skirt is too small - luckily, the the side seam allowance is huge, and the waistband is big enough that you can tell it was once taken in about 3+". So I can take it out without much difficulty)
A late 1950s vintage golf dress. In my size!
A pair of vintage Lilly Dache gloves in my size
A vintage-style straw purse
A 1950s-style long line bra
A pair of knee socks, thigh highs, and tights (I still have to check to see if the tights fit)
Brand new Capezio dance sneakers
Quite used but still functional Capezio tan jazz shoes
A vintage hat
A shoe/sweater closet hanging storage thing
Civil War-era sleeves (the white poufy types that go inside pagoda sleeves)
A white sweater vest
A plaid double-breasted cropped sweater
I think that might be everything? I kind of bought so much that I keep forgetting what all I got! Here's pics of the golf dress, suit jacket, and gloves.
I have also been working at getting CoCo pictures edited and posted. So far I'm partway through the gala pictures. Everything before the gala has been posted.
I haven't done any sewing since I came home from CoCo, but I did go to the Ren Faire on Saturday, and I bought some vintage stuff on Friday!
Also, I've realized I totally don't have enough time to make a ruff before Saturday (duh). So that's going to get shelved, and I'm going to start on the 18th c stays. Though of course, I'm also feeling very CADDy right now. Part of me wants to start on Daniel Deronda, because I have the fabric, don't really have to pattern anything because I have a good working bustle bodice pattern, and could probably knock it out quite quickly. But then another part of me says I should be working on things for Dapper Day or Halloween, since those are coming up first. I could potentially do the Fairy Godmother for Halloween, but I was originally intending on recreating the Historically Accurate 1890s Ariel drawing, though of course, I didn't buy any fabric for that, either... And I also keep forgetting that there's a present for someone that I need to make this month. So really, I should probably do that first.
I'm in a really pink mood. I don't know why. But since pink silk doesn't seem to exist, I'm thinking maybe I should change my plans, and go for something like this for 1840s. Then I could pick some different color for a bustle gown. The question is, what to do, and where to get the silk? Since I didn't pick anything up in the fabric district, it becomes so much more difficult!


So basically, I have no idea what I can possibly make this year out of that. :(

I do have enough wool to do the skirt for the 18th c working class outfit, so at least there's that.

And I did manage to upload Wed and Thurs CoCo pictures, take a nap, do two loads of laundry, and unpack all my suitcases. I guess that's something...

Ugh. I looked through my stash yesterday, and the pink plaid I thought I had purchased last year was not the pink plaid I actually purchased. And naturally, the hot pink I got this year doesn't match it at all. So I have no clue what I'm doing. I have (I think) 10 yds of light yellow and white tiny check, 7 yds of golden yellow, a little solid light yellow left, a cream with pink and green stripes (though it's dupioni) that I have at least 7+ yds of, i think 5-7 yds of a not-quite-bright pink plaid, 7 yds of the hot pink, and (I think) 7 yds of light blue, which will be the Fairy Godmother bustle.
2018-19 is hopefully going to be a year of filling in gaps and using up stash. There's just a few styles I'm missing in my costuming, most of which I would like to remedy. And since I literally bought one piece of fabric in the fabric district (yesterday's shopping trip was pretty frustrating, to be honest), pretty much everything is either going to have to come from my stash or be able to be sourced locally, which is a little scary. And the other scary part is that at this point, I have only one completely concrete plan, which is very unlike me, and it's actually a plan that has been pushed off from year to year, which I'm determined to finally make this year.
What I'd like to make:

-An Elizabethan ruff. I took the ruff class on Sunday, and it was so good. Em Bee gave me half a yard of linen yesterday (he is so nice!), and I'm going to attempt to make this before the Ren Faire on Saturday.
-An 18th c working class outfit, with ankle-length skirt, probably some sort of short jacket, apron, fichu, cap, possibly hat, all in different colors and patterns. I also want to make the new American Duchess stays pattern for this, since both of my existing stays are not very comfortable.
-An s-bend corset. Ideally, I'd love to make the Edwardian dress I didn't get to this last year to go over it, but I'd still have to source the velvet ribbon, so I'm not sure that's going to happen.
-A cotton 1840s dress. Something like one of these.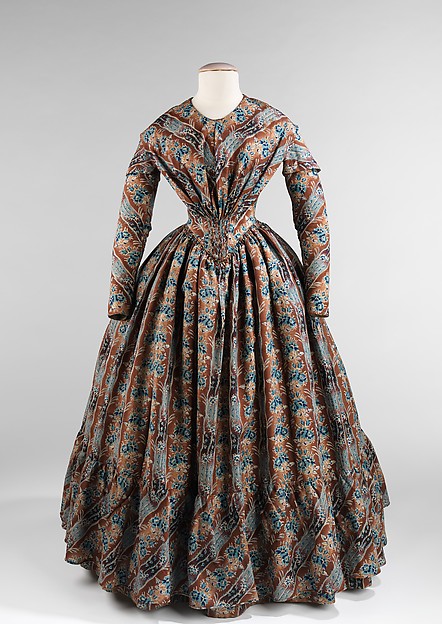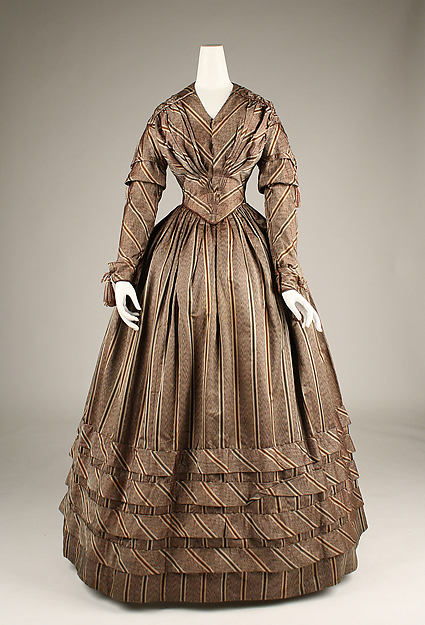 -The blue riding habit from Daniel Deronda. Yes, I'm finally going to get to this. It's been on my list for how many years? We're going to do a Daniel Deronda group for Friday during the day next year, which means this will actually get done, since I love group projects.
-A Disney Bustle Gown for Friday night next year. I'm almost positive I'm going to do the Fairy Godmother, based on this extant dress, but turning the back tails into a giant hood. I'm fairly certain I purchased enough blue silk for this last year, but I couldn't find any pink silk in the fabric district, so that may be the only thing that prevents me. Or I'll use poly, since it's just the accent color. Or maybe I'll cut up my court gown petticoat, since I doubt I'll ever wear that again.
-For the gala, I think I want to do a natural form bustle gown. I have never done natural form, but the problem is that I'm still not a fan of most of it, especially for evening-wear. This plan might very well change, as I didn't find any good fabrics for this in the fabric district yesterday.
-A hot pink and pink plaid bustle gown. I might do this as a natural form instead of the gala, because I seem to prefer the natural form day-wear, though if I can make this color combo work for the gala, then that may be another option. I picked up the pink plaid last year, and found a solid pink (dupioni, but with very little slubbing) yesterday in the fabric district.
So basically, I'm doing a whole bunch of bustle gowns next year!
Costume College was wonderful, as usual. I really didn't take that many classes this year at all, which was actually kind of nice, as it left more time for socializing. And yet, I still wish I had had more time to see everyone and do everything! I will (hopefully) do wrap-up posts with pictures of what I wore when, and details on the classes I took, and what I purchased, etc. But for now, since it's all mulling around in my mind, I want to get down in writing what I hope to accomplish for the next year.